Dog Mobility Support Sling for Waist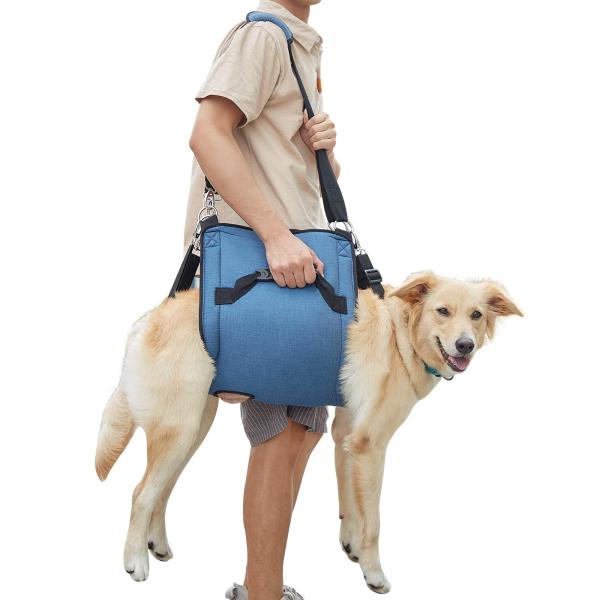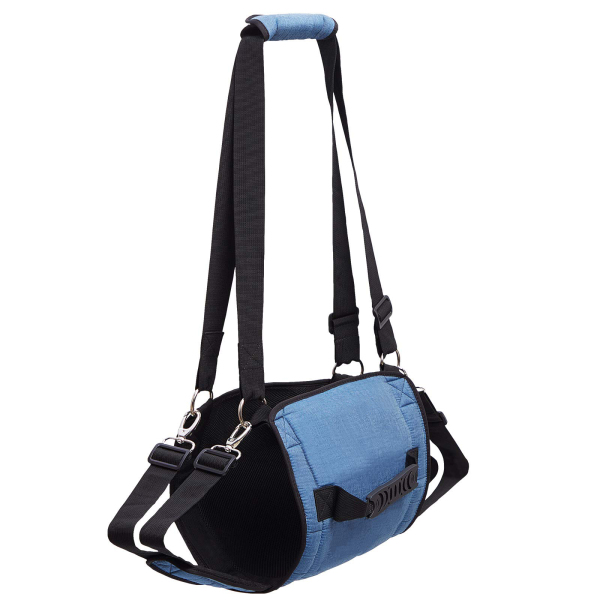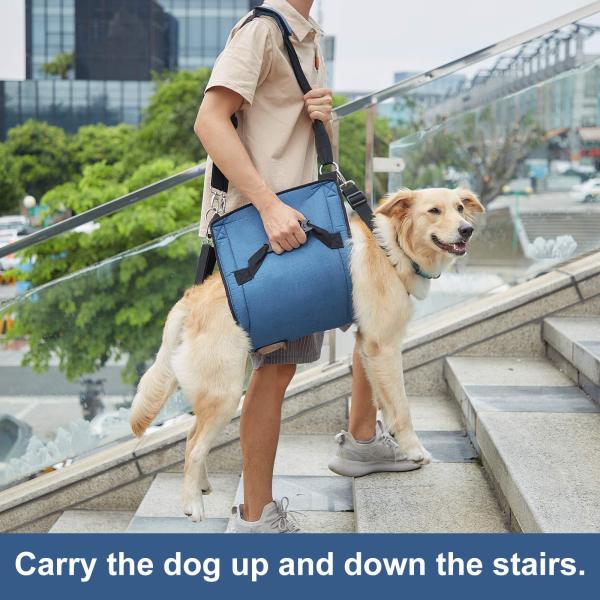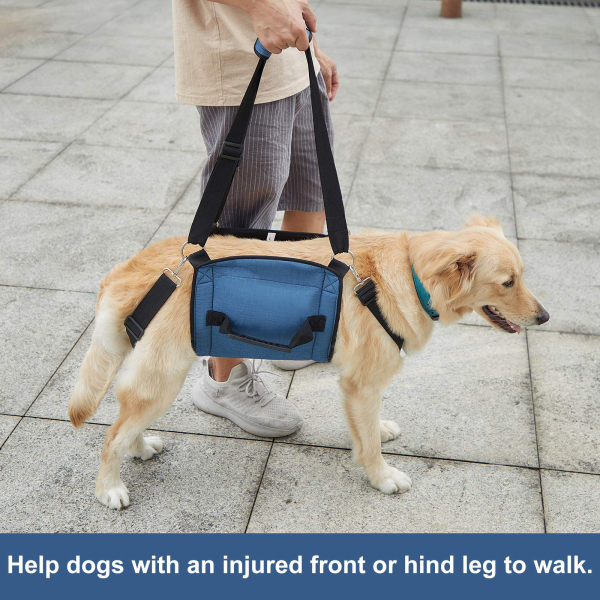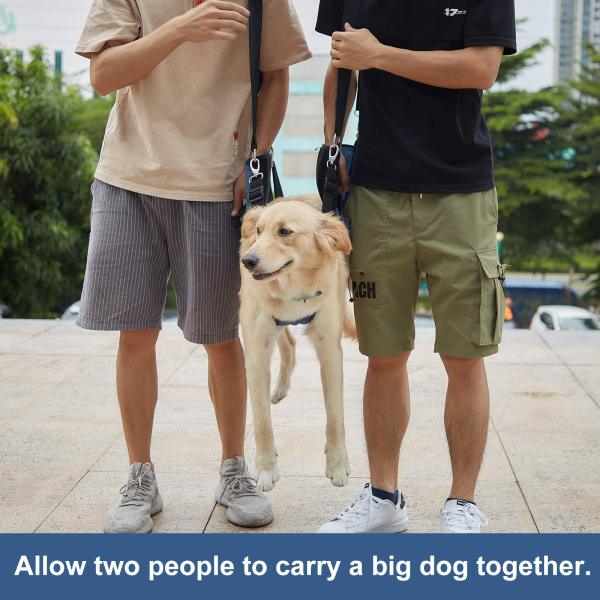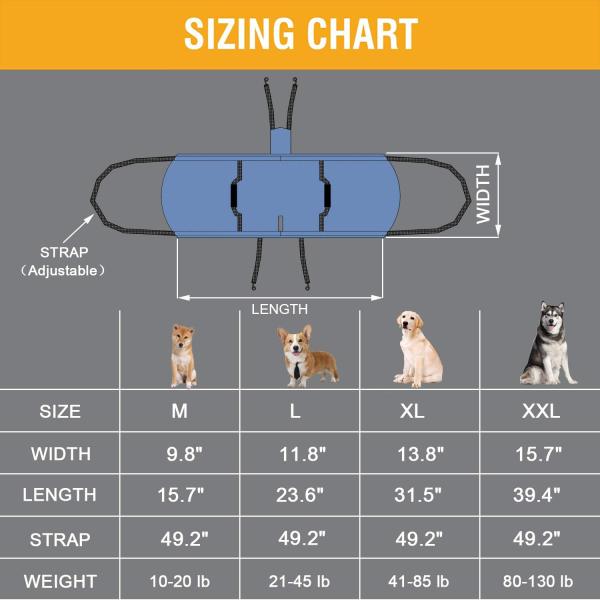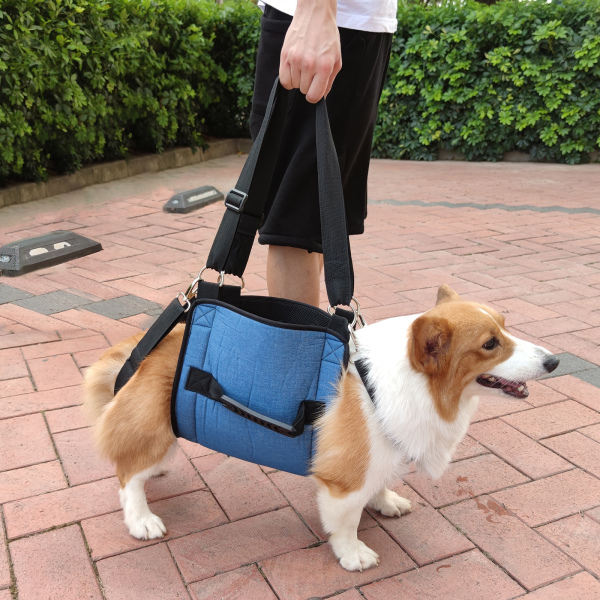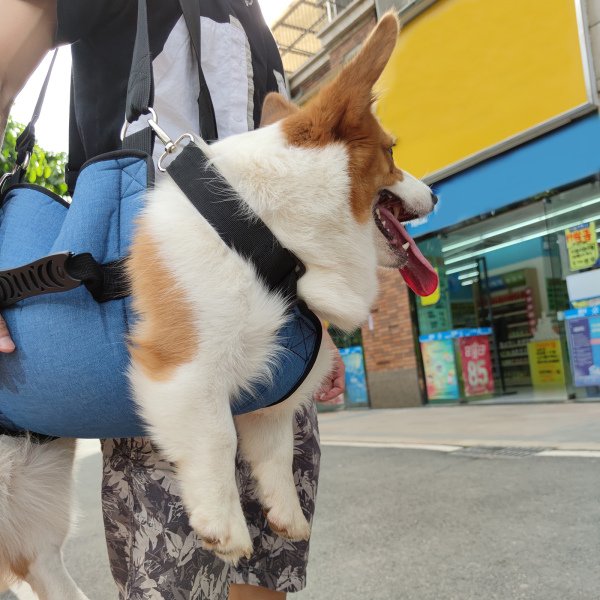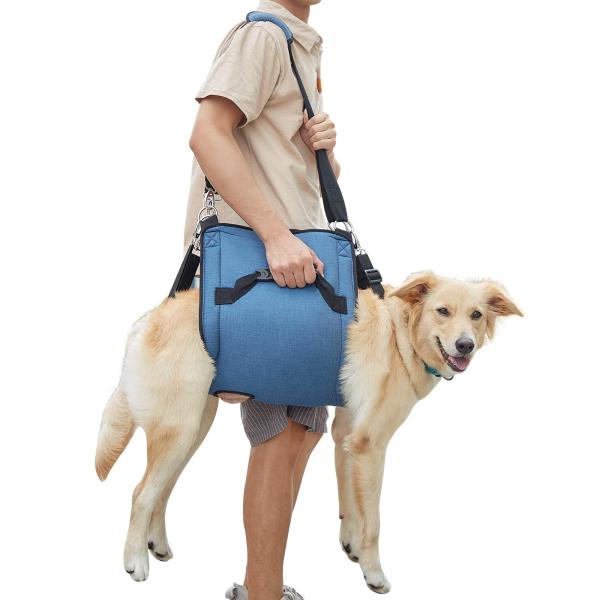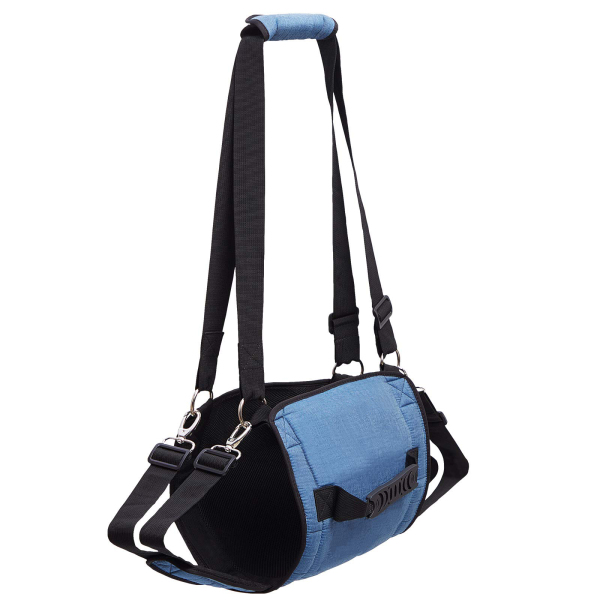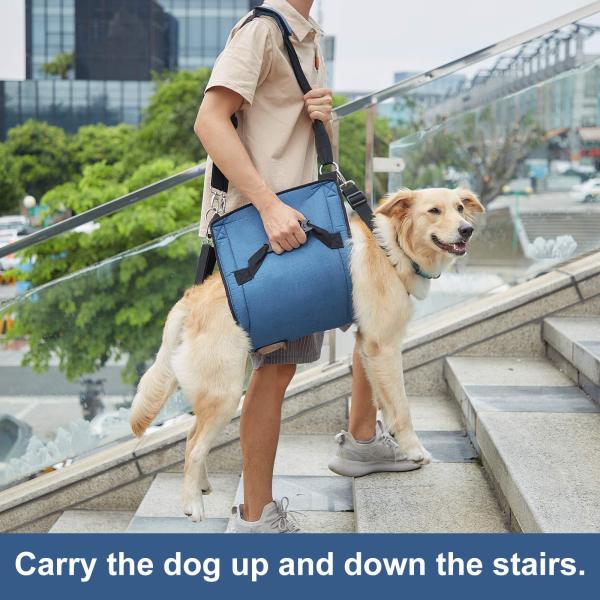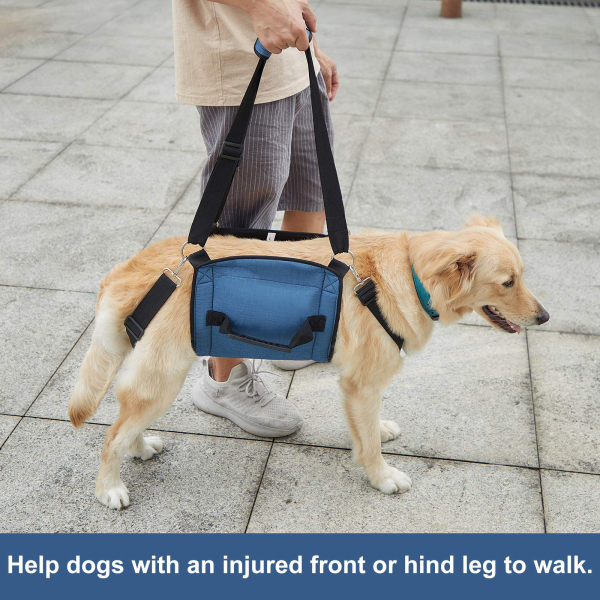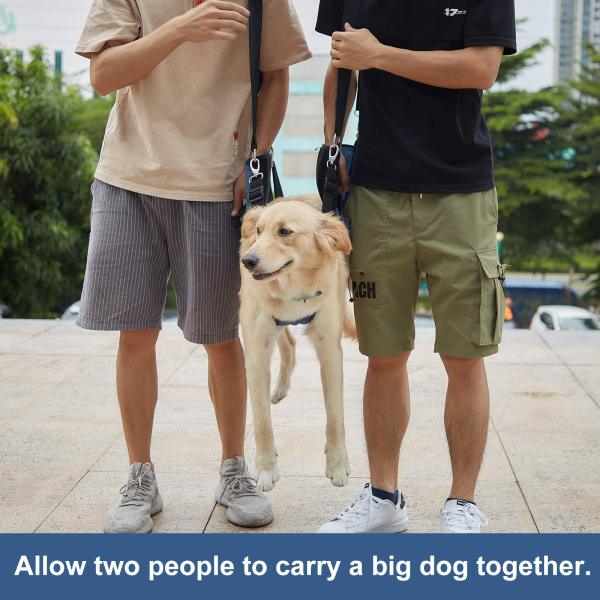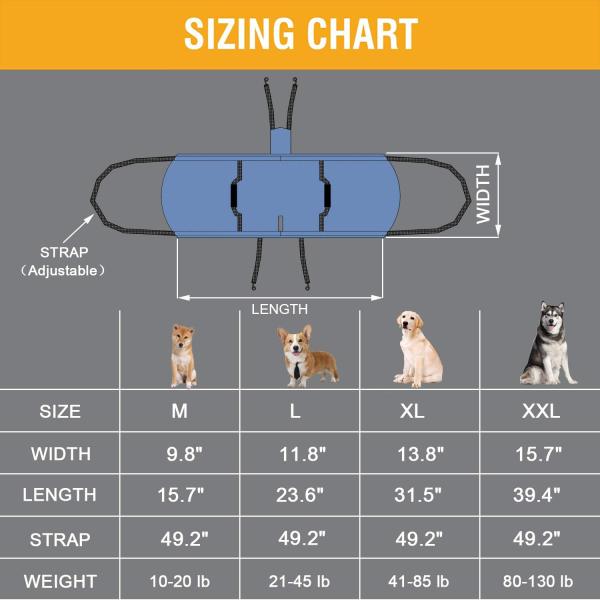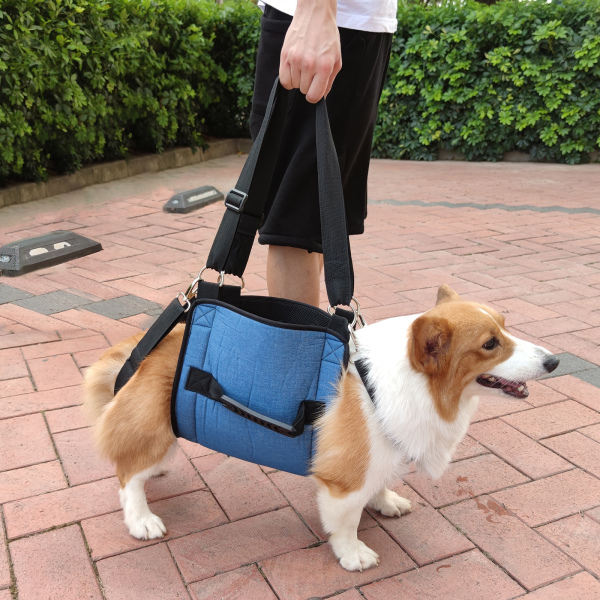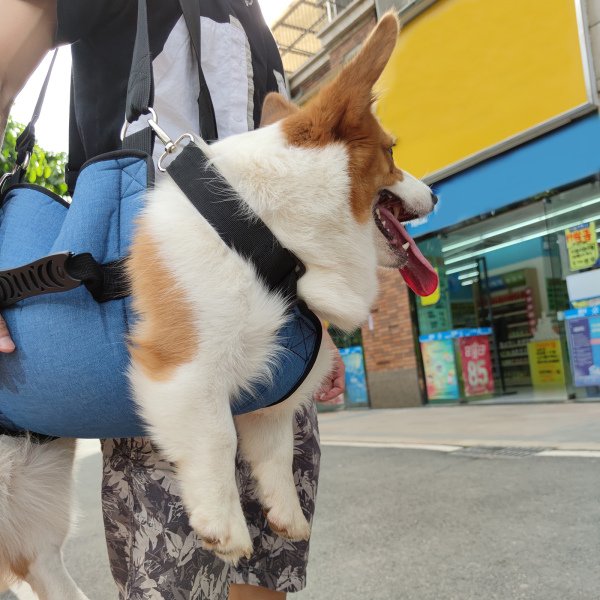 Dog Mobility Support Sling for Waist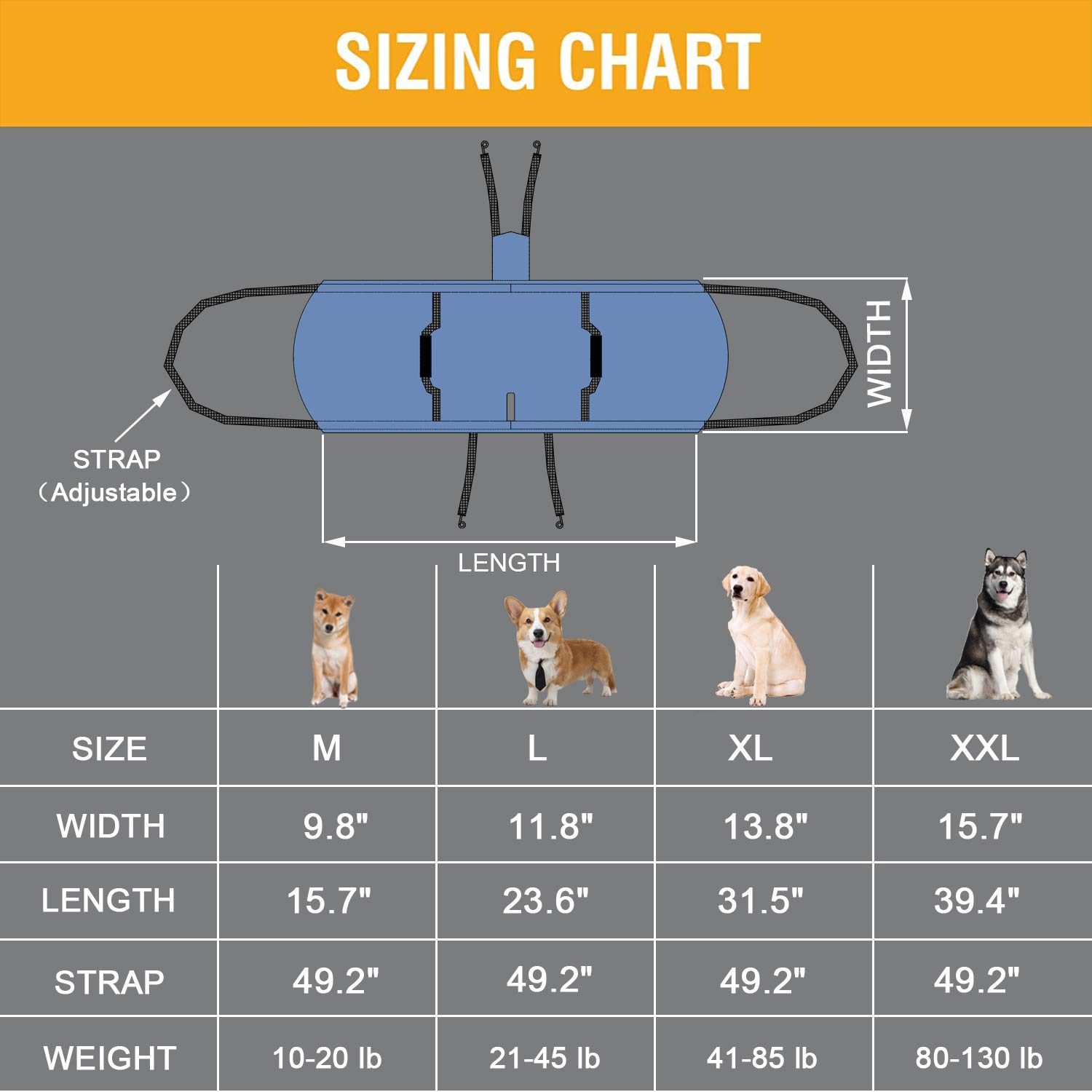 Easy to use, requires no extra assembly but offers great support.
A sling takes the load off a dog's front or rear legs and helps your dog recover after surgery.
Very convenient to use, you can directly adjust the length of the shoulder straps to suit your dog's body shape.
Easy to clean, please wash by hand with cold water and dry naturally.
See more
=
Product Name: Dog Support Sling for Waist

Product Category: DOG Lift Harness

Material: nylon

Ideal For Breeds: Small Medium Large Dogs

Ideal For Scenes: Pet Assist Belts Help Keep Dogs Safe When Walking Or Climbing In Life. Extra Security For Your Dog.

Product Features

Assistance For All Sized Dogs: Our Dog Lifting Harness gently helps lift your pet's hind legs. That makes it the perfect solution for (elderly) dogs with weak, paralyzed or collapsing hind legs due to arthritic hips, degenerative myelopathy or spinal stroke, and mobility issues. It also offers support during your dog's recovery from hip or knee surgery (ACL/CCL).

HIGH QUALITY: The Dog Lifting Harness's super soft material cushions your dog's belly as you help them move around.The adjustable slings help remove stress from your back because you don't have to bend over to help your dog. We also added a comfort handle to protect your hands.

Easy to Use: Simply place the cushioned support pad under your dog's belly so that it's close to their hind legs. Make sure the lining touches the belly and the nylon webbing is on the outside. Adjust the length of the straps to fit your size and use the comfort handle to hold them. Now you're ready to help lift your dog into the car, onto furniture, walk them up and down stairs or take them out to potty.

EASY TO CLEAN: If your dog accidentally soils the pet harness, please wash by hand with cold water and dry naturally.

Product Display
Reviews (34)
WRITE A REVIEW
Review:
Review is required
Picture: ( 0 / 6 )

Rating Snapshot
Select a row below to filter reviews.
Average Customer Ratings
Sort by:
Highest to Lowest Rating
Highest to Lowest Rating
Lowest to Highest Rating
Most Recent
I have a 110 lb great Pyrenees/Shepard mix. He's got a torn hind CCL and will be having the TPOL surgery soon. When he tore his CCL he also injured his other leg making himself unable to walk for a few days, I ended up purchasing this Sling and a Mobility Harness (I was going to need it after the surgery anyway) and I really believe you need to consider both if you have a big dog.

I can pick up my dog without the sling, it's awkward, and nowhere near easy. Carrying him to the yard for potty breaks or back to his lounging area (my office) was difficult to do with out this sling. I tried to drag him on a blanket, use a towel to assist his walking, but his injury really just made that painful. So I got the sling.

I acclimated him to it by putting it in his sleeping area I'd rest it over/under him, then I'd wrap him in it for a bit. He basically got used to it. Then after about 3 days I picked him up in it. It's pretty easy to slide under a big dog even if they cannot move on their own. The connectors can be operated with one hand (huge plus) My biggest problem was my dog thought it was play time and squirmed to play.

This sling distributes the weight across the entire underside of the dog. This is awesome. The mobility harness I have also has a sling like feature, BUT the weight distribution is on the hip and shoulder joints via straps. So I see these as two different tools for two different jobs. Sling = Need to carry and move a dog that cant walk: Mobility Harness = Need to assist and guide dog that can partially walk

This sling also has 2 straps AND side handles. Why this is important: 1) The 2 carry straps can be used together on one persons shoulders OR 2 people can share the load with each taking a strap 2) The side handles allow you to distribute weight with you arms in addition to your shoulder. When your dog is 110 lbs you will appreciate this feature. My wife cannot pick up our dog with this strap alone, BUT she and my son together can lift and carry our

I wish this worked. It seems like a good idea and looked like it is well built although I didn't give it any use other than to try it once. We are currently using the 'suitcase' style carrier (i.e., carrier with a handle on the dog's back) to lift our dog who has a bad knee and I thought carrying her on my shoulder would be easier, but this just wouldn't adjust small enough for her and it felt more awkward than I expected. Although I expected the opposite, I found that picking up my dog with the suitcase style carrier is actually easier than trying to lift her with the shoulder strap. I think I'd only want to use this style carrier with a lighter weight dog.

Our poor pup was at end of life and could no longer walk. This was an amazing investment to give her the dignity of still being able to go to the bathroom on her own. We keep it in a safe place for future pet needs. Highly recommend.

This is a great tool for anyone with a senior dog with mobility issues, or for end of life care. We just lost our boxer/lab mix, and this tool was a saving grace for us during her last days. This allowed us to take her outside and down the stairs and let us assist her with potty time, as well as taking her in and out of the car for visits with the vet. I am disabled myself, and was able to lift our 70+ lb dog without assistance. Be sure to check the weight requirement and measure your dog for the best fit. Our girl was very broad and heavy in the chest, so we erred on the side of caution with the larger size, but I believe we would have had an easier time carrying her with the size below. As for comfort, our girl had severe arthritis in all her joints, and was having lymph issues due to cancer - putting a hand under her shoulder would cause her to yelp - we had no such issue when she was in the harness. The straps were all fully adjustable and removable so that we were able to configure this in a way that wouldn't cause her any discomfort. This was a wonderful product, and we made sure to leave it with our vet for any other patients with mobility issues.

Our 10 year old Shepard mix abbi will not let anyone clip her nails. She's blacklisted at all groomers. The last time we had her nails clipped she had to be put under. With her age this is just not an option anymore. I didn't have high hopes for this rig, but I'll be darned if this combined with a muzzle worked!

It was a two person job for sure and the person that wasn't clipping nails was sure to offer support to her we only stepped away for this one photo (mainly bc I felt like no one would believe me). We already had the hook in the garage that held a punching bag so we knew it was secure.

Seriously though. This was perfect. Her toes are no longer splayed out bc of her long nails. It wasn't easy, but it was a lot safer than putting her under anesthesia. We also asked a groomer friend about this and she too said this was safe!

He didn't like me using the straps on his back legs as he was hurting, other than that, durable, comfortable and easy to stick around shoulders to carry him around from point A to point B. I also was able to do his nail trims with out spending mass amounts of money due to his severe anxiety with baths and nail trims.

Purchased this to carry my dog up and down stairs after his TPLO surgery. This saved me a lot of money on the airbnb's I was renting out to make sure there were no stairs to climb anywhere. The only thing to note is that there is a pretty huge difference between the XL and L sizes. I initially bought an X-Large for my 42 pound mixed breed because he has a big German Shepherd chest. It fit well but was too loose up top. It still worked for us but I decided to purchase the Large instead, and somehow the Large barely even closes around my dog's body. It feels more like a medium. The velcro straps are also about half the width of the XL size, making it more difficult to put on. I'm on the shorter side so I decided to keep the Large because it fits my body a little better, but overall neither sizes really fit my dog well. Just something to keep in mind that for mixed breeds sizing may be tricky!

This is very sturdy and allowed us to help our dog be safe on the stairs so she could sleep in her bed.

Our corgi is losing function in his hind legs so it was time for us to figure out how best to navigate taking him out and comfort. For background info, our corgi is 35 pounds and 11 years old.

We got the large harness since the corgi model is pictured w a large. As you can see from my photo, he fits in the harness and he was able to quickly learn how to use it.

He does breathe a bit heavy when he's in it and being carried, so I'm guessing it's not the most comfortable fit for him, but we don't plan on carrying him all the time.
It seems to work pretty well for holding him up to help him walk. And no need for an additional leash or harness since the handles work for that purpose. There's so a hole in the harness, which I'm assuming is so he can go to the bathroom while in the harness. Haven't tried that out yet but we'll see if it works (and how dirty that'll get….)

Overall, pretty pleased w the purchase. We'll see how resilient it is though, which will be a test of time and use. It seems to be pretty okay quality but I'm worried it's gonna fall apart sooner than later. Haha

Having learned from previous experiences, having something like this on hand is great! We've had a dog I couldn't easily lift alone not get up.
With this, I've easily trained by dogs to not only let me secure them inside but to let me fully pick them up if needed! They feel safe and fully held, never once squirming like they were afraid to slip out
Who Viewed This Also Viewed