Full Body Dog Lifting Harness With Storage Bag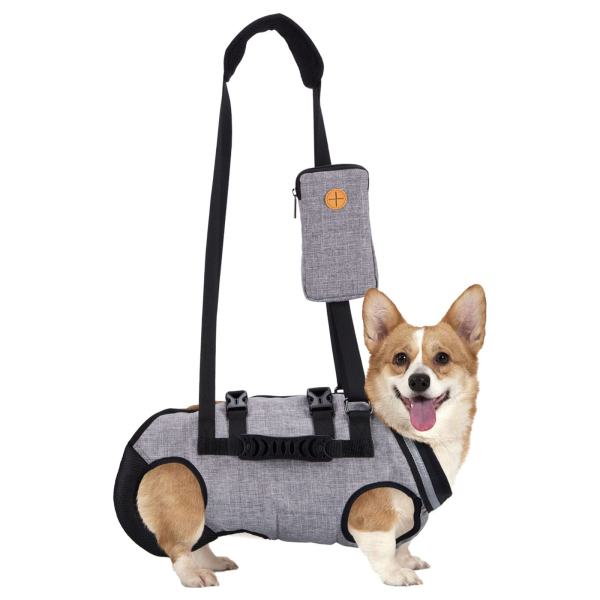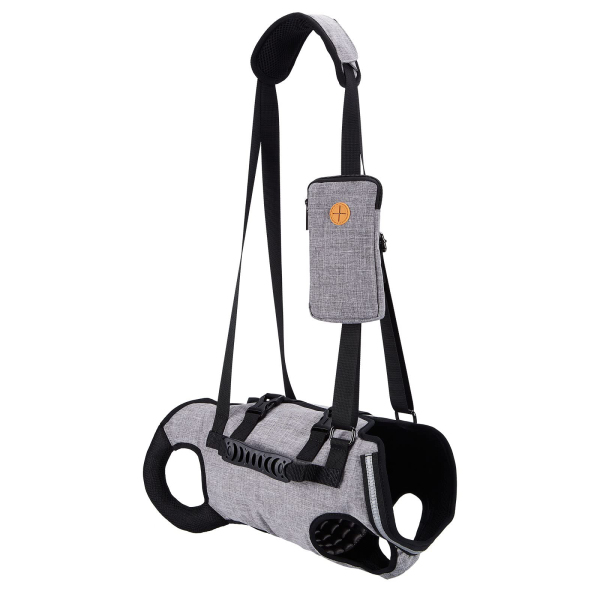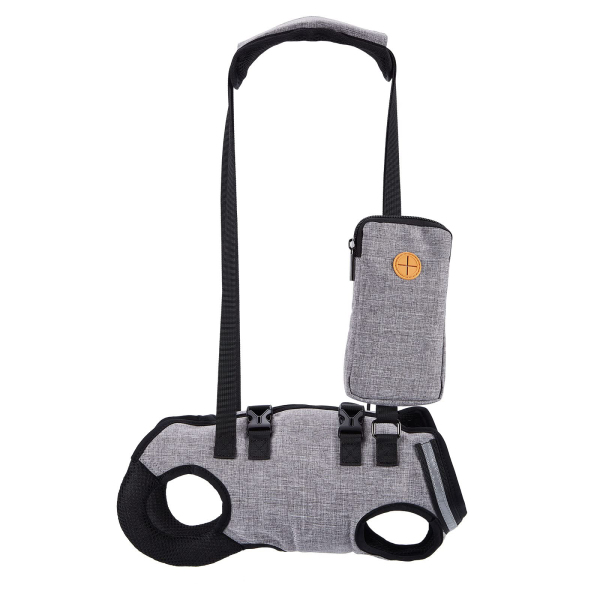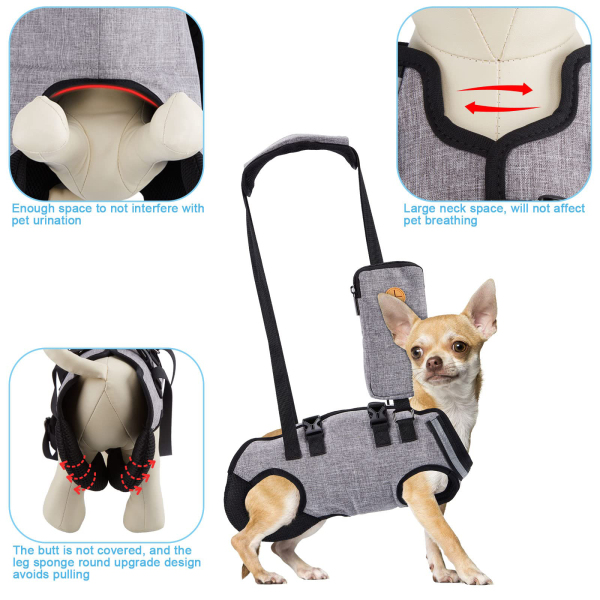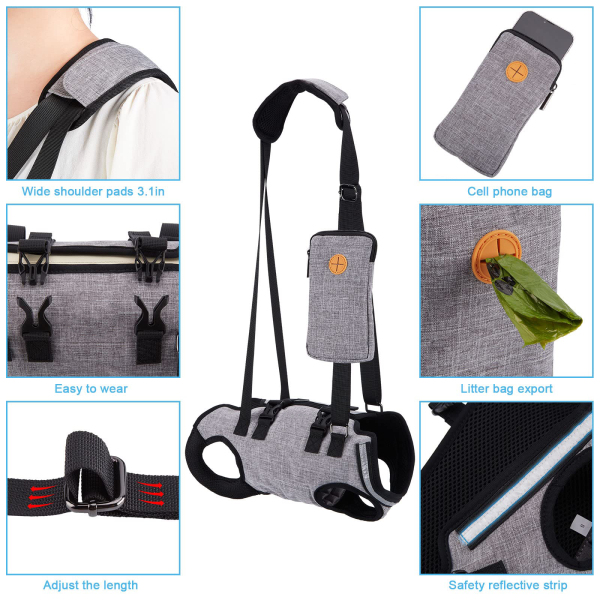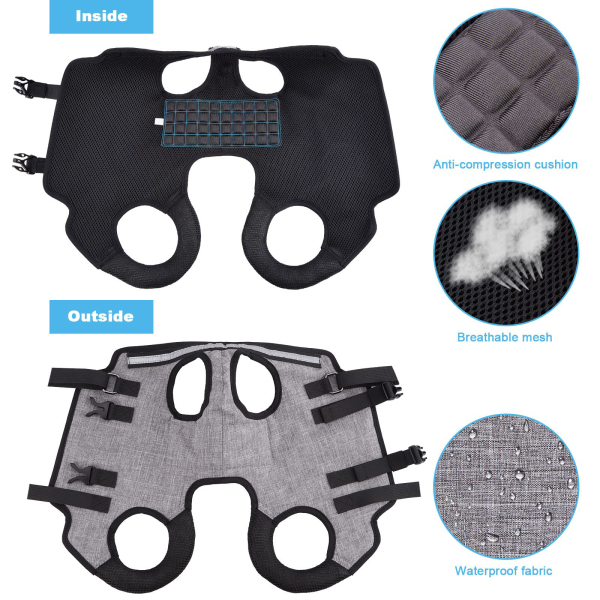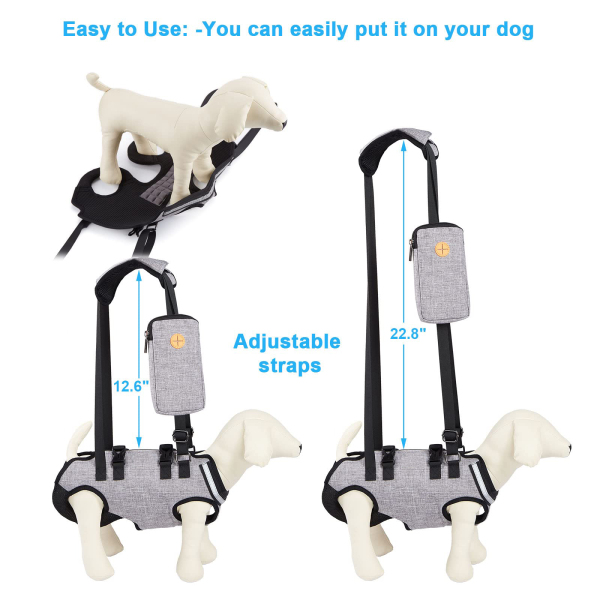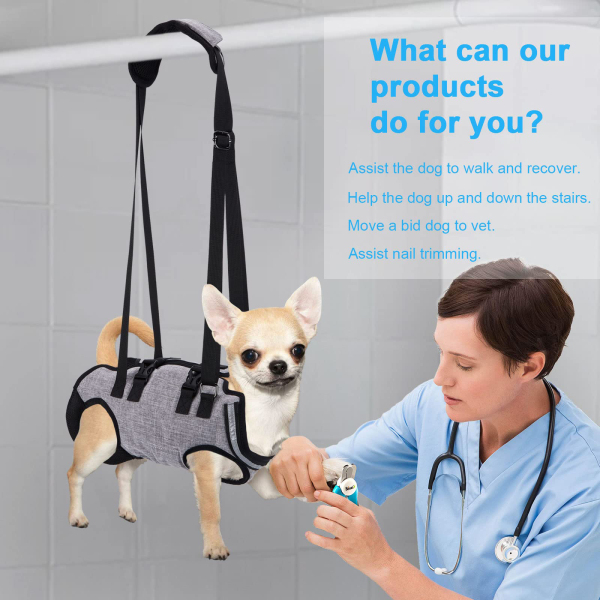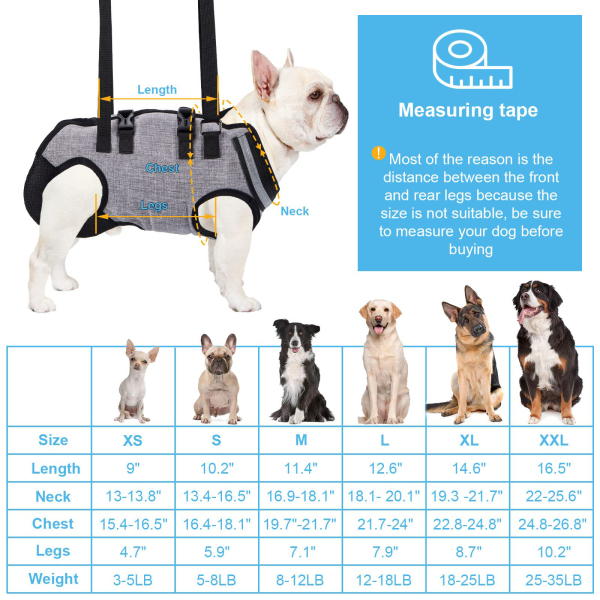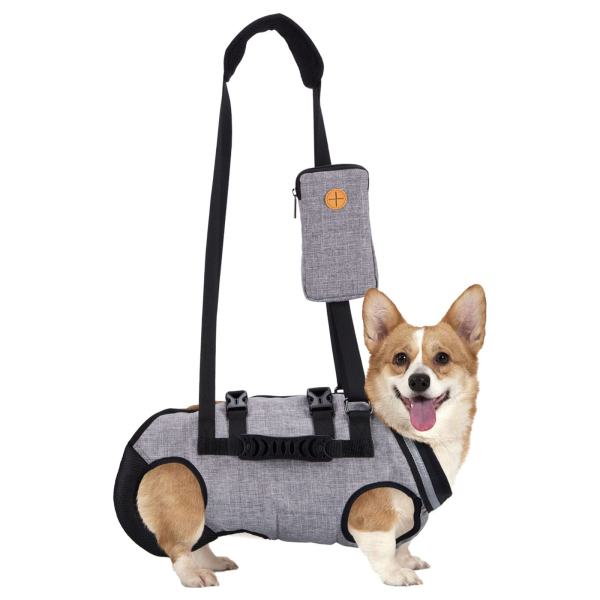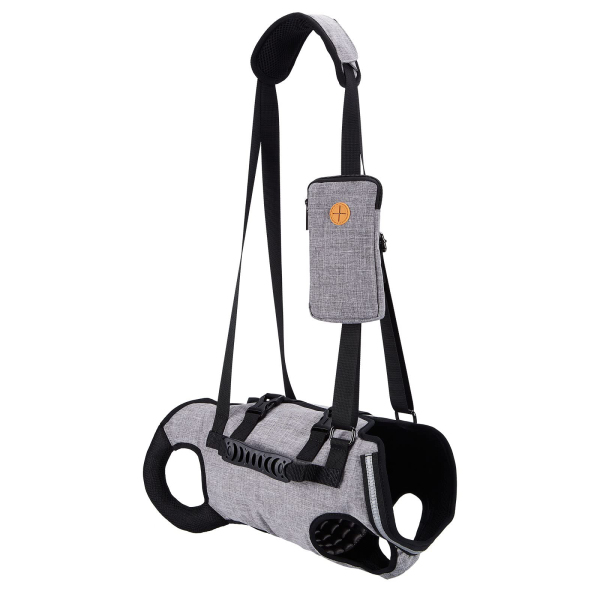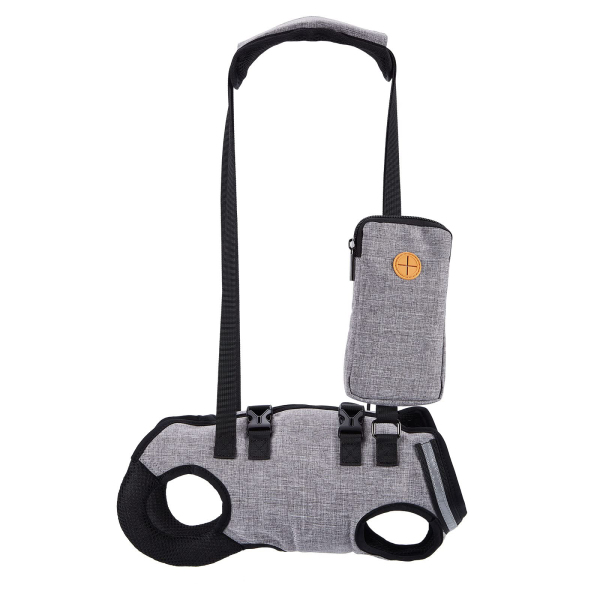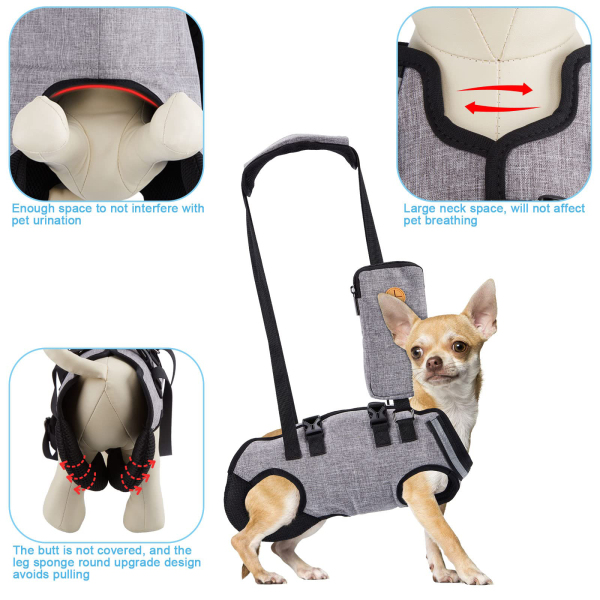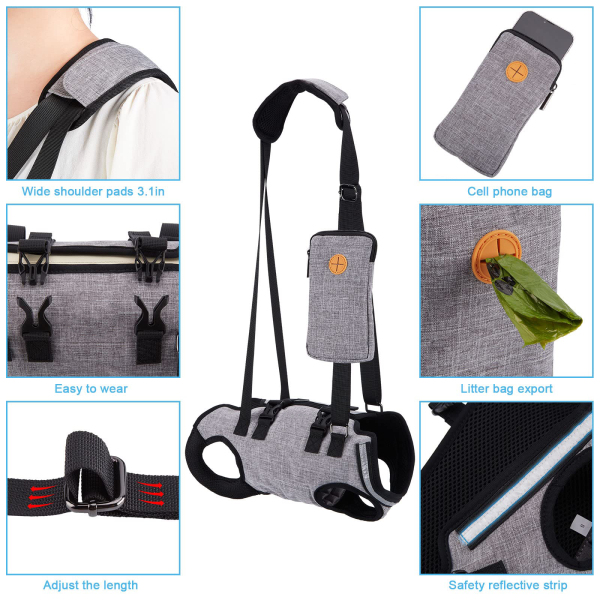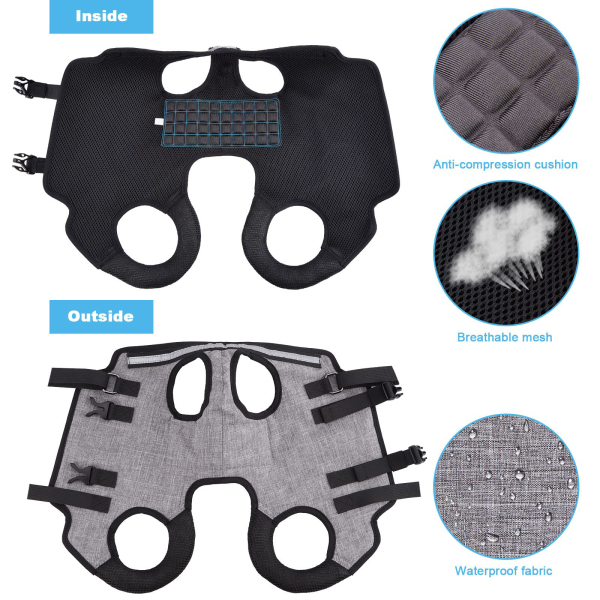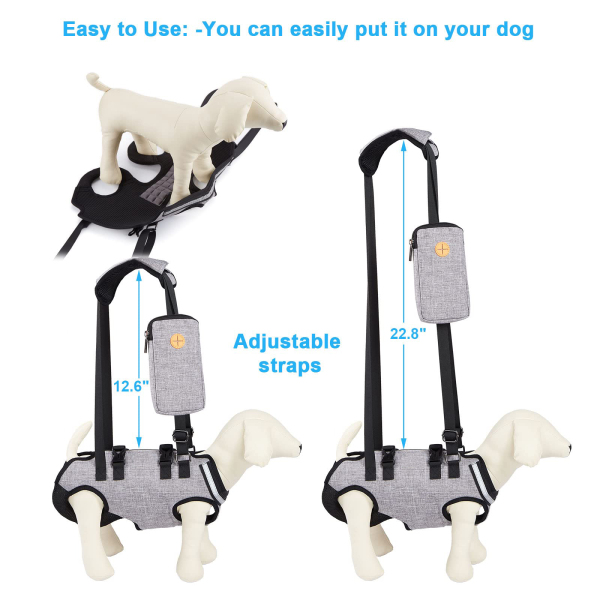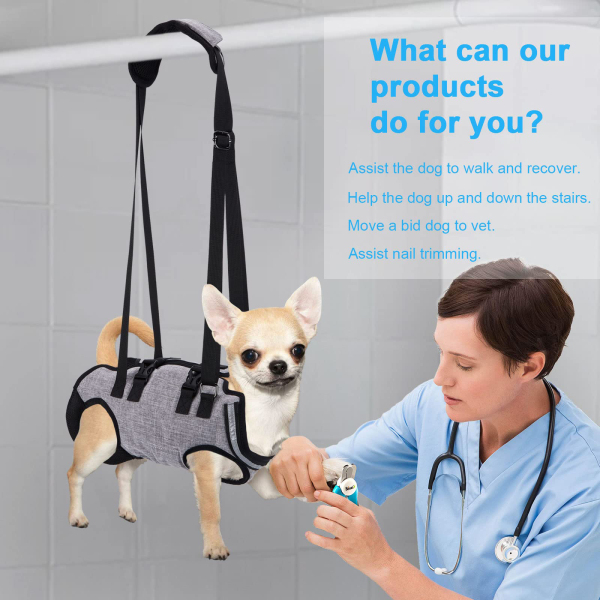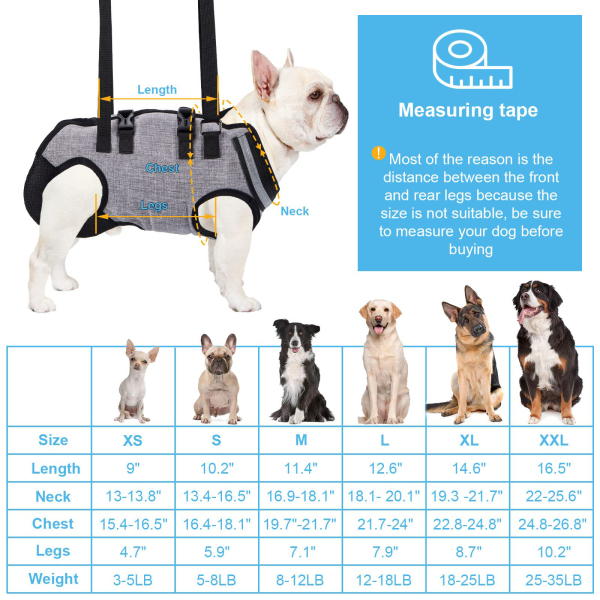 Full Body Dog Lifting Harness With Storage Bag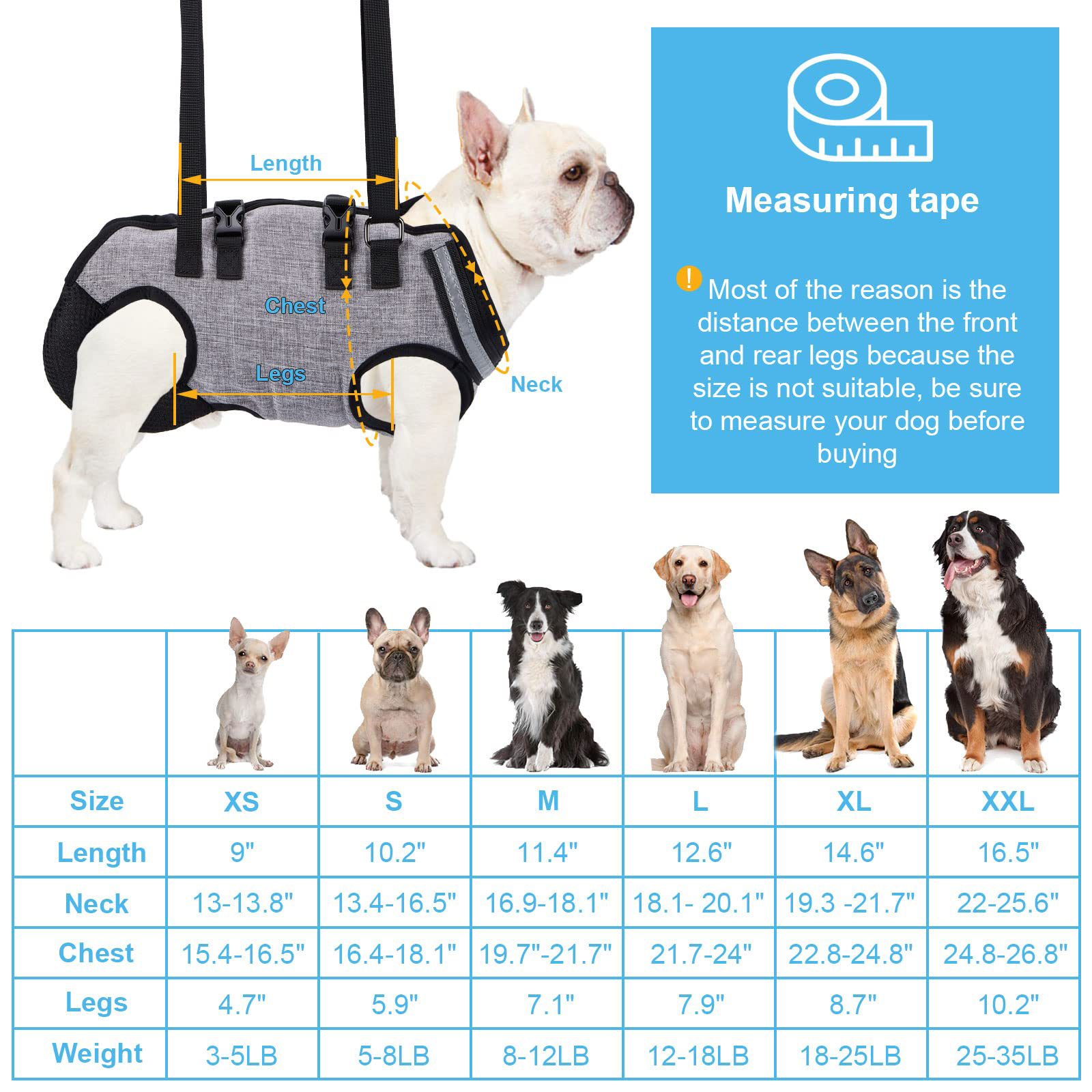 Easy to Use,You can easily put it on your dog.
A sling takes the load off a dog's front or rear legs and helps the dog recover after surgery.
ease of use, adjust the length of the shoulder straps to fit your size.
Lift your dog into the car, onto furniture, take them up and down stairs, or take them to the potty.
Easy to clean, please wash by hand with cold water and dry naturally.
See more
Product Name: Full Body Dog Lifting Harness With Storage Bag

Product Category: DOG Lift Harness

Material: Oxford fabric

Ideal For Breeds: Small Medium Large Dogs

Ideal For Scenes: Pet Assist Belts Help Keep Dogs Safe When Walking Or Climbing In Life. Extra Security For Your Dog.

Product Features

Professional: The product has been modified and designed through many experiments. It's specially designed to provide assistance for pet outdoor activities, dog training and dogs who lose their balance and mobility due to leg injuries, arthritis and rheumatism. It helps them walk, go up and down stairs, and get on and off the car. For small dogs, it is convenient for you to wear crossbody or use it to lead your dog. It's very safe and practical.

Sturdy & Durable Material: Each suture is strengthened. It's safe and sturdy when being used, providing reliable support to your beloved dog. It's of double-layer fabric design. The outer layer is wear-resistant waterproof oxford fabric, and the inner layer is made of breathable mesh material. It's washable. Just let it dry naturally. Comfortable material ensures that your pet won't feel stuffy even for long-time using.

Six Kinds Of Structure Personalized Design: 1.The neck circumference is widened and won't be too tight to the dog's neck or affect its breathing; 2.The back buckle strap can be adjusted to suit dogs of different sizes; 3.Shock-proof sponge is added to the abdomen to effectively protect dog chest from being squeezed; 4.There is enough space in the abdomen for male dogs, which won't interfere their urination; 5.The circular sponge designed to legs avoids buttocks friction and leg pulling; 6.Our slings from M size to XXL size are all equipped with assistance handles, proving additional assistance when you carry large dogs.

Easy to Use: For better using, you can try these ways of use: wear it crossbody , wear it on shoulder , use it as a leash (shoulder strap is adjustable) , can be wore as anxiety vest , can be used as a hanging hammock to trim your pet's nails or for grooming.

Product Display
Reviews (11)
WRITE A REVIEW
Review:
Review is required
Picture: ( 0 / 6 )

Rating Snapshot
Select a row below to filter reviews.
Average Customer Ratings
Sort by:
Highest to Lowest Rating
Highest to Lowest Rating
Lowest to Highest Rating
Most Recent
I have to take my little chi up and down the stairs for an undetermined amount of time, due to some arthritis issues. It fits well, it's comfy for him, and he's just a little bemused about the whole thing so far. Perfect!


I ordered it for a young cat who was paralyzed in her back and back legs. I do not know whether she was injured or had a heat stroke. She just fell over in front of me, and I picked her up and carried her home. It was a little difficult to get both the front legs and the hind legs in it because the cat "Gabby" did not know what I was doing to her. It worked well to lift the paralyzed hind quarters and to teach her how to walk to again. I would recommend this product for any injured young cat or small dog. It took practice for me to balance the leash and the young cat's weight, but, the leash provided good support and balance once used a couple of times.

I BOUGHT THIS FOR MY CRESTAPOO WHO HAS HIP DISPLACIA. SHE HAS A LONG THIN BODY. THIS CARRIER SURPASES MY EXPECTATIONS. VERY STURDY, WELL CUSHIONED AND HAS THE RIGHT LENGTH STRAPS. WELL PLEASED WITH MY PURCHASE.


Got this for my 5lb dog who is recovering from surgery. I bought small. She is about 10 " along the back and I used that measurement to select the size. This is VERY well made with lots of comfort padding. My primary use, at least right now, is to use as a carry sling as she is supposed to be on cage rest and NOT walking much at all. The sling/carrier allows me to tote her around as she is developing a case of separation anxiety when left in the cage alone. The carrier allows me to work and do chores and take her along (and I can still use both arms). For my uses, this has been great. Later I will use it as a grooming aid to get those nails!! Well worth the money.

Our frenchie broke his growth plate in his knee. The vet gave us a sling to use but it was useless. He would come right out of that. This was perfect to take the weight off his leg. Easy adjustable between 5' me and 6' hubby.


Best thing I found for my 15 y/o Shih Tzu. He's really small (7.2 lbs) and his hind legs are really weak. About 6 weeks ago, they just kind of gave out and the vet put him on anti inflammatory meds and pain meds. I bought this harness to provide him with support while doing his business but didn't have high hopes cause my dog is so small. Now, exactly 4 weeks later, he's up to about 80% use of his hing legs!! It took me a few days to get the hang of putting it on him by myself (took 2 people for the first few days) but I couldn't be happier that I found this thing. I even considered getting another one (just to have something to use while one is washing and drying).

My only complaint is that the actual strap adjusts too easily… I had to sew it in one position to keep it from moving while walking.

I bought this for my 19 year old calico
cat, Gracie. She got really ill and lost most of her
mobility due to muscle loss. I started using this harness and it not only built up her strength, but now she gets around on her own again. Thank you for a fantastic product.

This harness fits my pet snugly; like a cocoon. My pooch appears comfortable in the padded hind leg lifts. It's easy for me to lift her hind legs while she walks using her front limbs. Even without a diaper she can pee and poo without soiling her vest. Easy for me to carry with the shoulder strap. ♥️this product. Wish it came in multiple colirs!


My pup had really bad swimmers legs and a flat belly. I did this for 20 minutes twice a day for two weeks and I saw immediate results. By week four he was walking perfectly.


The straps need to be removable. It's hard enough to get a lame dog whose rear legs are crossed (dysplasia) into this by yourself, but then the straps get in the way. Don't sew them on, but have d-rings and clips like large dog leashes do so we can just remove them. Also an optional leg harness for dogs who need their rear legs strapped up that can attach to the harness somewhere (like the leg supports on a wheelchair). Aside from that little "want", this is a great harness and great deal and I'd buy again! My vet loved it!