Dog Sling For Back Legs Harness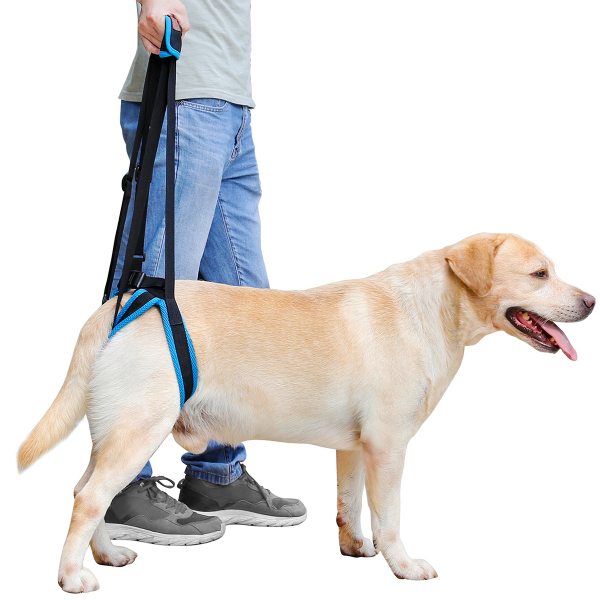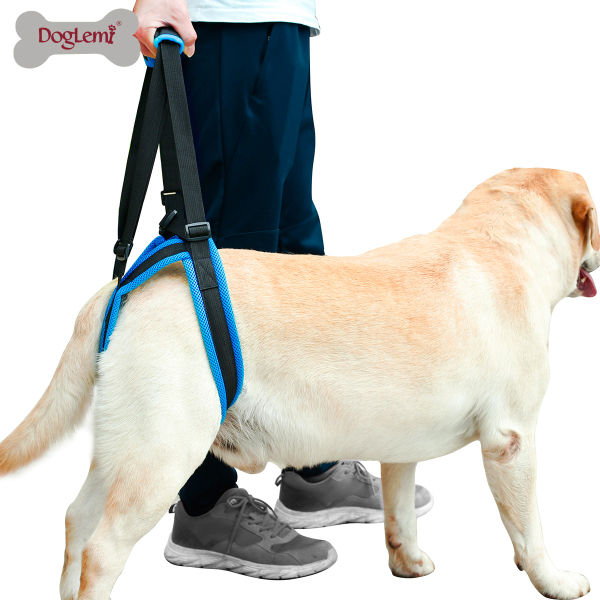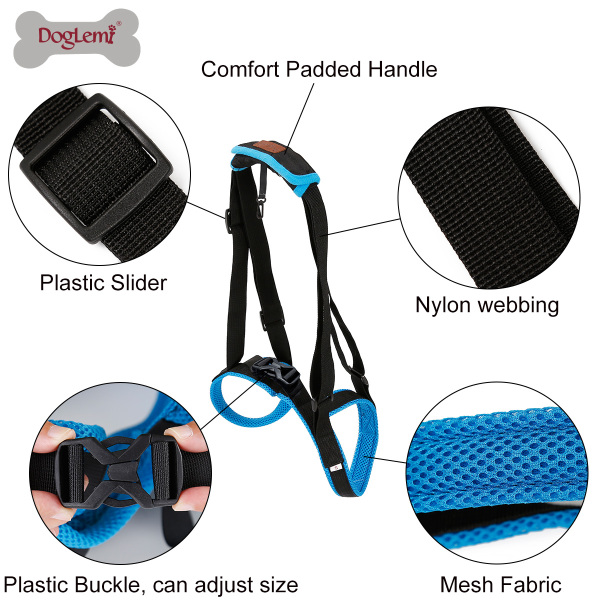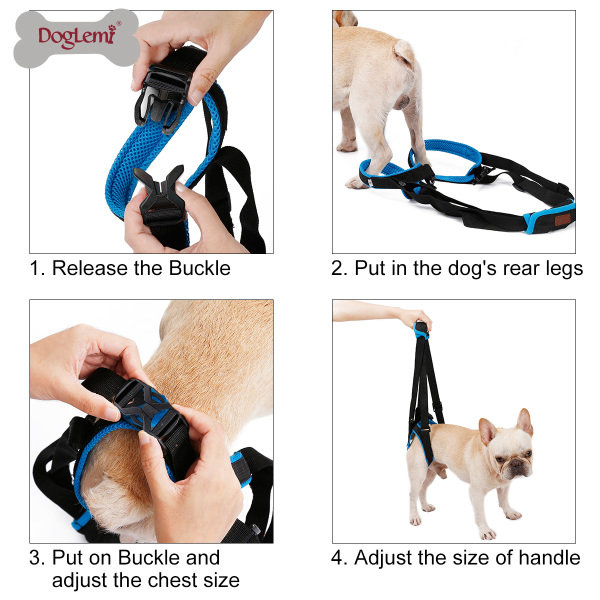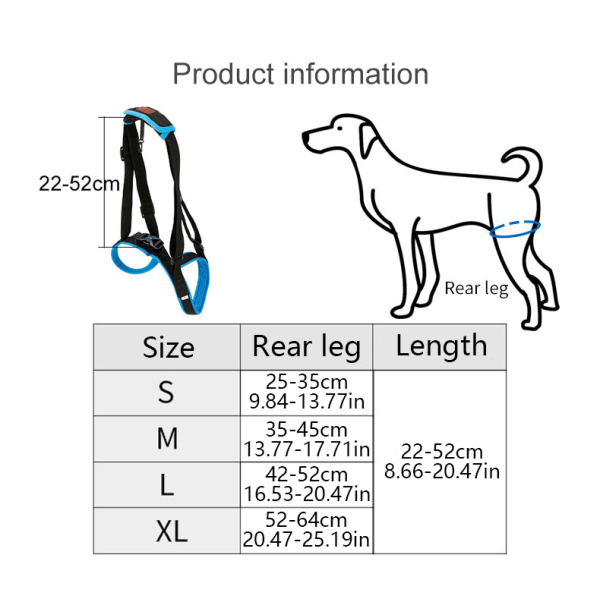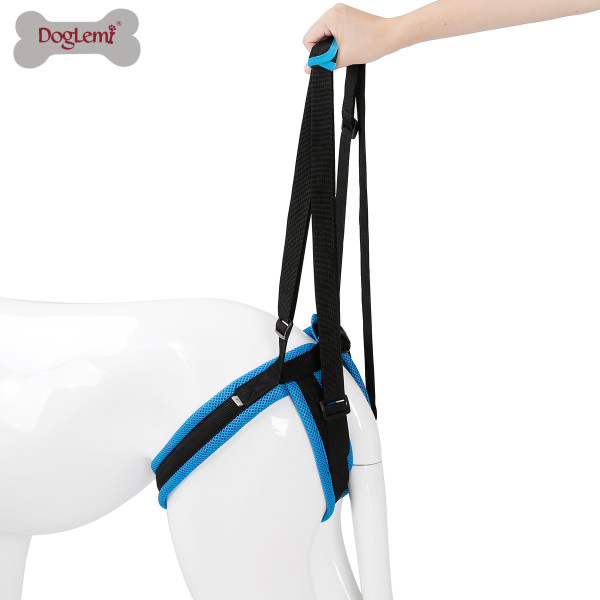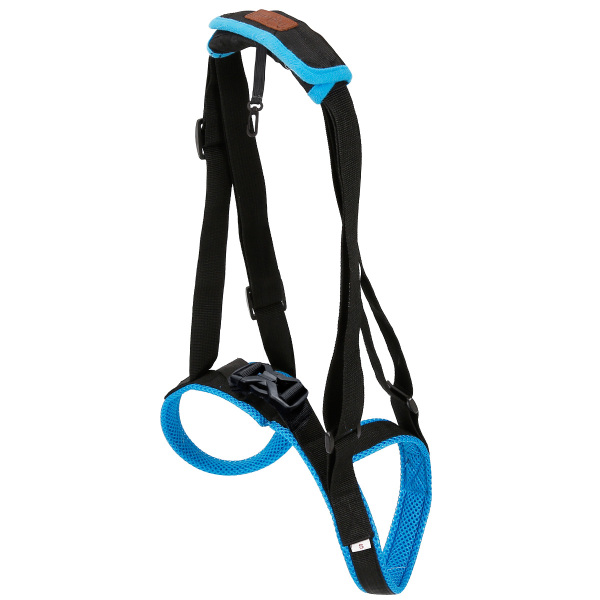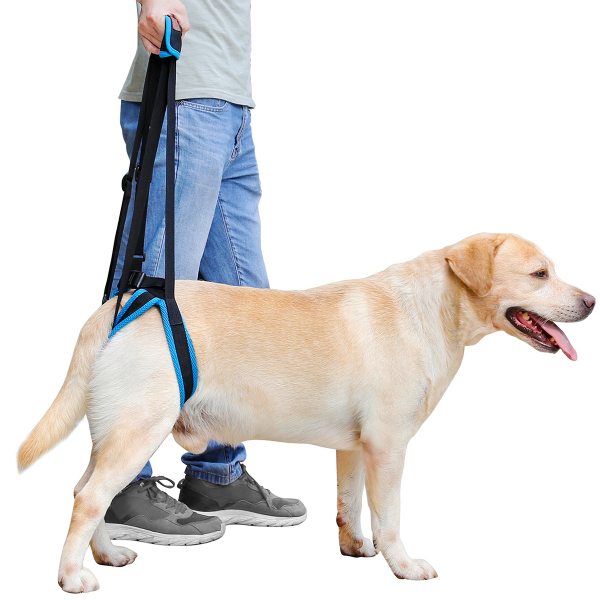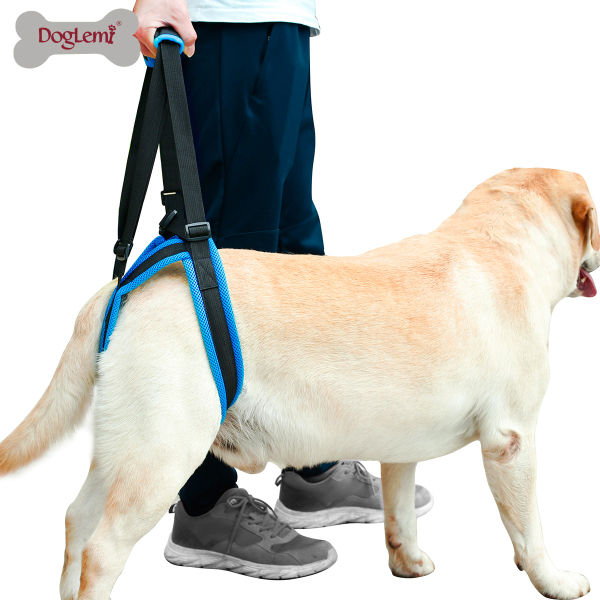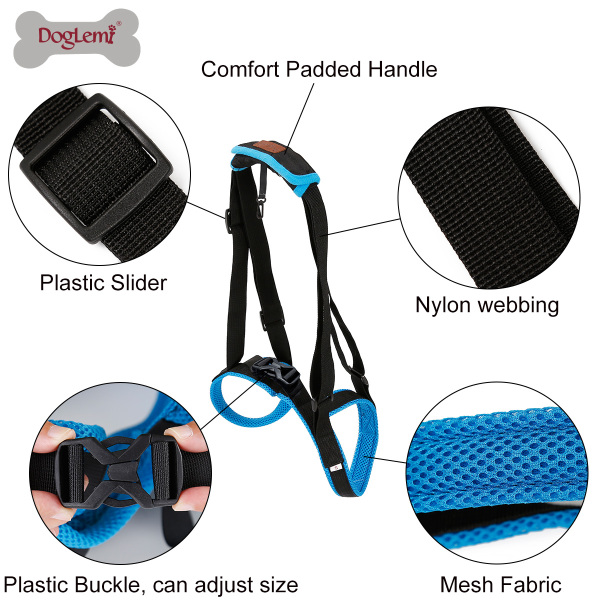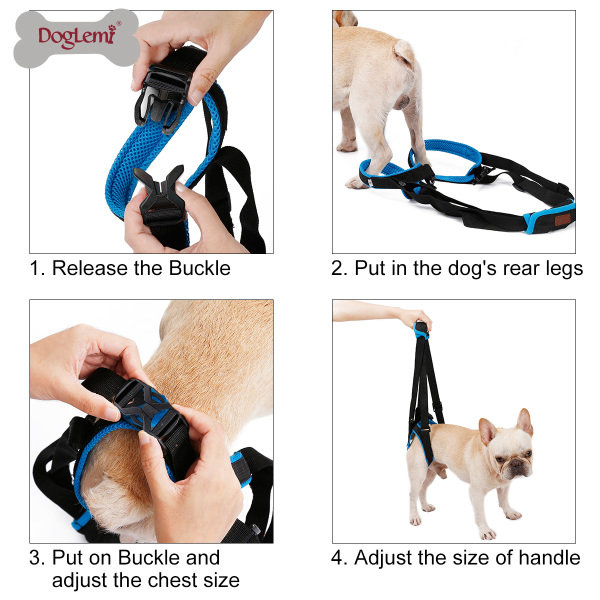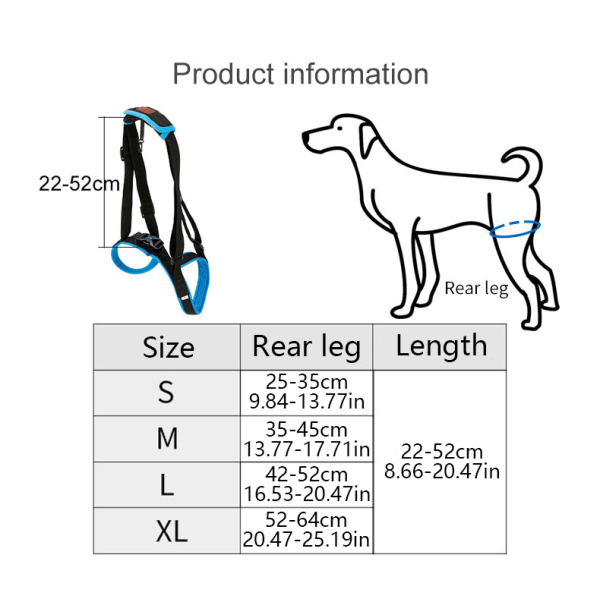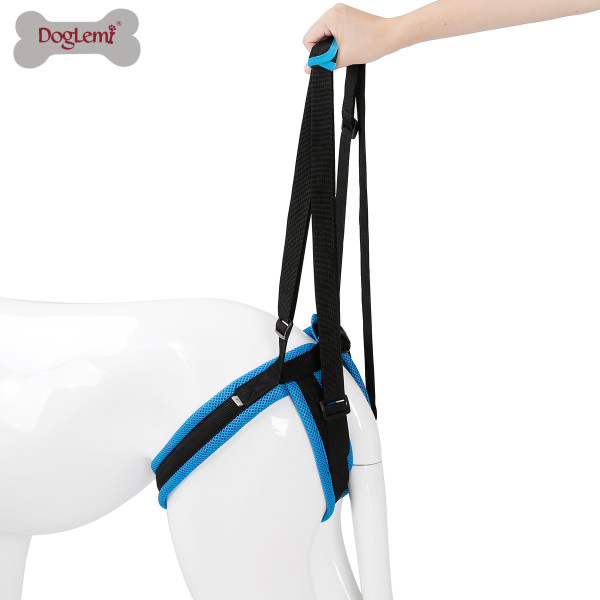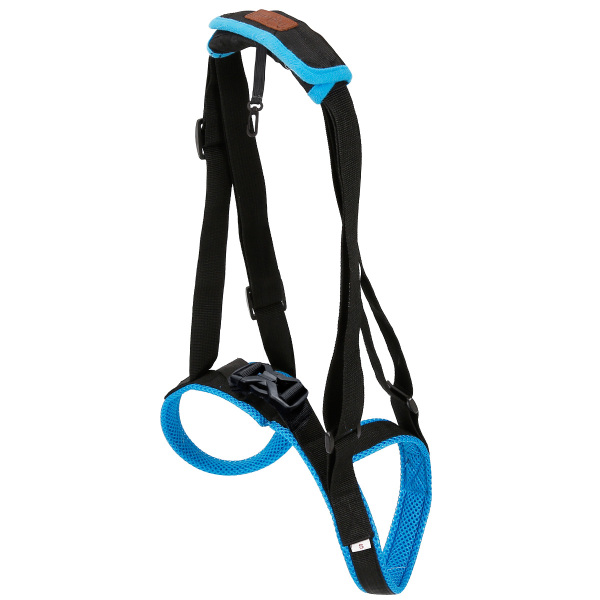 Dog Sling For Back Legs Harness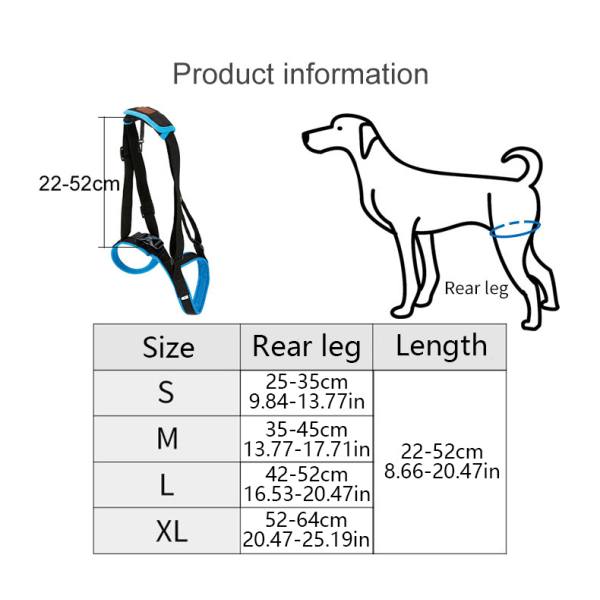 Great for older, injured or recovering dogs. Assists your furry friends with climbing stairs, walking outside, getting into your vehicle.
Hip buckle with handheld adjustable buckle. Able to adjust according to your dog's height.
Lifts the hip and abdomen together instead of placing pressure in one area.
Easy to wear. Fits both male and female dogs. Does not affect your dog's excretion. Easy to clean.
Able to connect to seat belts quickly and eaily with attachment hook&loop, making your dog safely restrained and help you focus on driving.
See more
Product Name: Dog Sling For Back Legs Harness

Product Category: DOG Lift Harness

Material: Sandwich Mesh,PU

Ideal For Breeds: Small Medium Large Dogs

Ideal For Scenes: Pet Assist Belts Help Keep Dogs Safe When Walking Or Climbing In Life. Extra Security For Your Dog.

Product Features

Comfortable and Breathable: Use comfortable PU plastic as a stair support to catch the dog. The material that comes into contact with the dog is light and breathable sandwich mesh, made of breathable sandwich mesh fabric + durable PP fabric that can bear the weight of most dogs, with rebound function, very pleasant to the touch.

Preventing Joint Injury: If your dog is suffering from degenerative bone marrow disease, hip dysplasia or aging bone, high-quality dog ​​equipment can help your dog climb stairs, get in a car and lead a normal life. Sling puppies - prevent hip pain and aging by helping to accompany dogs.

Anti-fall design: If you are not using a dog harness, you can tie your arms around the collar or chest to prevent the vessels from falling out. Day Buckle Dog Harness can be adjusted as needed. The length can be adjusted according to the height.

Relieve pressure: Dog harness, support the dog's hind legs to stop bending and lift it off the ground. Our dog equipment can relieve pain when bending and help your large dog crawl less pressure on your dog.

Easy operation: The dog aid (on the back) is very easy to install. After releasing the buckle, the seat belt can be attached to the dog's hind legs within seconds. Then install the dog harness and adjust the size. The padded handle is easy to carry and comfortable.

Product Display
Reviews (9)
WRITE A REVIEW
Review:
Review is required
Picture: ( 0 / 6 )

Rating Snapshot
Select a row below to filter reviews.
Average Customer Ratings
Sort by:
Highest to Lowest Rating
Highest to Lowest Rating
Lowest to Highest Rating
Most Recent
Helped my dog walk in his final months. I wish I would have purchased this sooner, could have made things a lot easier for my dog. Only thing I disliked was the length of the handle.

Upon purchasing I was reading reviews and I was very skeptical on purchasing. People said they couldn't figure it out or it wasn't for small dogs… but that's not true! I have a 5 year old 21 lb cavapoo that just went through major spinal surgery. He basically can't use his rear legs and when he does he is all over the place with deer legs/drunken legs. So I decided to give it a try because it even has free returns, so why not! I got a size small and it fit him perfect!! There are two black straps.. you basically put them together in the hand holder and the legs literally just slip on. It's that easy. The only thing that is on your dog is the two leg holders, the two black straps are what your holding. I think it's great! I have been bladder expressing him for a while now and everytime I took him outside I would be hurting my back hunched over holding his hind legs up. Now I use the harness and he's peeing outside on his own!!! I love it!!! Doesn't mess or pull in his stitches or anything. Recommend for anyone who has a dog who recently has surgery or can't use their hind legs!

This is a just what I needed. My 13.5 labradoodle has been losing strength in his rear legs and is knuckling. If I had had this early on I could have managed him much better. We are at the very end, and it would have really helped him so much, but I didn't know. The price is great, shipping was quick. Relatively easy to set up and use, really like the rear leg support, instead of an under body sling. When I took him out with it on, he actually trotted around. So my advice to any of you, don't wait this can add a little quality of life on the dreaded end of life.

My 11-yr old developed neurological- balance problems from an oral-chewable flea med after a single 3-month dose. It was necessary to use this device to get outside for toileting, eating meals, drinking water, and to avoid knocking over furniture and things. Once adjusted, it is easy to use.

One time we didn't use it, just heading to the kitchen. She stumbled left then fell to the right, knocking me down hard. Fortunately neither of us had any serious injuries. Update: The hard fall caused rotator cuff injuries on my good shoulder, strained the other, and weakened wrists and knees. Had to order shoulder braces, Polar Active Ice 3.0, compact freezer, ice packs, exercise pulley.
Ziva required euthanasia on 4.21.22 due to toxic neurological decline. Heartbreaking.

My dog suffers from degenerative myelopathy. He can only stand for short periods of time. On his bad days I use this device to help take him potty. Trying to hold a 50lb dog who needs to poop isn't easy. With this he is still mobile and with a small bit of help can use the bathroom without trouble. This device is giving us more time with our best friend. Thank you!

First I want to express my appreciation for the great service. My dog had double knee surgery yesterday and I ordered this that morning. Delivery was supposed to be in 2 days but it came today, just an hour after I picked her up from the vet. The vet recommended a double harness, front and back, but she only needs help with the rear so this will work much better for our needs. It's well made and sturdy and will last much longer than we need it for.

I love EVERYTHING about this product. We ordered it the day after our 20 pound miniature poodle, Winston, collapsed after trying to jump on the couch. His back legs were and are still paralyzed. He was diagnosed with IVDD. The first day after the diagnosis, my husband and I had to hold our dog's back legs up while he went to potty. My husband ordered this harness and it was here about a day later. It is perfect for Winston and for us as the caregivers. It goes on simply (once you study the paper that comes with it and watch the video), and the support it gives is amazing! When this injury first happened, my first thought was "how I am going to do this alone???" Well, this harness makes it possible. It's easy to clean Winston's bottom with one hand while supporting him with the harness with the other hand. I do not know what I would have done without this genius product!!! This is an amazing product.

I got this to assist after my 140 Rott's knee (TPLO) surgery. It was awesome and so much more stable than trying to take him out with an under-belly harness. Highly recommend.

This harness helped us get our dog in and out of the house for the last month or so of his life. We had other harnesses that went under his belly, but this one allowed me to hold him up while he did his business on quick trips out and back inside. I don't know that we could have had that extra time without it.

I don't think my dog especially loved having this harness pulling up between his thighs and torso, so that's why I didn't rate it high for comfort.
Who Viewed This Also Viewed