Fordable Dog Wheelchairs For Dog Back Legs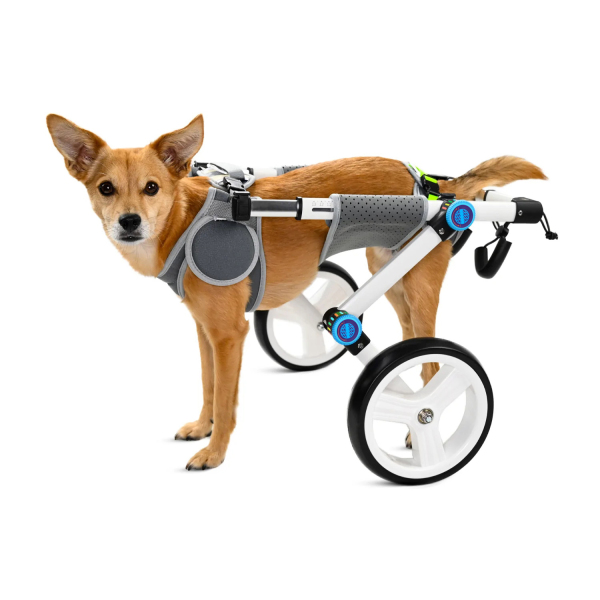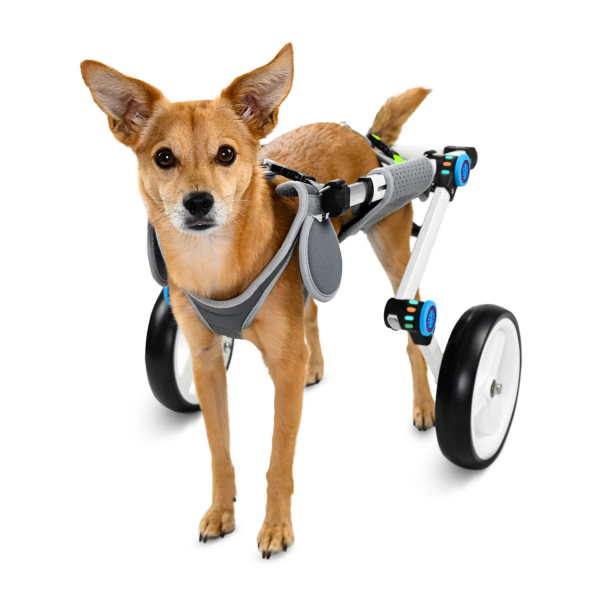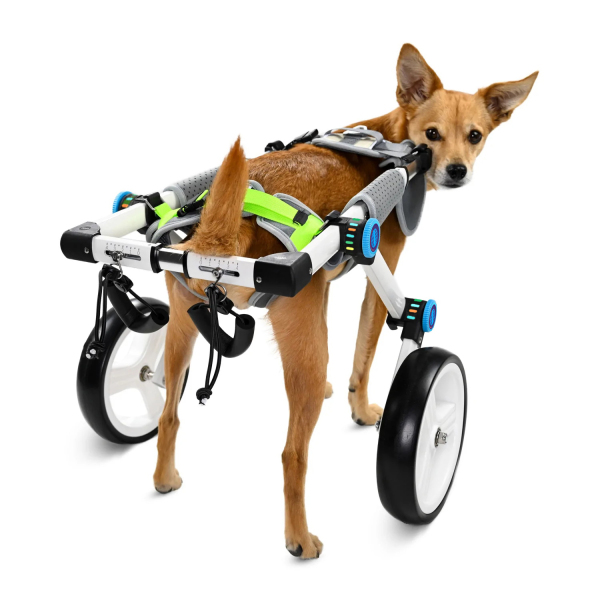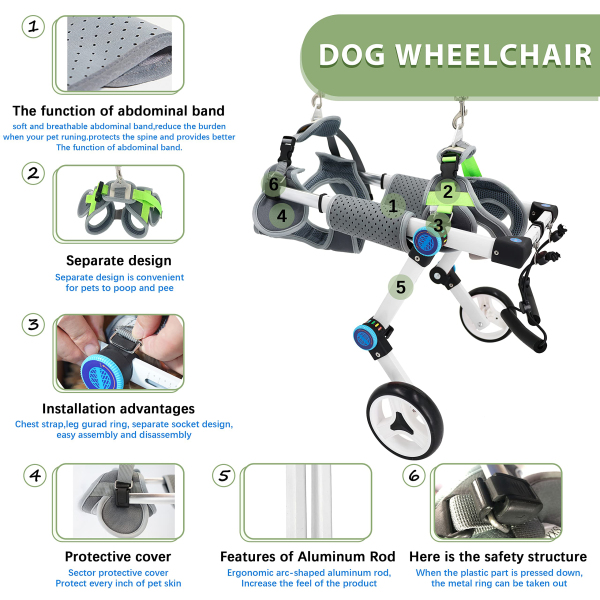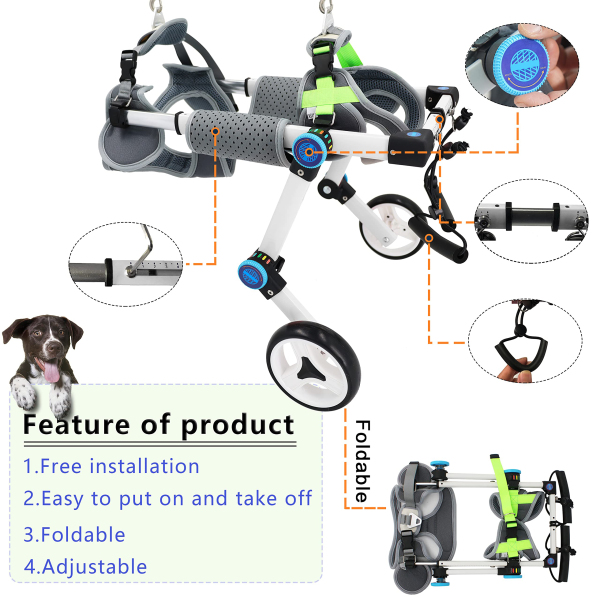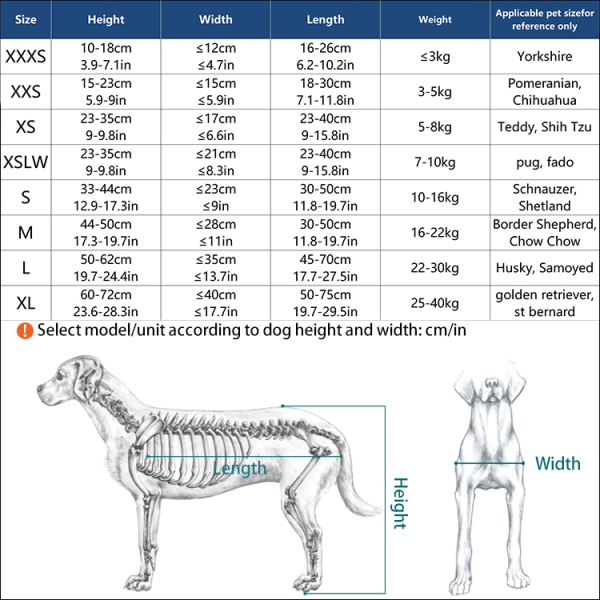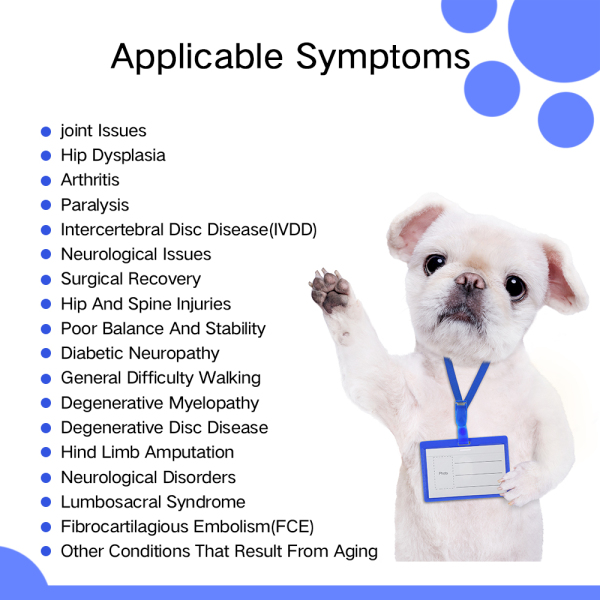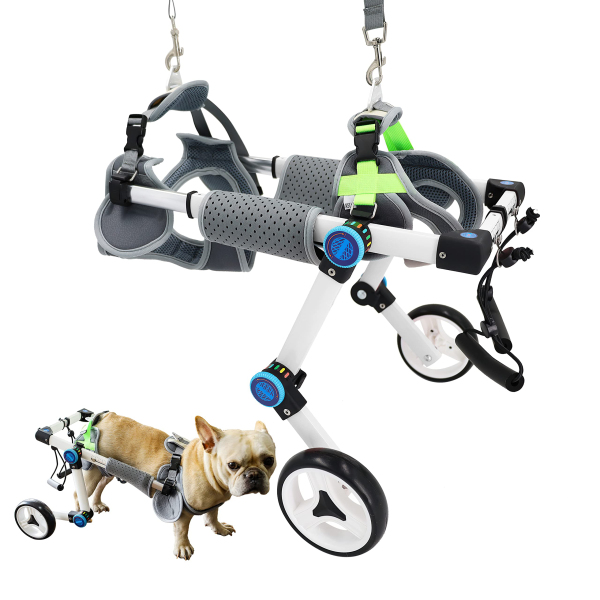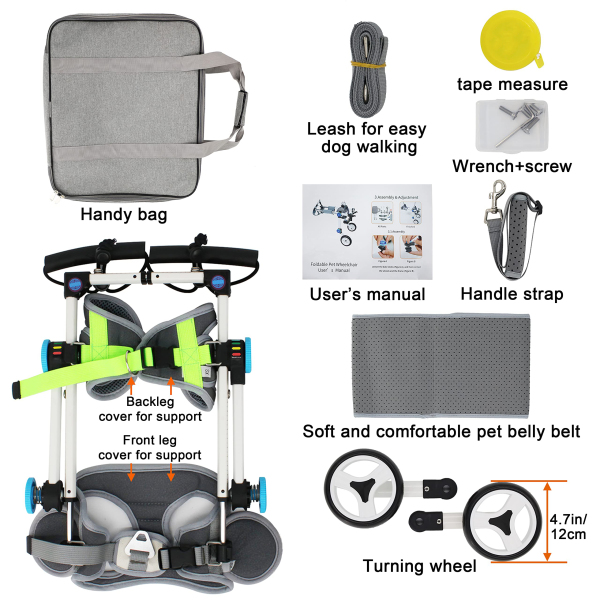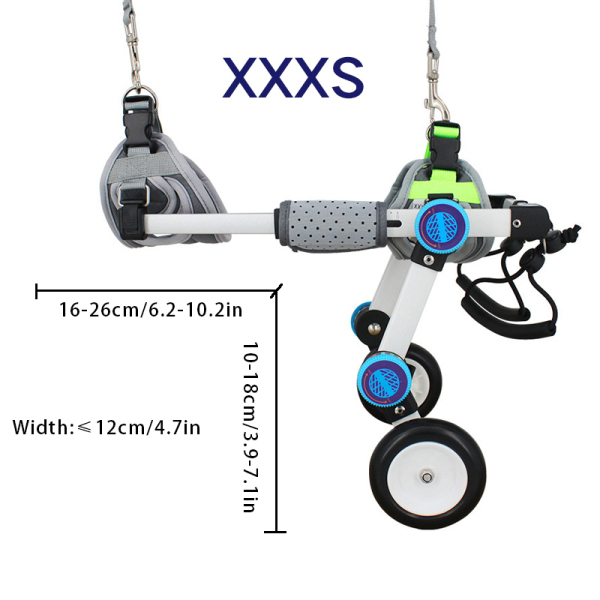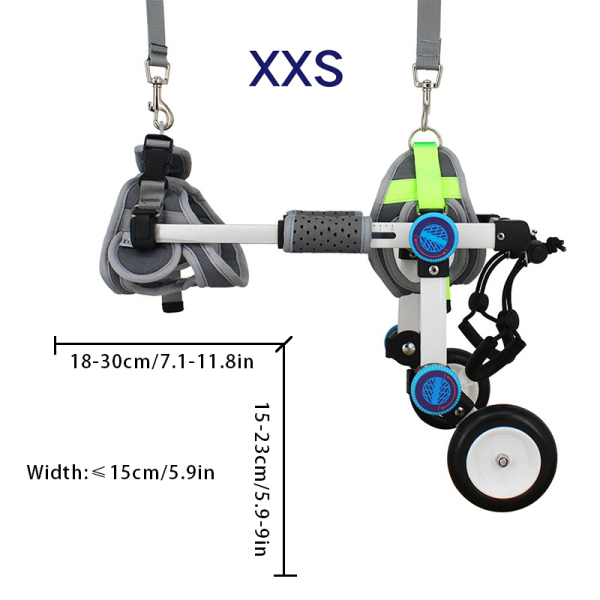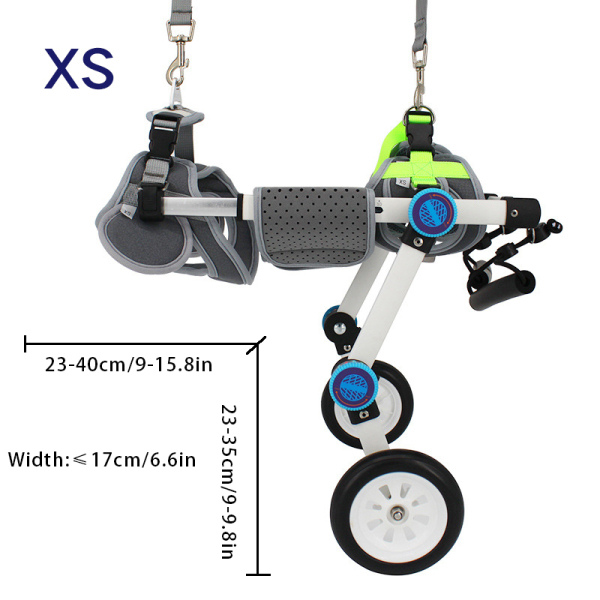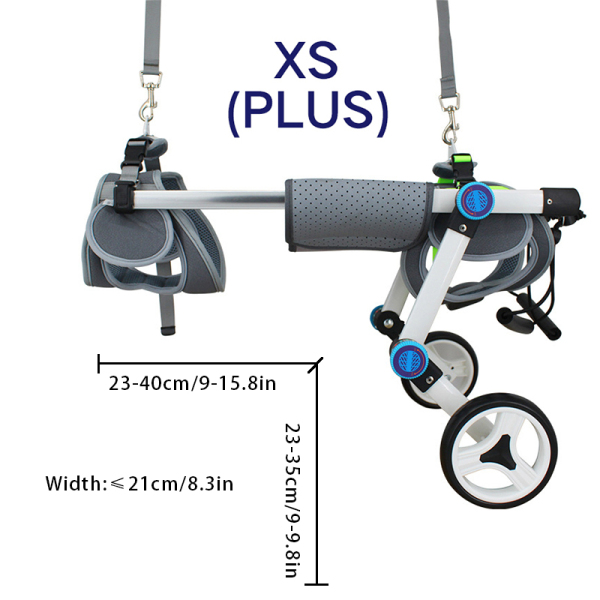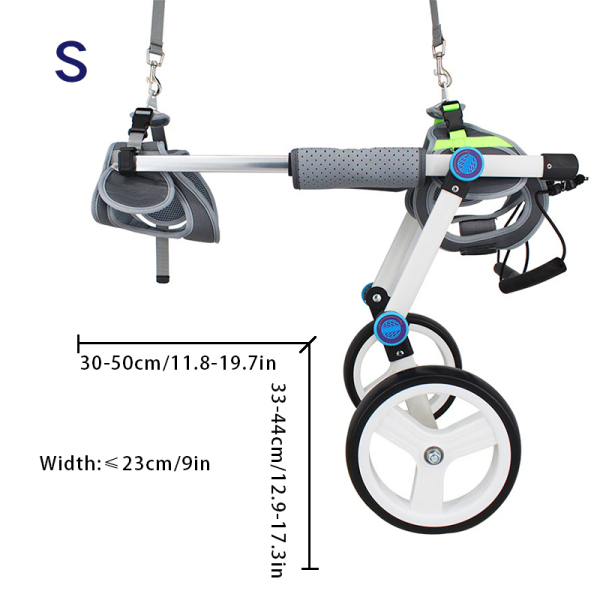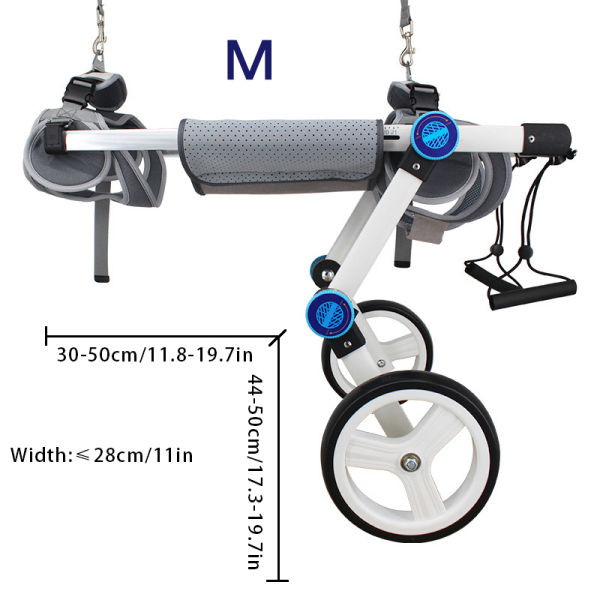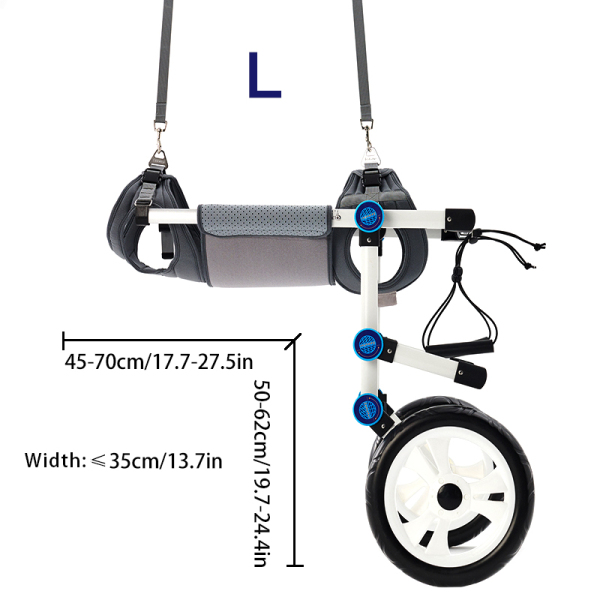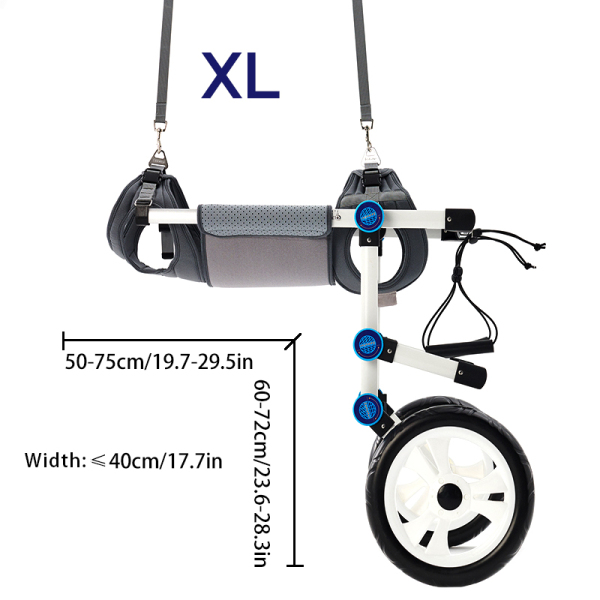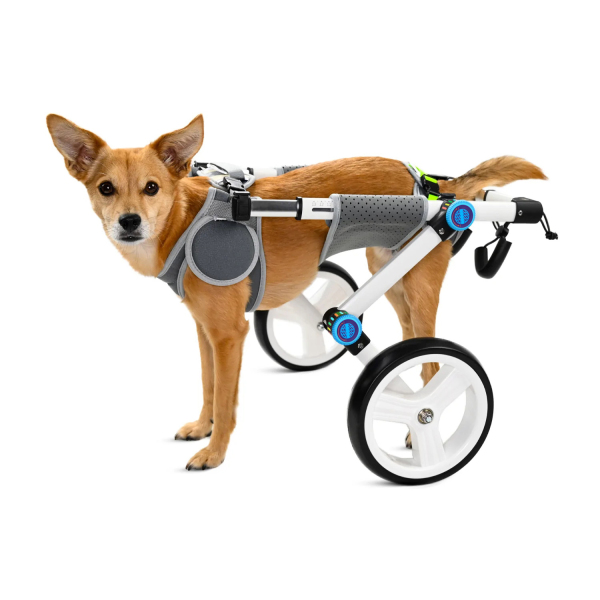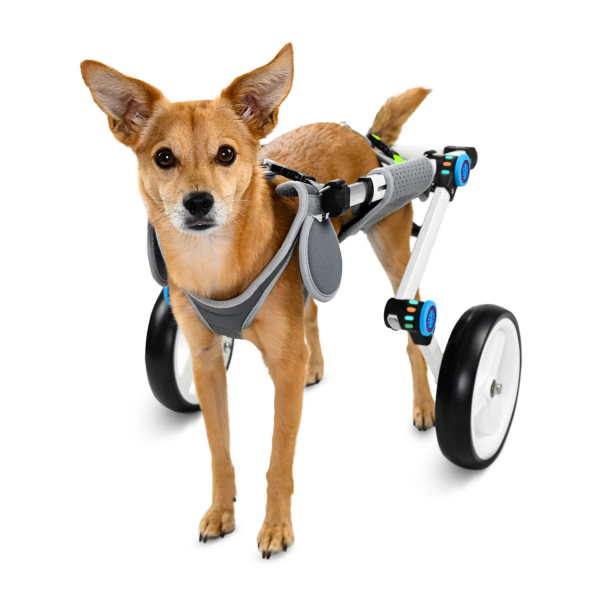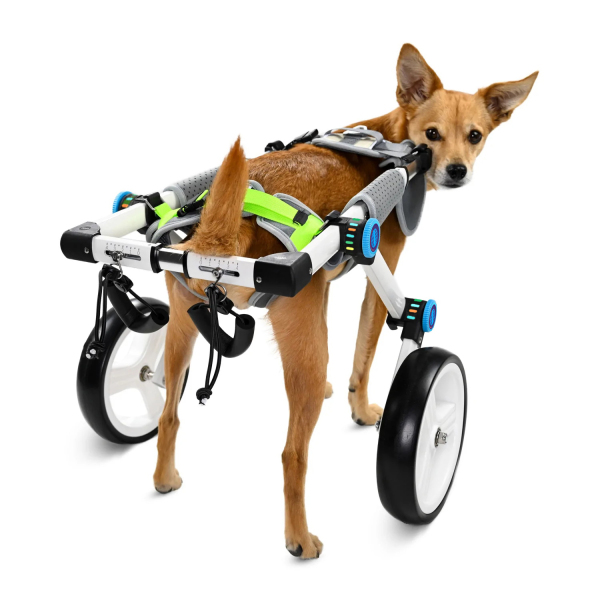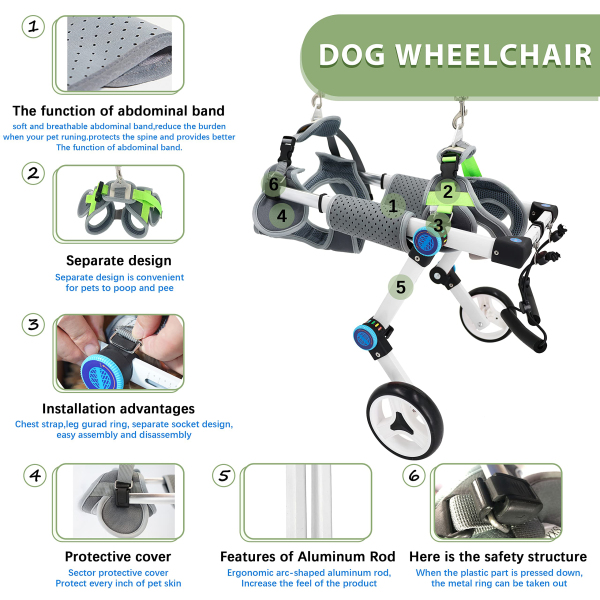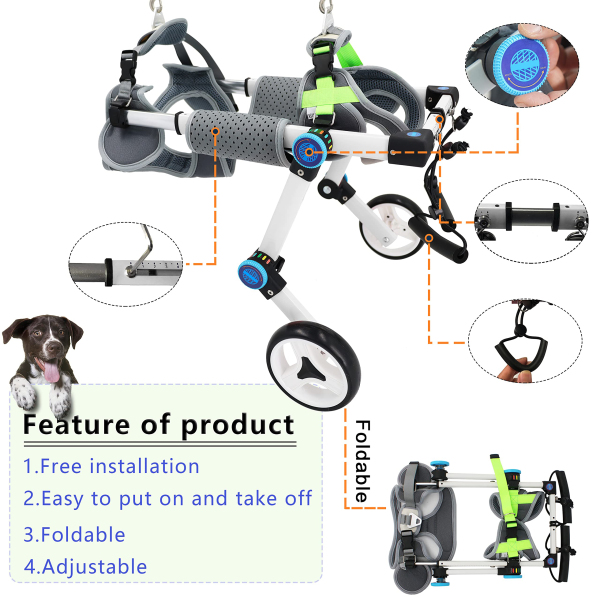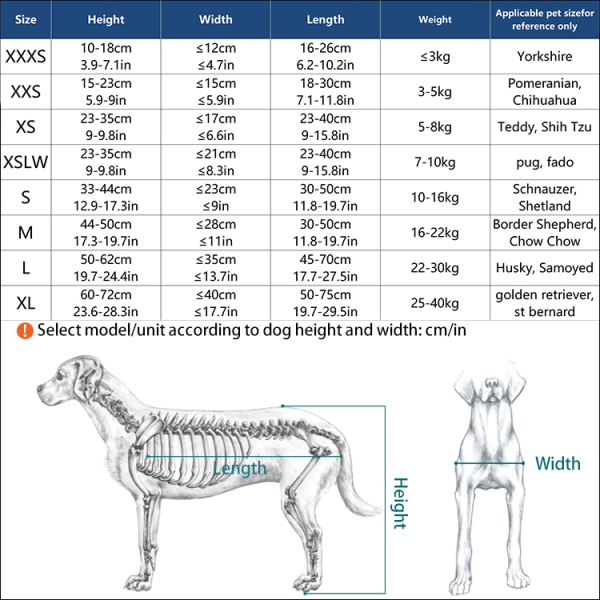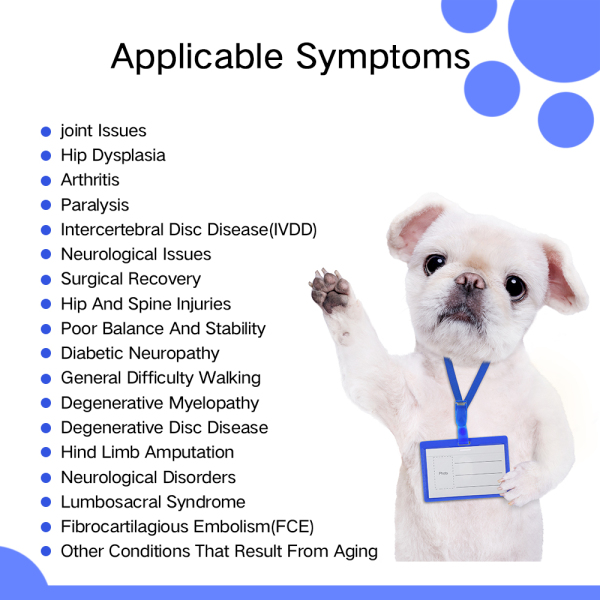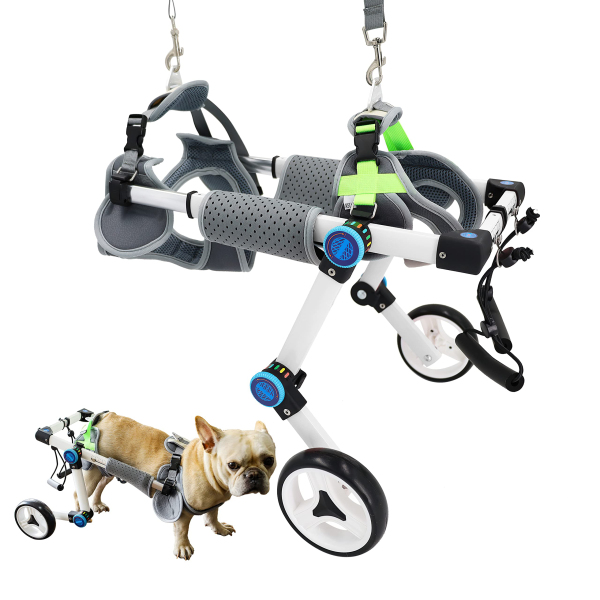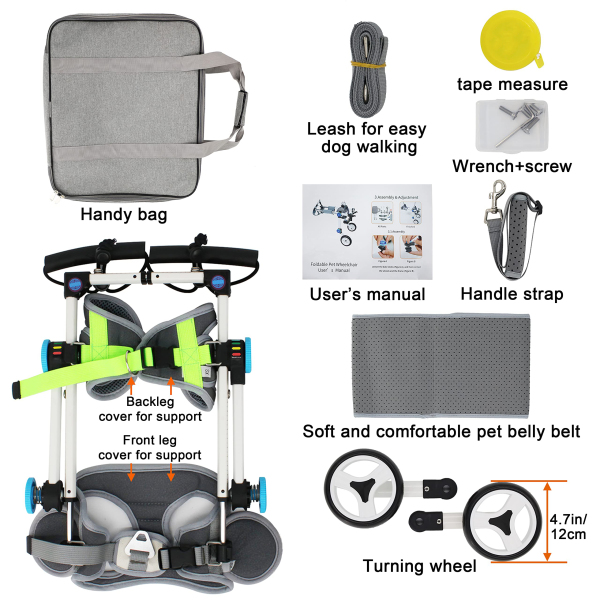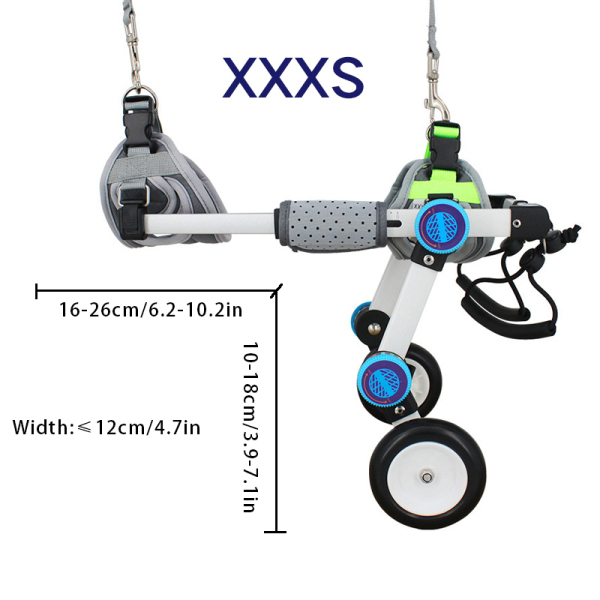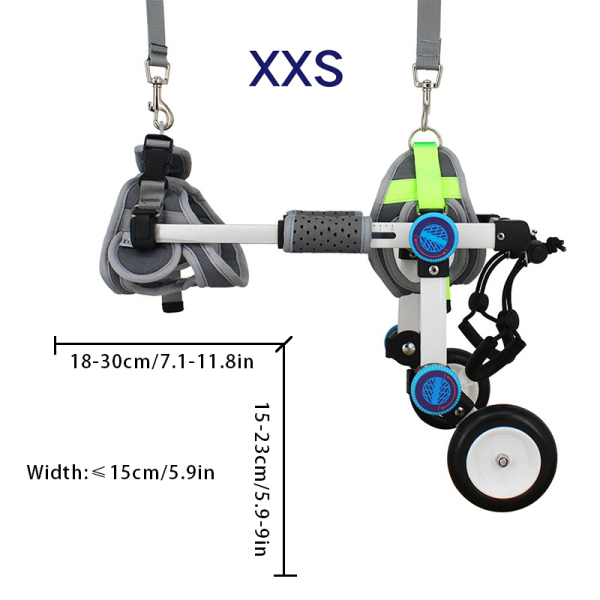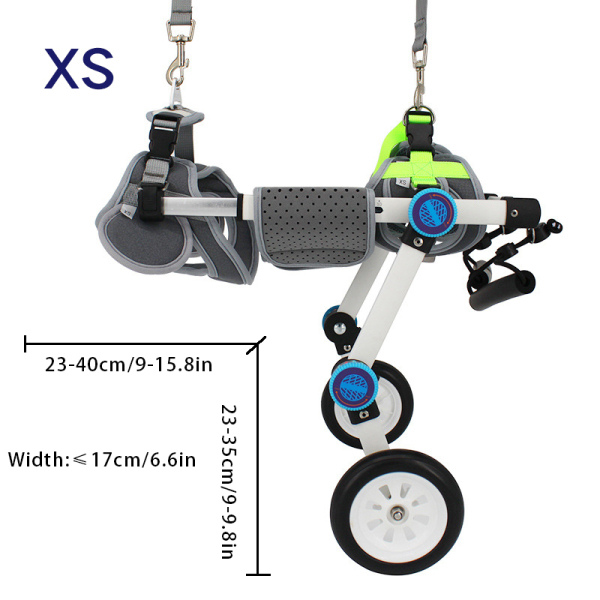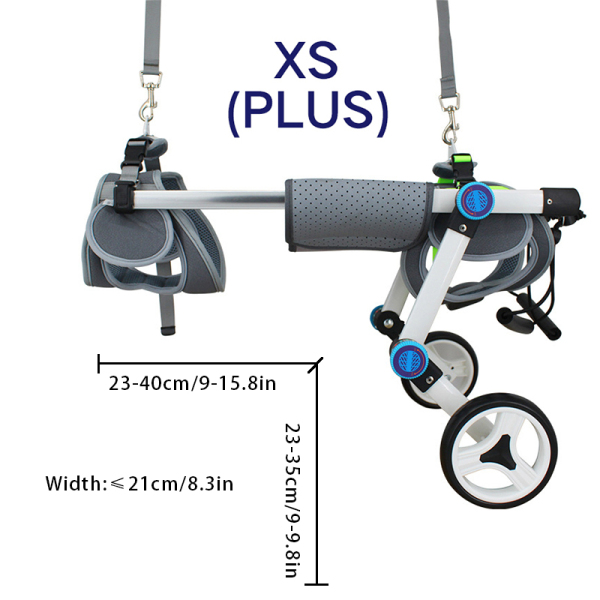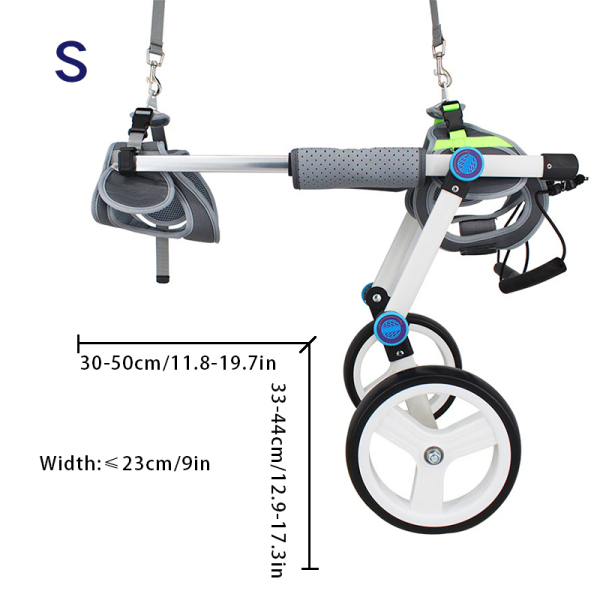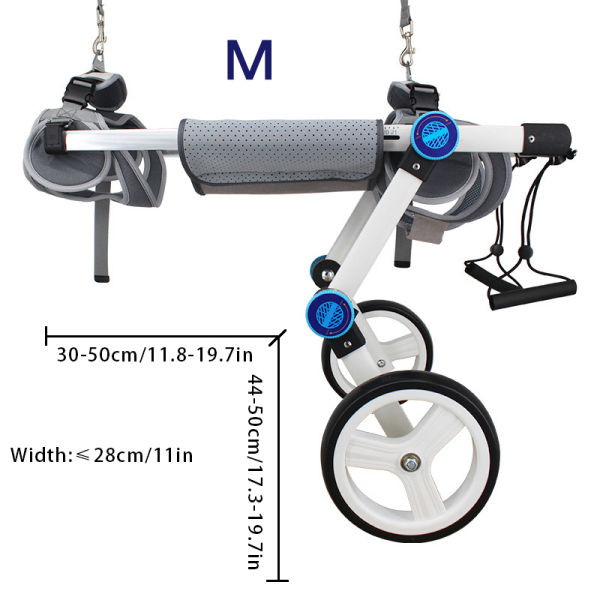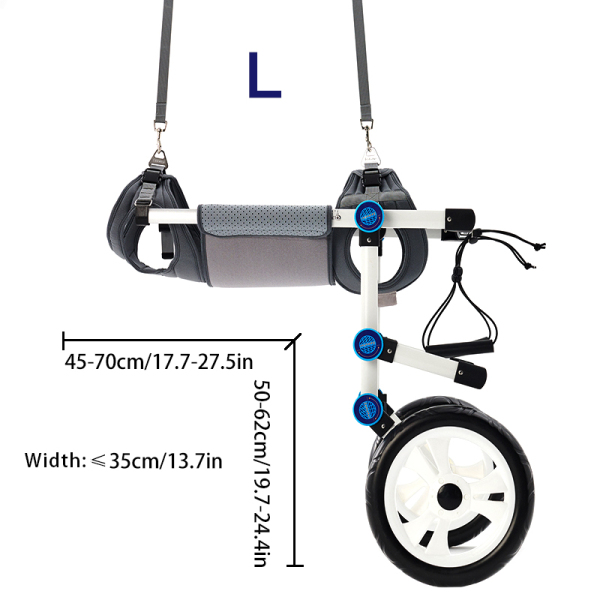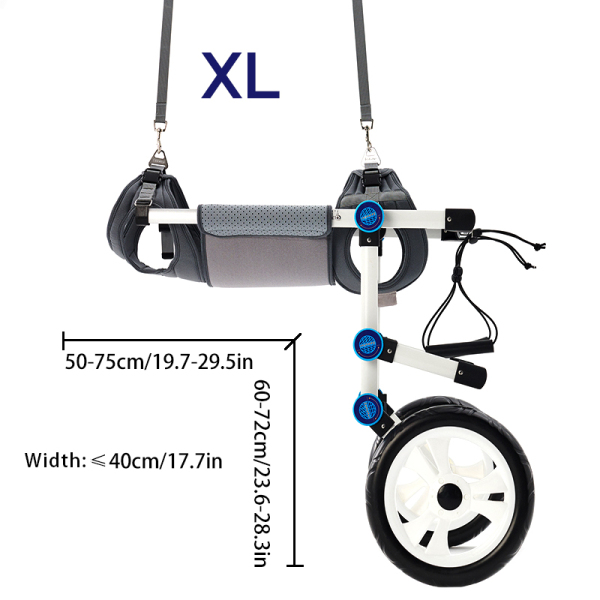 Fordable Dog Wheelchairs For Dog Back Legs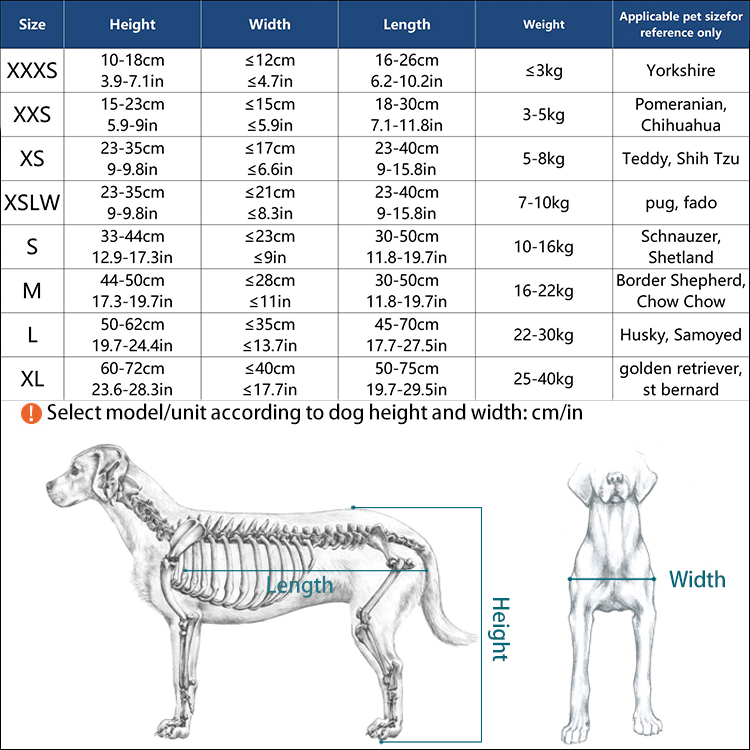 Comfortable padded harnesses can be detached from the wheelchair so the dog can rest while still leashed.
Adjustable frame and struts allow you to fit width, length, and height to your dog's specific needs.
Included, removable foot straps allow pets with paralyzed rear legs to use the wheelchair without dragging or injury.
Wheelchair can be quickly, easily disassembled and compacted for convenient storage or travel.
Recommended by veterinary professionals around the world,helps injured or disabled pets to stay mobile despite their limitations.
See more
Product Name: Fordable Dog Wheelchairs For Dog Back Legs

Product Category: Dog Wheelchairs

Material: Aluminum Alloy

Ideal For Breeds: Small Medium Dogs

Ideal For Scenes: Dog wheelchairs help pets regain freedom and mobility due to injury, surgery, illness and advanced age.

Product Features

Heart-warming design: Pets will be troubled by inconvenient movement in life.Long-term inability to exercise will affect of the pet and reduce his confidence. Our pet wheelchair is designed to help pets with injured or disabled hind legs to walk, run and play freely, help them return to normal life.

Features of the product: The height, width and length of this pet wheelchair can be adjusted, and it can adapt to your pet within a certain range. The whole product is easy to assemble, you can install it yourself, and the foldable design is more convenient to carry. The buckle design can hang the tow rope on the buckle to avoid losing pets, which is very convenient.

Materials and characteristics used: Light and strong, has high hardness and light weight, which can ensure the overall strength of the wheelchair, and the strap material is soft and will not hurt pets.

Note: Two-wheel folding wheelchairs are only suitable for pets with disabled hind legs but normal front legs. If your dog is seriously injured, we recommend that you go to the veterinary hospital for help as soon as possible. I wish your pet a speedy recovery!

Friendly Tips: Please measure your dog before buying. Pets are one of our family members. If they are disability, please don't give up. A wheelchair may give them a second life. I wish your pet a speedy recovery!

Product Display
Reviews (21)
WRITE A REVIEW
Review:
Review is required
Picture: ( 0 / 6 )

Rating Snapshot
Select a row below to filter reviews.
Average Customer Ratings
Sort by:
Highest to Lowest Rating
Highest to Lowest Rating
Lowest to Highest Rating
Most Recent
Purchased this for our dog Joe, who had lost the use of his hind legs, the vet said that he might get the use back as it was due to a pinched nerve issue in his back. Adjusting the wheels to his body was easy as outlined in the instructions. After several weeks of use, Joe got his legs back. This is an excellent product.

I got the biggest one for my fur kid and it feels great, he's like a RoboCop dog.

good results

My dog was injured about 2 months ago. It's hard to see a pet and basically a family member going through so much pain just to walk. I've used several similar products, but none can match the build quality and comfort of this one. It fits my Lina perfectly and she doesn't notice any discomfort

I hate that I needed to buy it in the first place but when my dog got paralyzed, I didn't have a choice! This will save your back if you have a paralyzed dog.

Bought this wheelchair for my grandma's dog because it's legs were amputated because of a disease and now the dog can walk again and can even run, My grandma also loves it.

This is a great product. Unfortunately, my dog only used it a week before he died of spinal osteosarcoma. When she can't walk, this product helps her get around and gives her freedom and mobility for a week. She learned to use it within minutes. Getting her into the chair was a bit difficult because I had to get her back legs up to get through the straps. I think it's comfortable enough for her when she's in there. I think this is a great product for dogs with hip or back issues to keep them active and active. It's nice to have them shipping so quickly so we can use it for as long as possible

It runs fast!!!

Recently purchased this for my 8 year old German Shepard. She was hit by a car and it was devastating, now she barely wants to get up or do anything at all. After buying this wheelchair for her shes much more active. Loves to go on walks with me now.

It fits great, works great and was a great investment for my little girl. She loves the wheelchair and so do I.

Rescue dogs can handle it with ease!
Who Viewed This Also Viewed