Adjustable Dog Wheelchairs for Back Legs Paralyzed Dog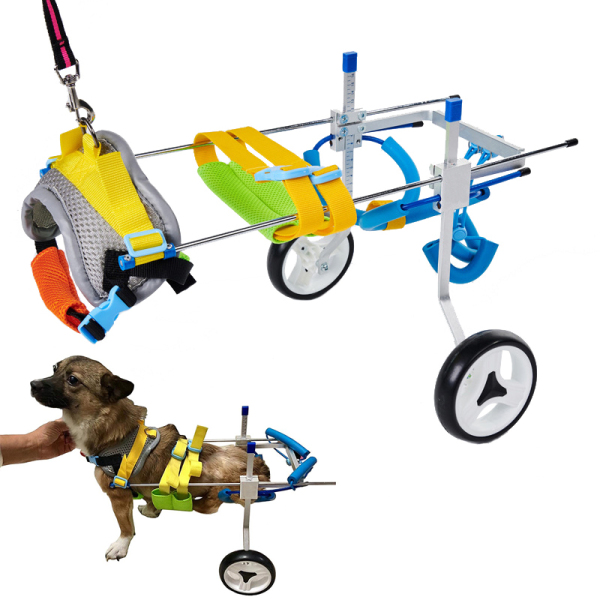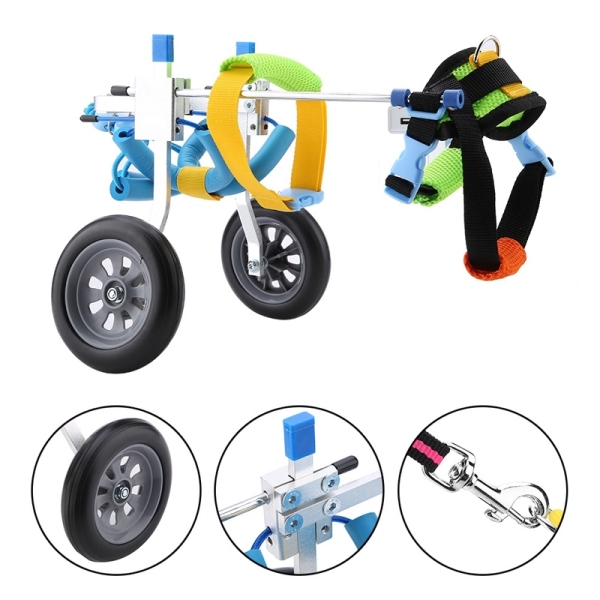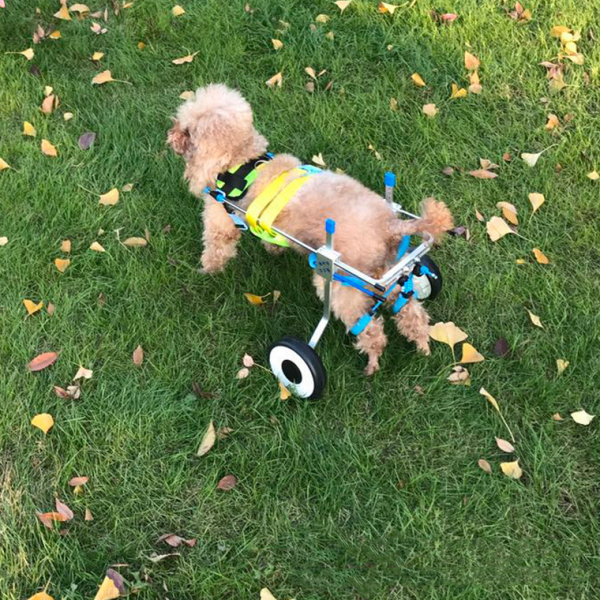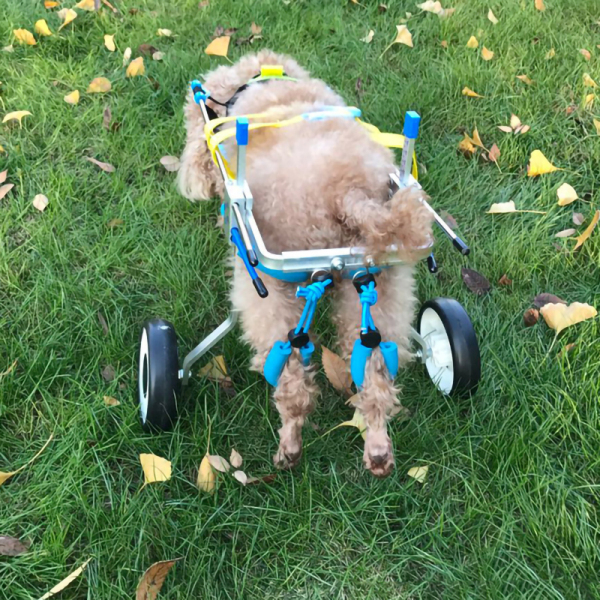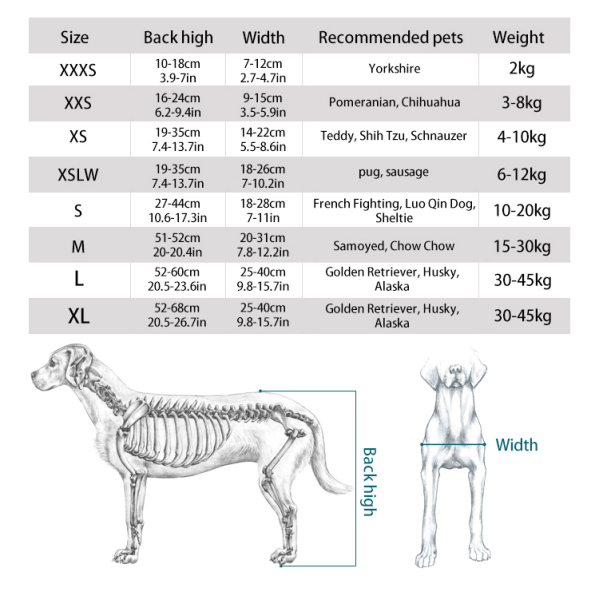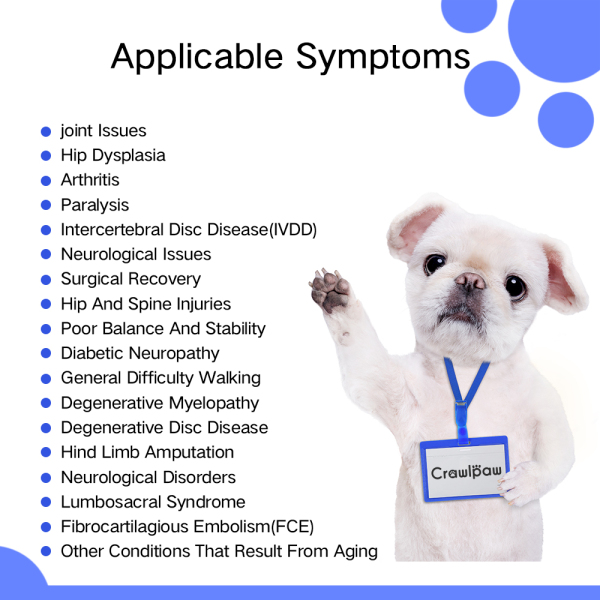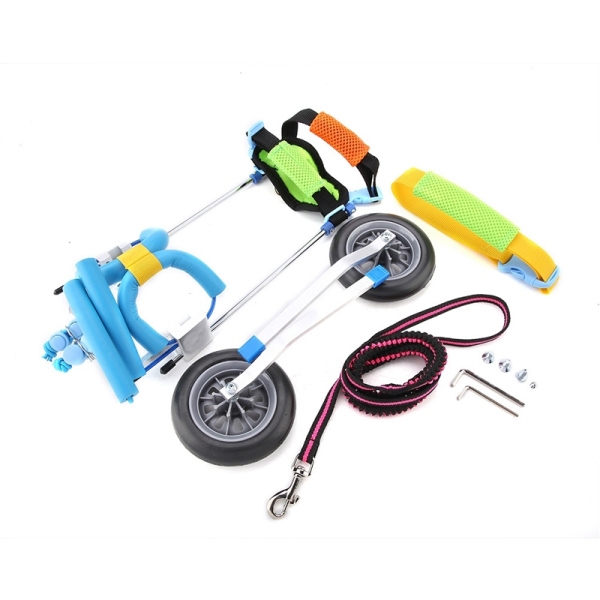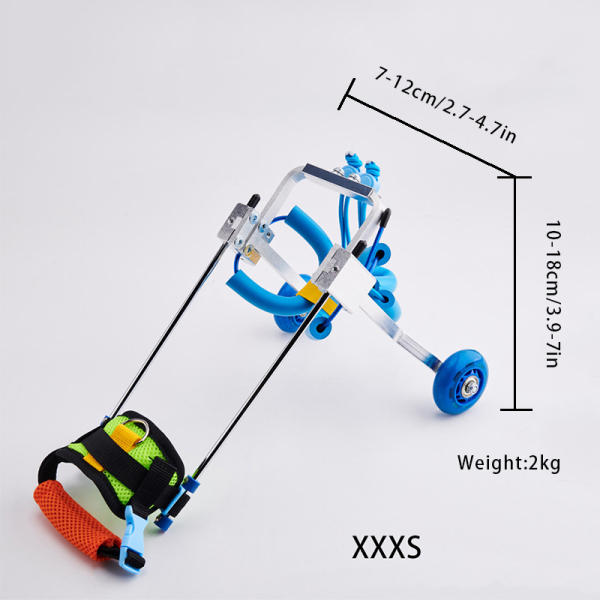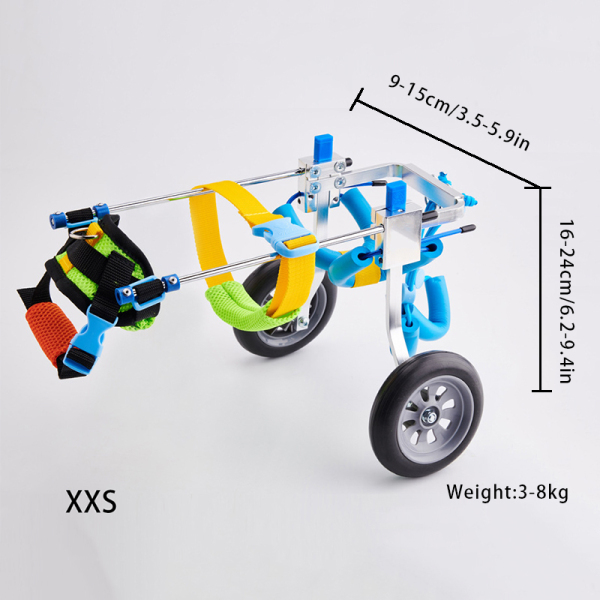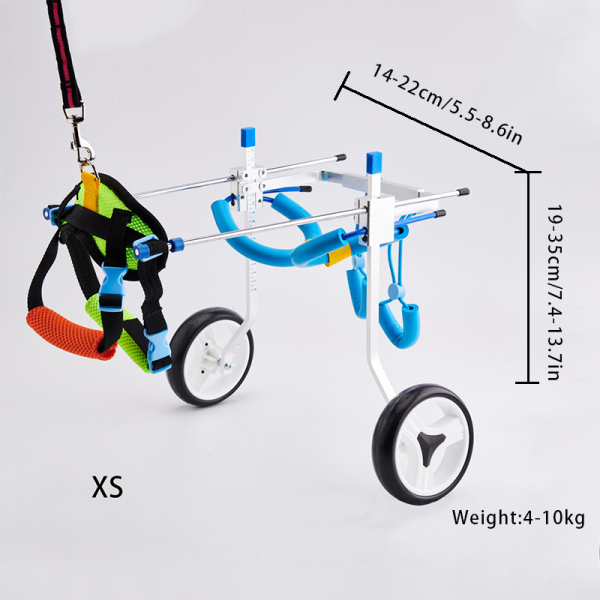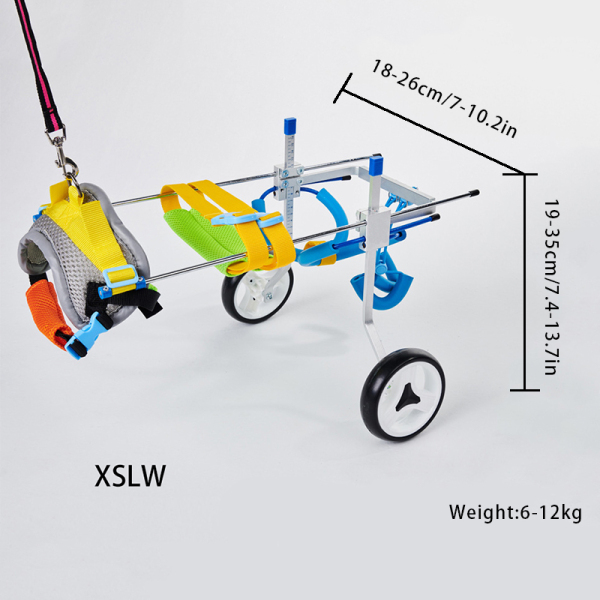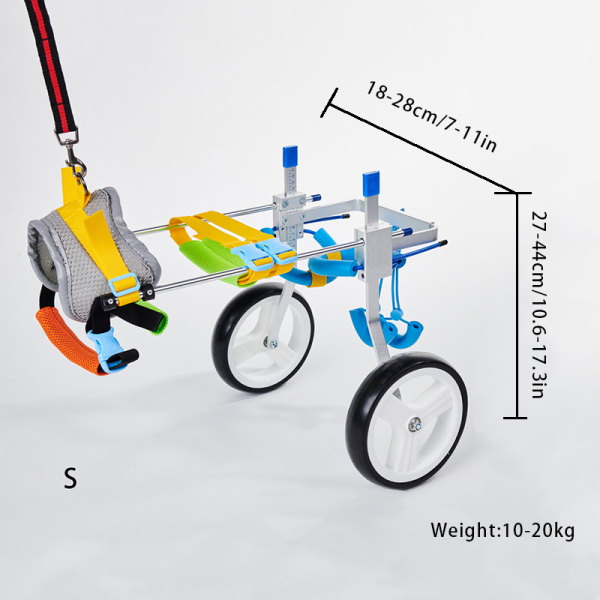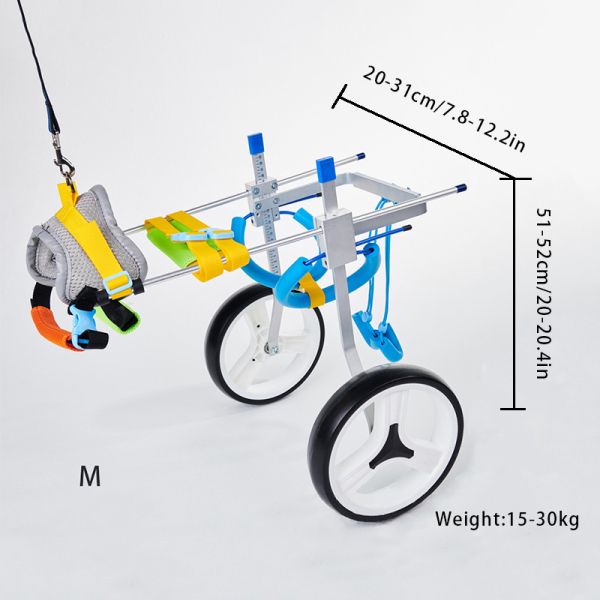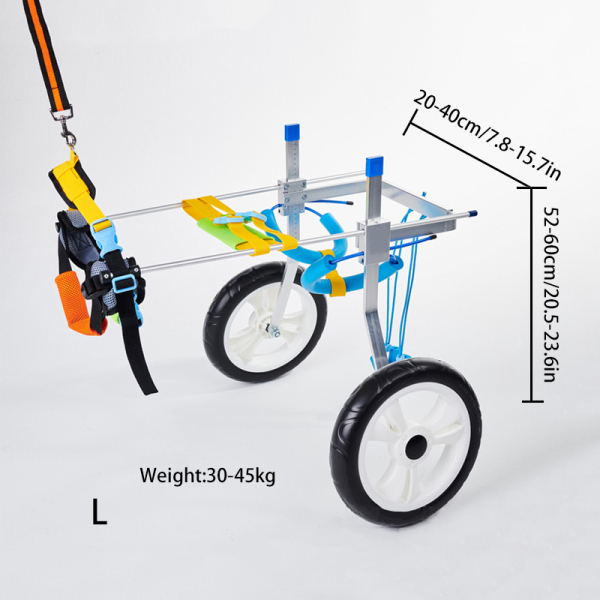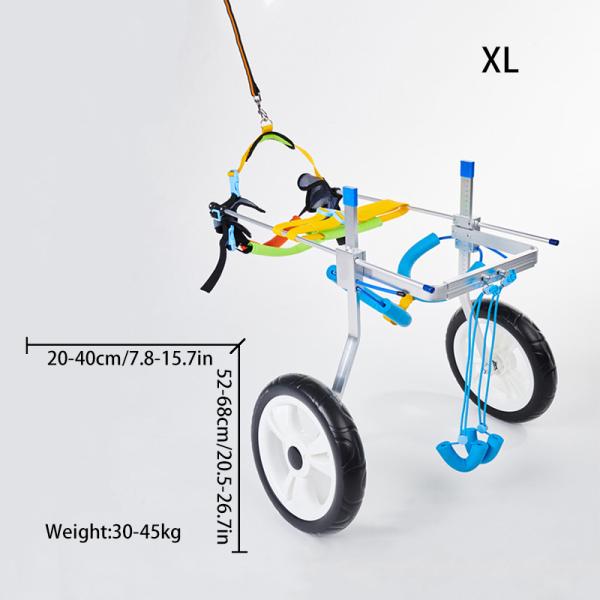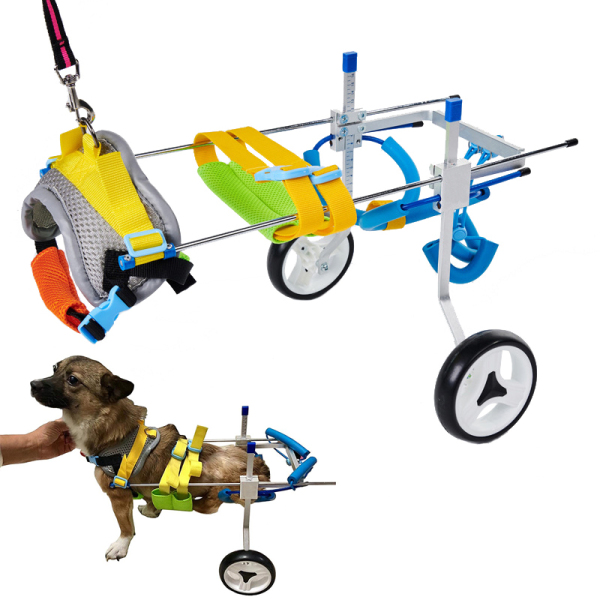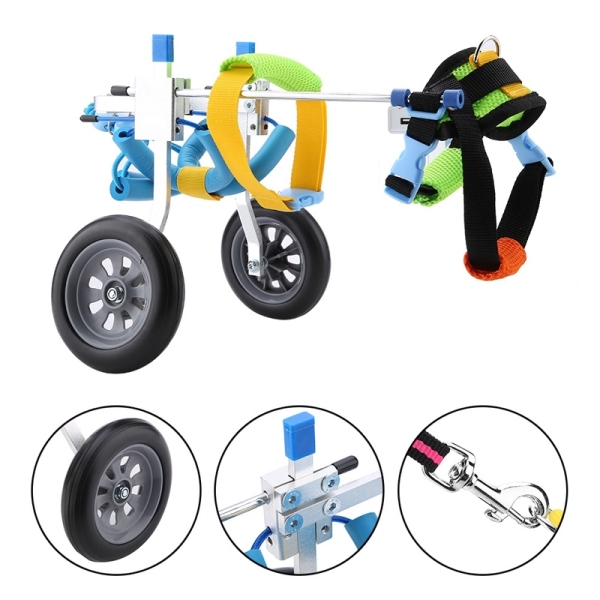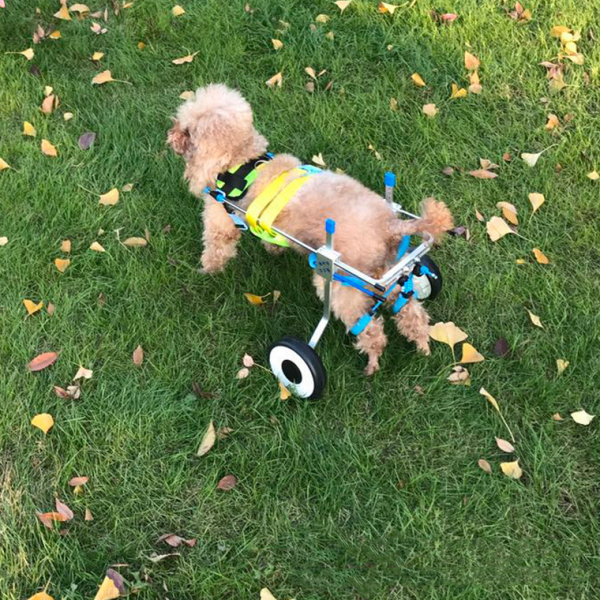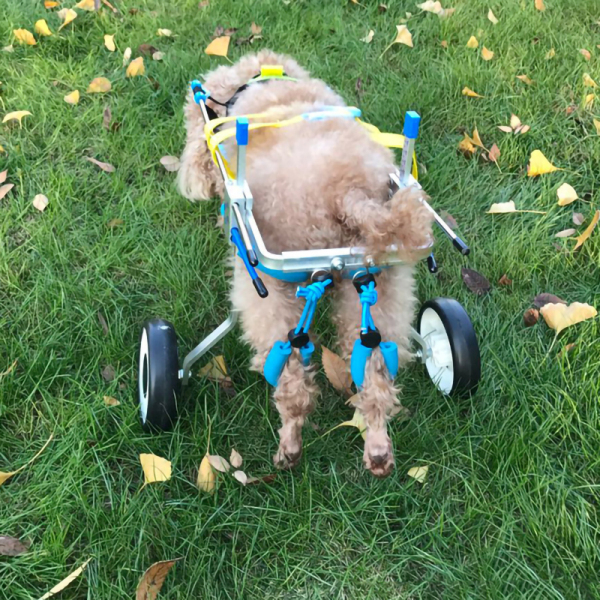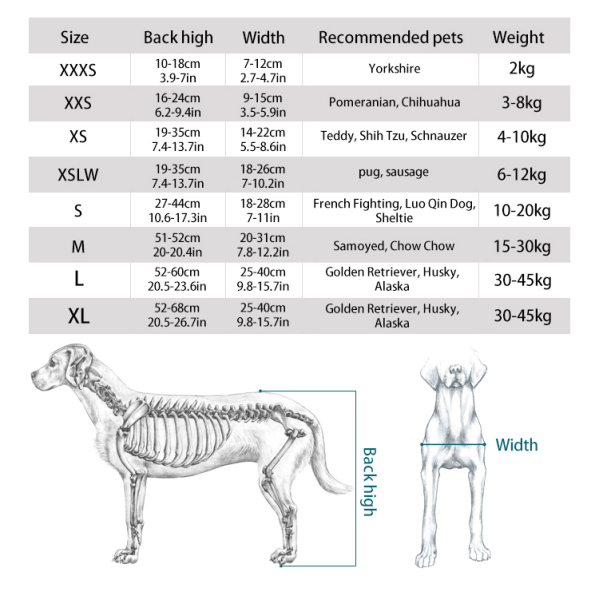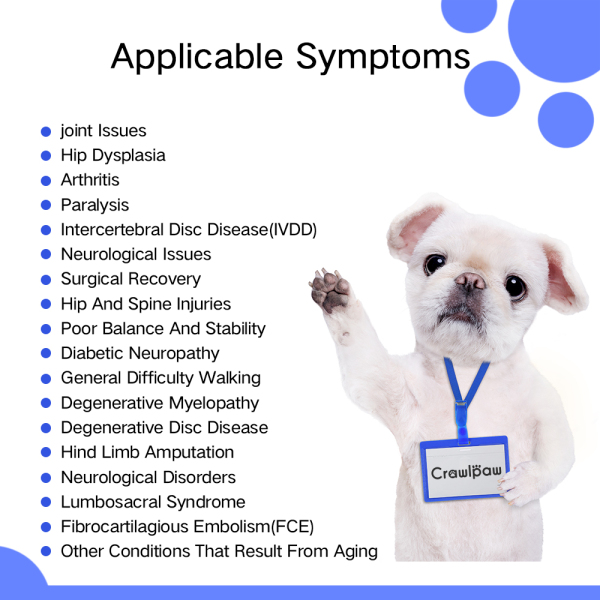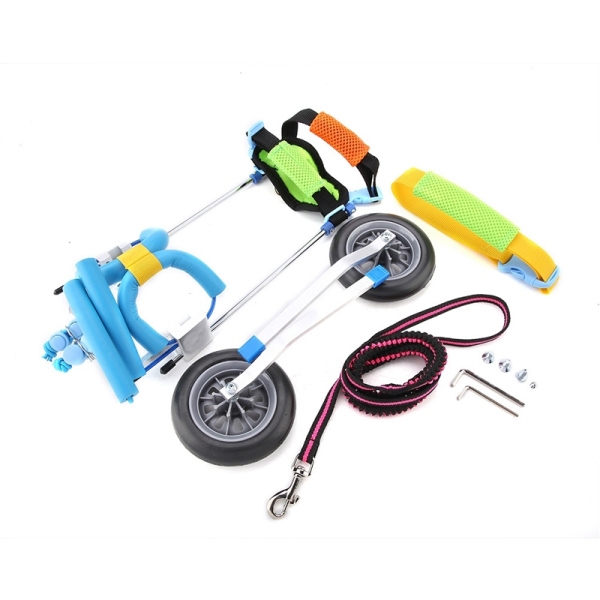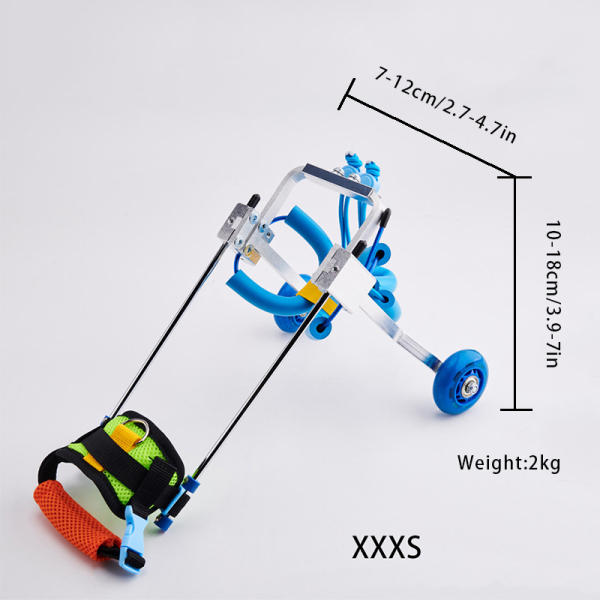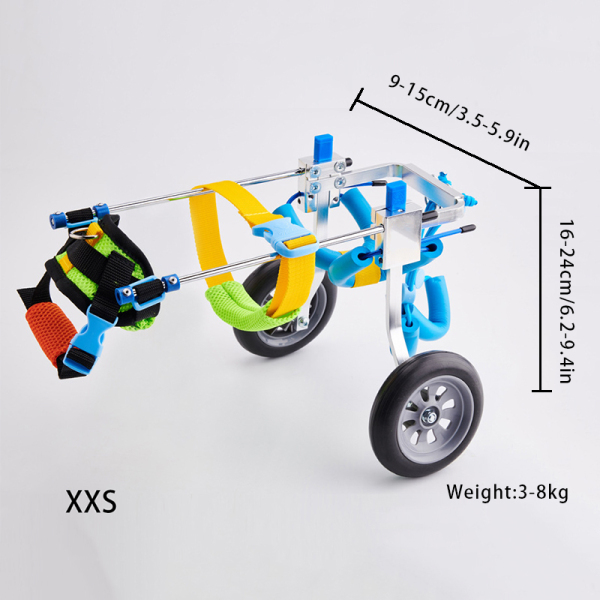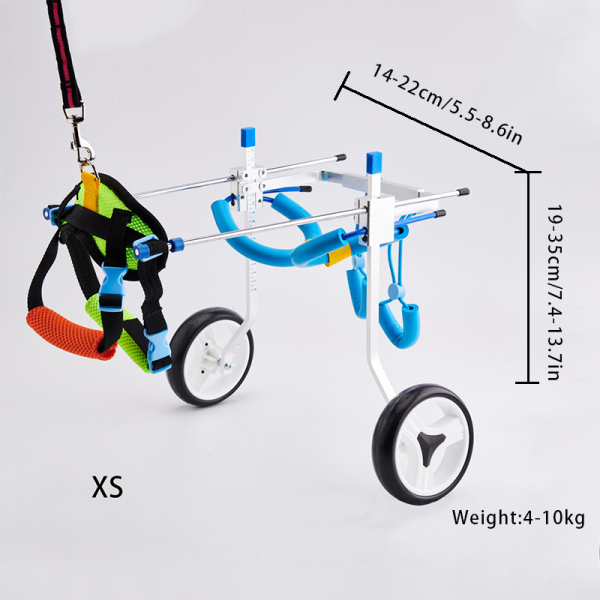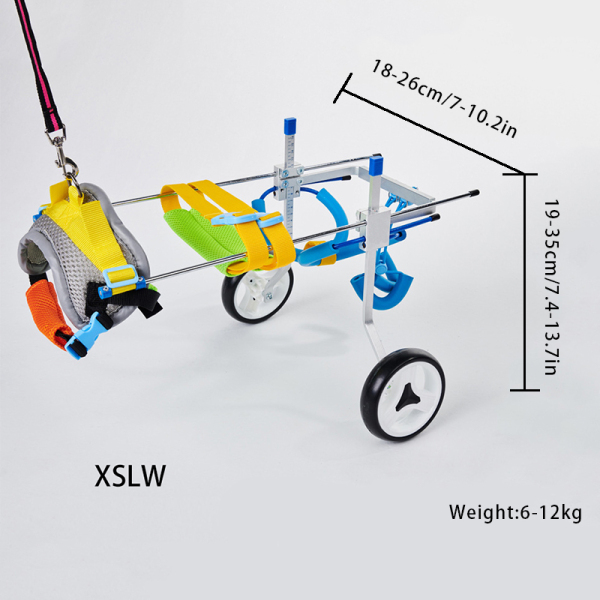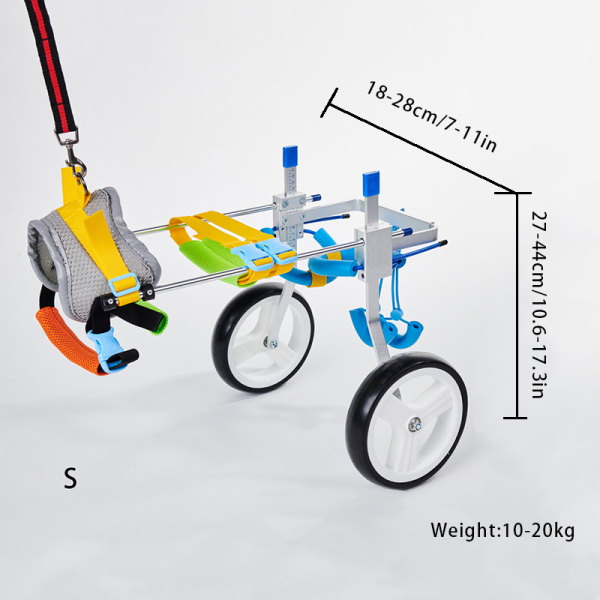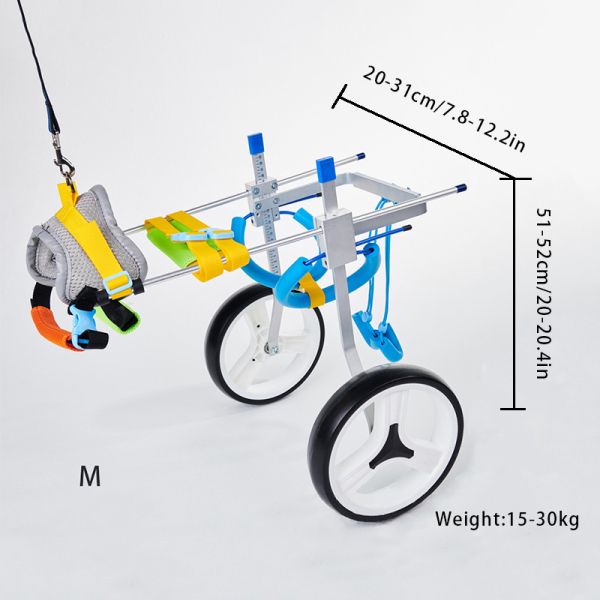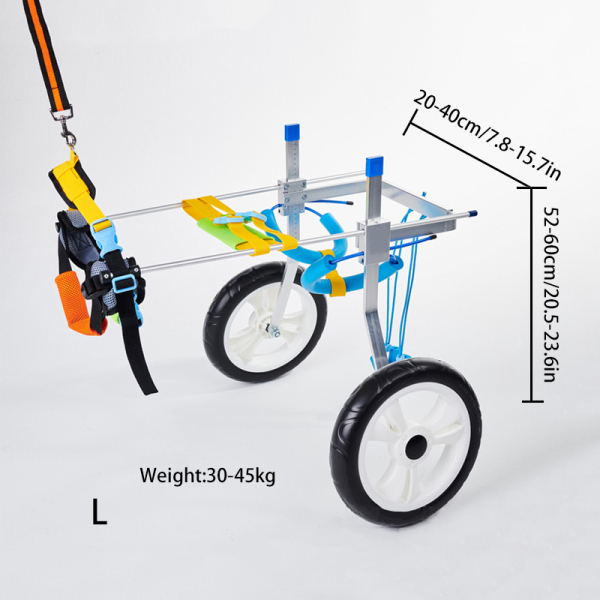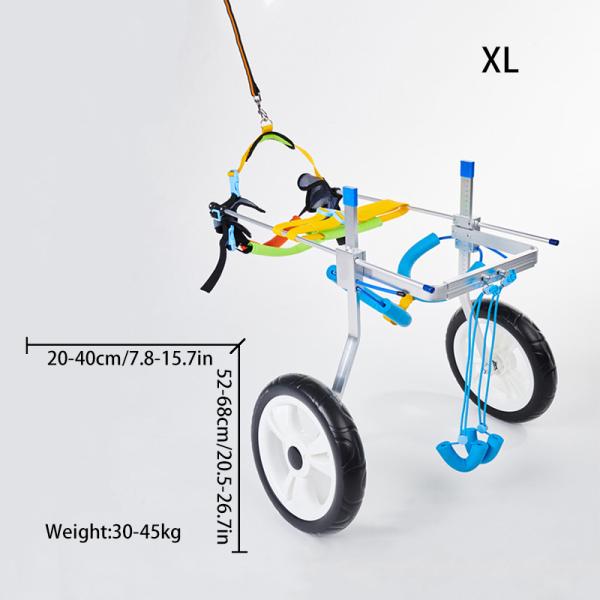 Adjustable Dog Wheelchairs for Back Legs Paralyzed Dog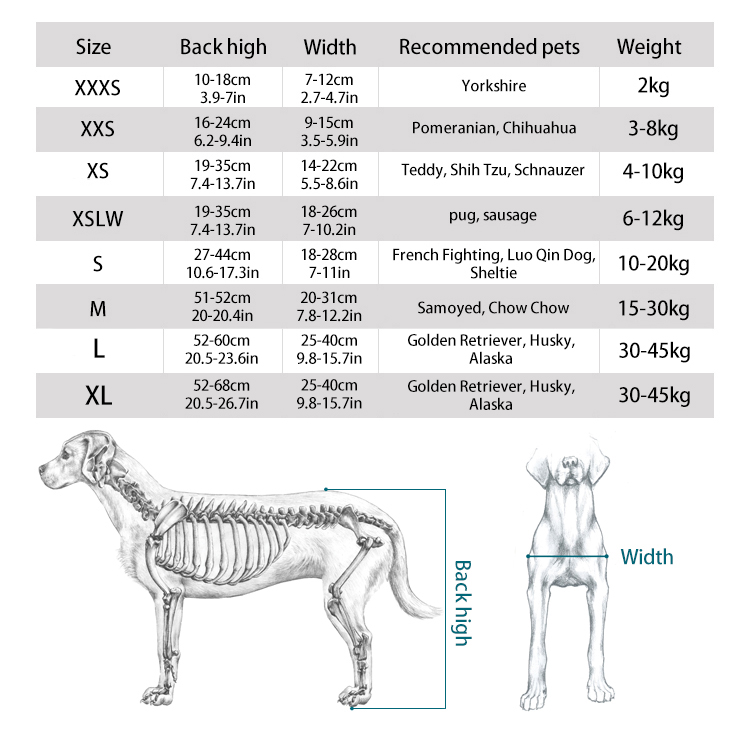 Dog wheelchair can be adjusted, and it can adapt to your pet within a certain range.
The fully adjustable seat belt provides the best comfort, while maintaining stability.
Wheelchair designed for dogs with restricted or immobile hind legs, allowing them to walk and run like normal young adults.
Please refer to the size chart to measure carefully before purchasing.
See more
Product Name: Adjustable Dog Wheelchairs for Back Legs Paralyzed Dog

Product Category: Dog Wheelchairs

Material: Aluminum Alloy

Ideal For Breeds: Small Medium Dogs

Ideal For Scenes: Dog wheelchairs help pets regain freedom and mobility due to injury, surgery, illness and advanced age.

Product Features

HEART-WARMING DESIGN: Pet wheelchair is designed to help pets with leg diseases walk, run and play freely, helping them to return to normal life. The height, width and length of this dog wheelchair can be adjusted, and it can adapt to your pet within a certain range.

DURABLE AND COMFORTABLE: This dog wheelchair is made of durable, lightweight aluminum frame, which is easy to operate while maintaining stability. The fully adjustable seat belt provides the best comfort. EVA shock-absorbing foam tires make the dog walk easily.

EASY TO USE: Our wheelchairs are easy to disassemble and assemble together, you can install it yourself. Two-wheeled wheelchairs are only suitable for pets with disabilities in their hind legs. You can raise their hind legs. If you can walk on the front legs, our wheelchair will help him walk.

SAFE AND RELIABLE: Approved by the veterinarian, the wheelchair suitable for dogs with restricted or inactive hind legs is specially designed, allowing them to walk and run like normal young adults.

FRIENDLY TIPS: Please measure your dog before buying. Pets are one of our family members. If they are disability, please don't give up. A WHEELCHAIR may give them a second life. I wish your pet a speedy recovery!

Product Display
Reviews (13)
WRITE A REVIEW
Review:
Review is required
Picture: ( 0 / 6 )

Rating Snapshot
Select a row below to filter reviews.
Average Customer Ratings
Sort by:
Highest to Lowest Rating
Highest to Lowest Rating
Lowest to Highest Rating
Most Recent
This is well made, even though I didn't get to use it on the dog it was meant for (she passed in her sleep) I did put it together. Everything was included and spare screws just in cases. Simple instructions that included great pictures. I recommend this to all who have fur babies that need one. Measure your dog before ordering.

We bought this wheel set a couple of weeks ago for our almost 13 year old labrador. At first he was wary and not very happy but now he loves it and goes out in it every day. He is losing his back end a bit and cant walk as well anymore but the wheels hold him up whilst still allowing him to exercise. He prefers the comfort harness as he has a fatty growth in one of his thighs and the sports harness was too restrictive. Hes really happy, his tail never stops! We got the large frame for a 34kg dog. Highly recommend this product.

It's easy to assemble! My senior dog had a seizure for the first time and had more hind legs than usual. Sometimes he didn't even have the strength to walk. It took him a while to get used to the wheelchair, but I'm so glad this product helps bring out the courage and energy for our older and disabled pets! They are so special and deserve all the support they can get!

My 6-year-old dog, Carlo, picked up on this very quickly, and it allowed him to go a long way.

Easy to put together. Very lightweight but sturdy. Easy adjustable height and width.

They have given our dog so much more mobility. She seems so much more happy to be able to get around. She walks until she is exhausted the goes to sleep.

Loved it, Sasha fit in in minutes and was ready!

Thank you this wonderful wheelchair it help wonder to my puppy he is now walking on his own

Easy to assemble, adjustable fit works great

Great value, easy to assemble. Our 14 year old Aussie has mobility again.
Who Viewed This Also Viewed