Dog Wheelchairs for Dog Back Legs Disability Weakness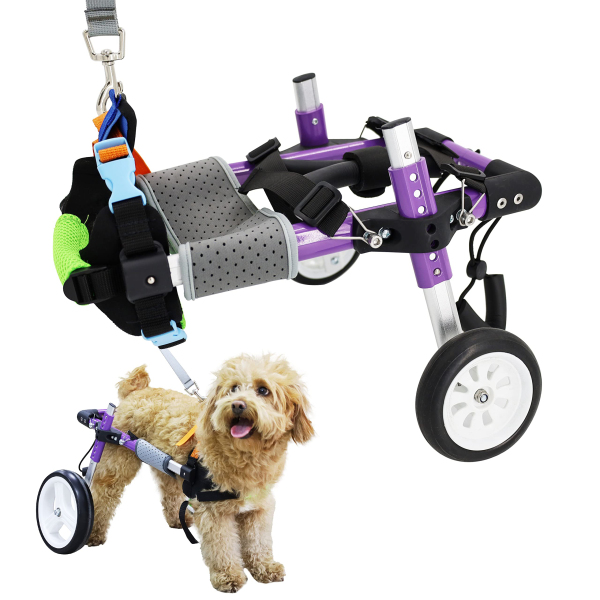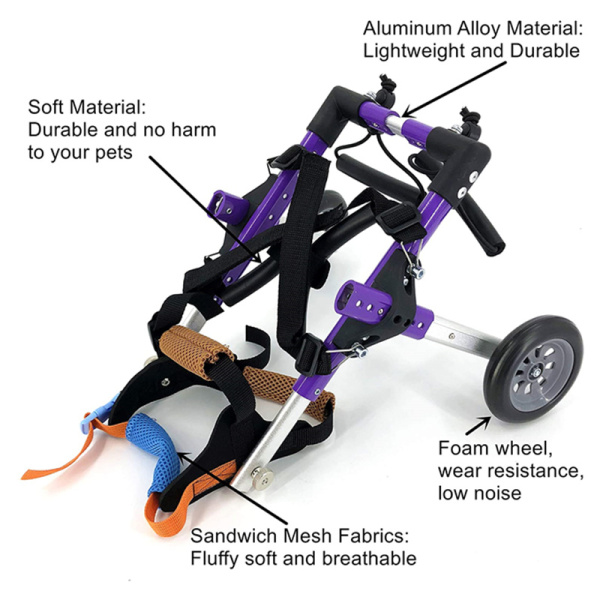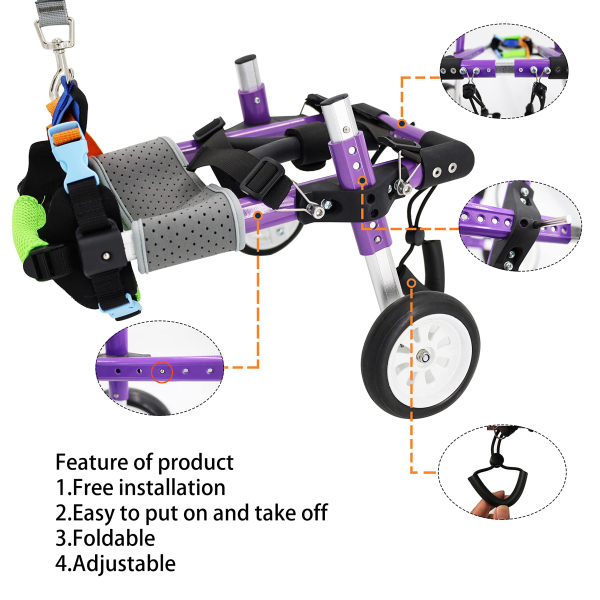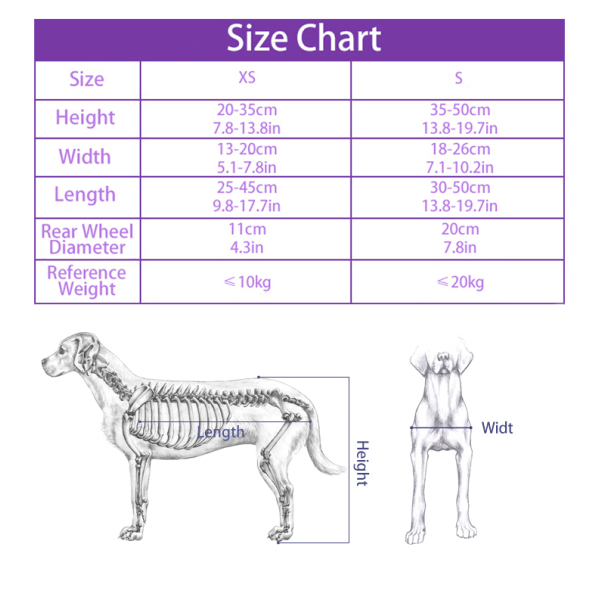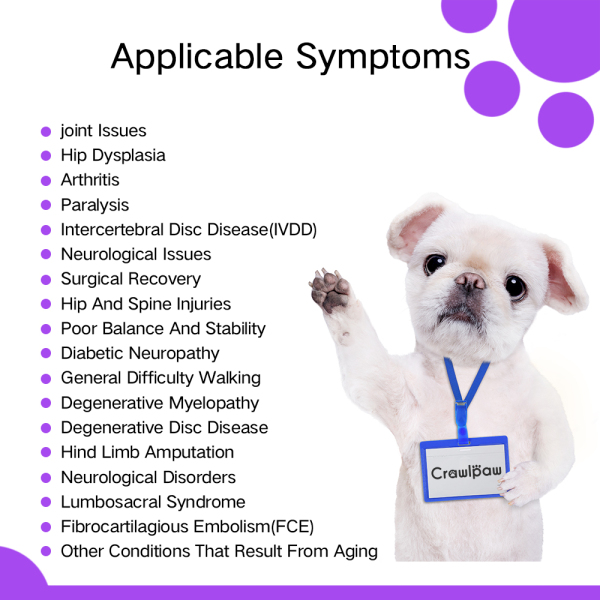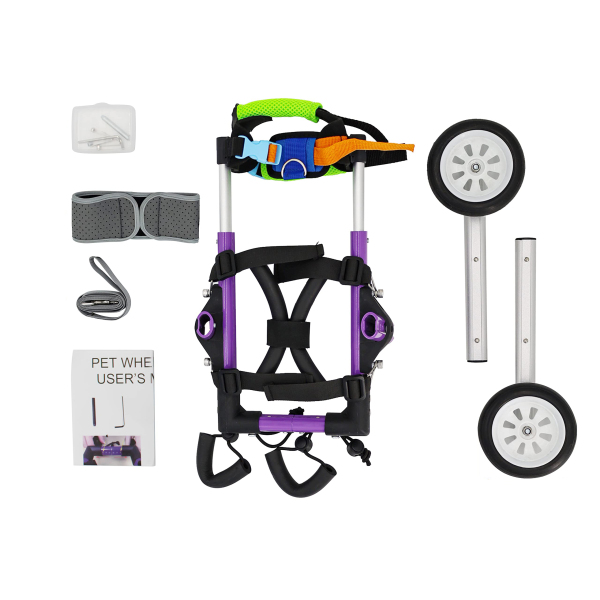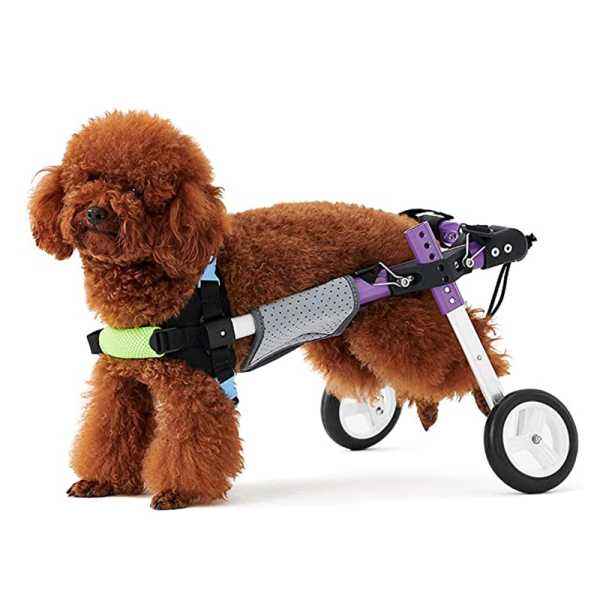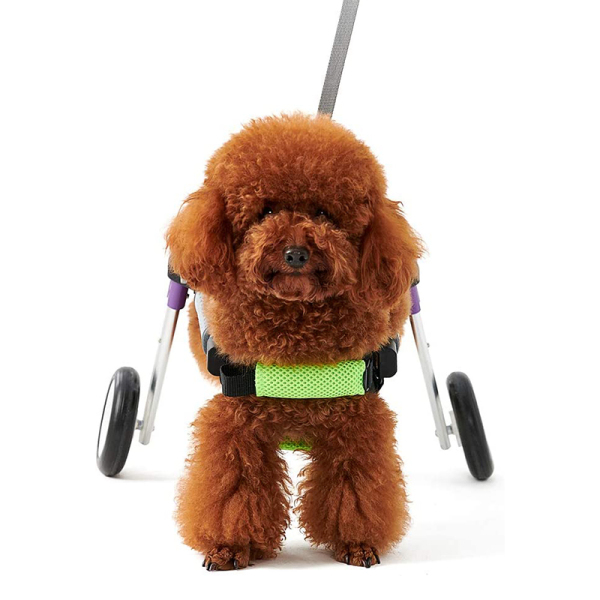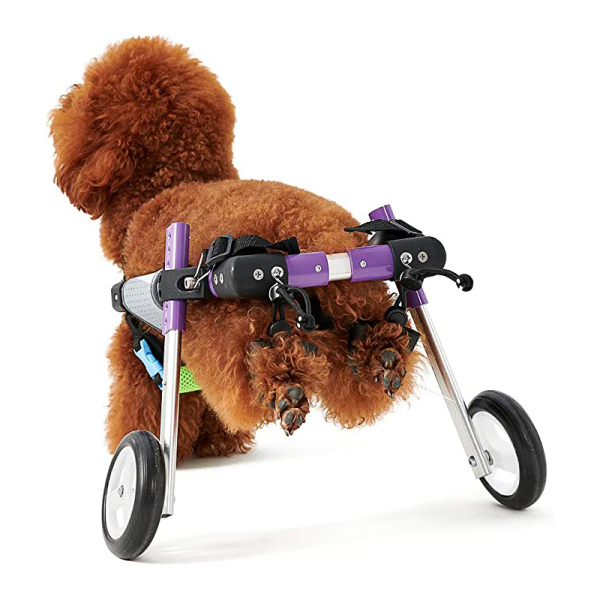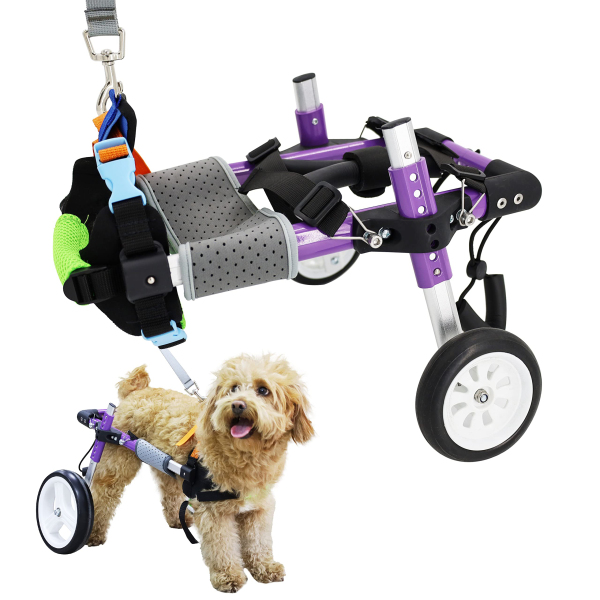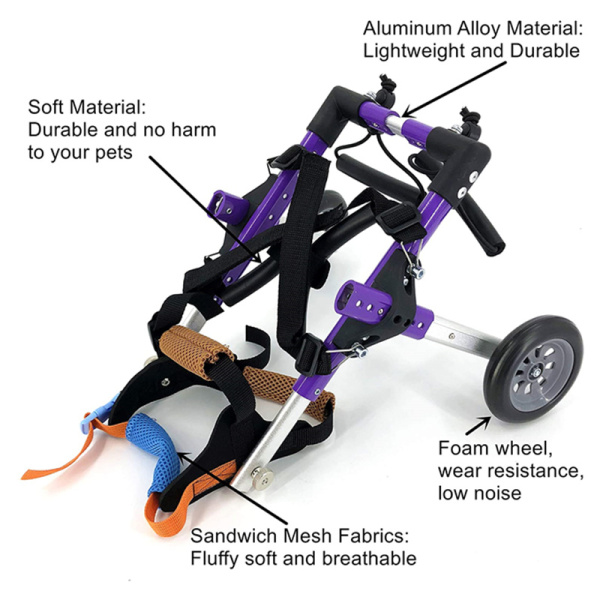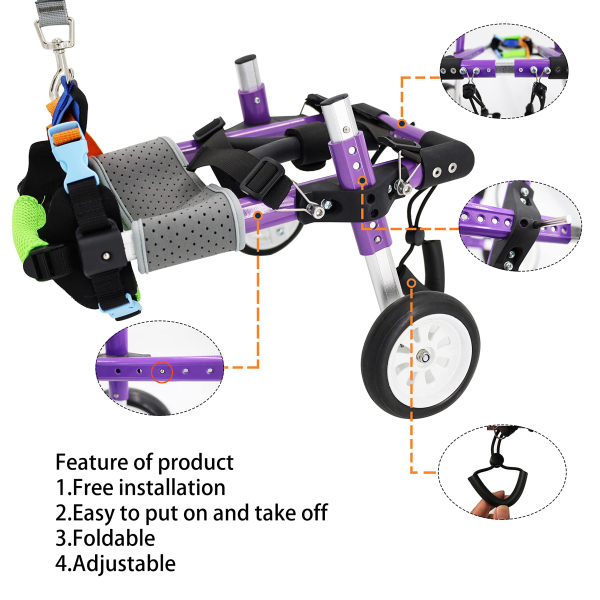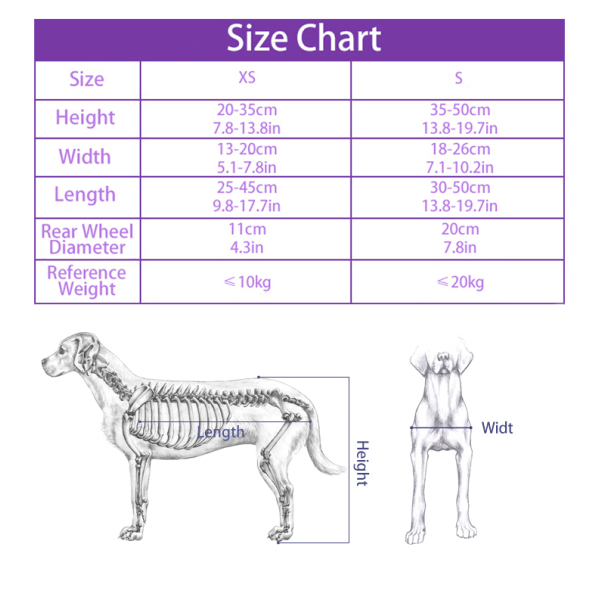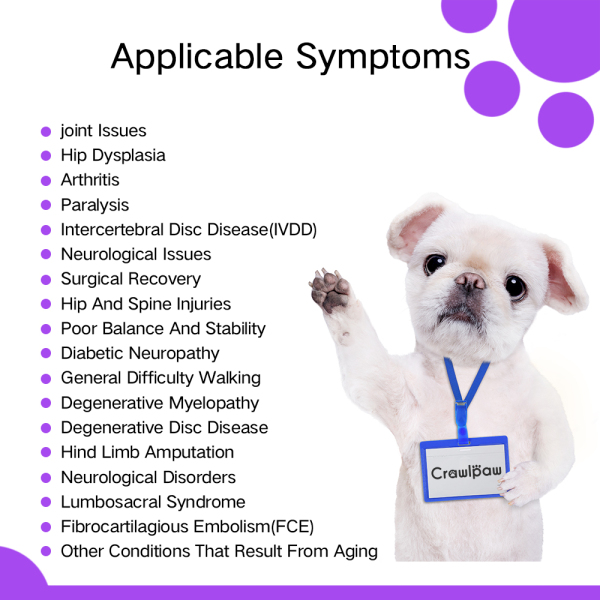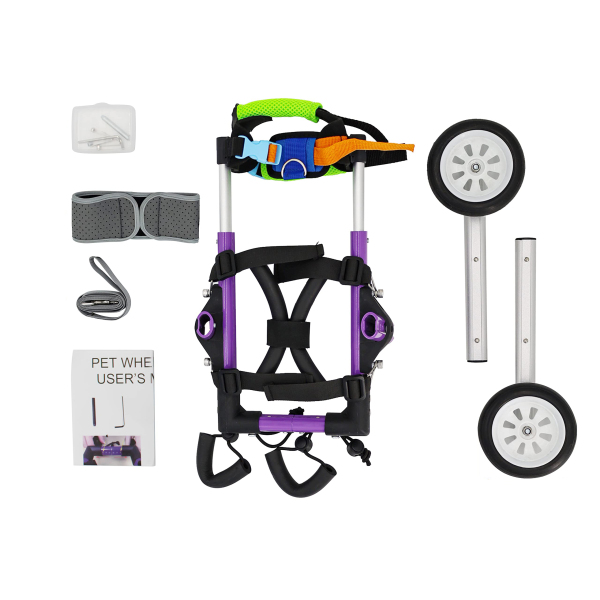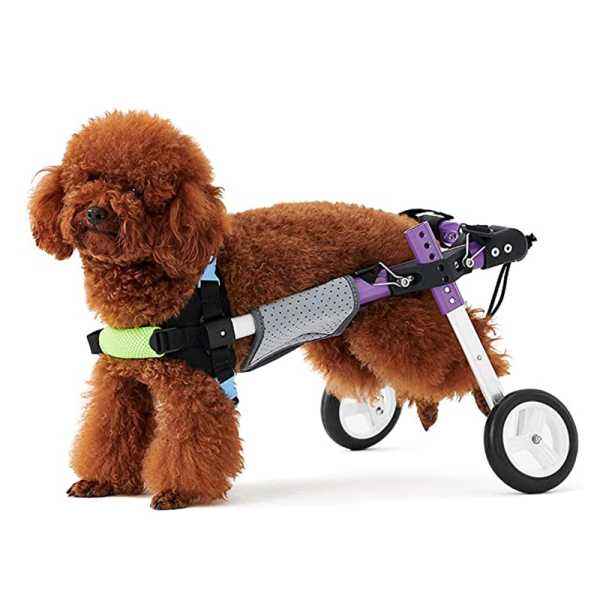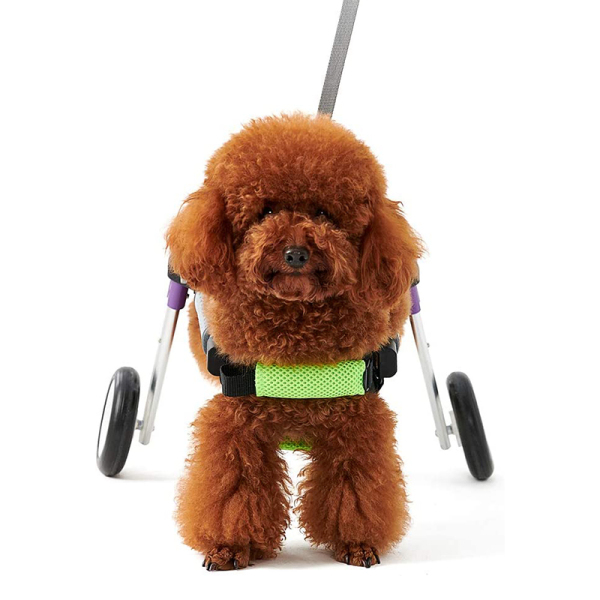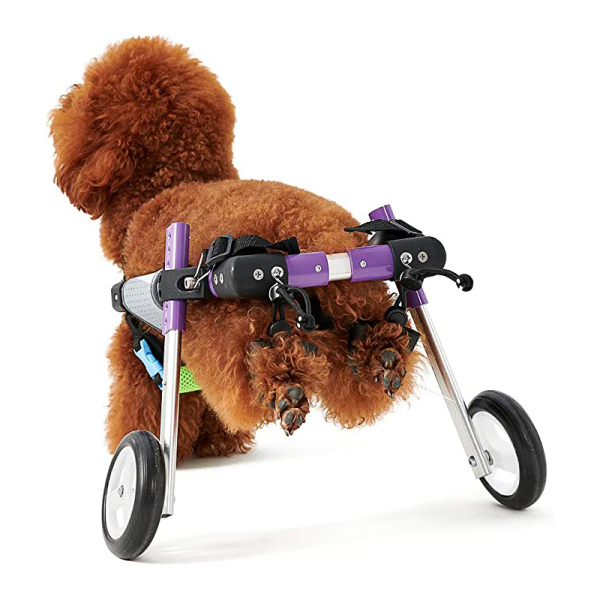 Dog Wheelchairs for Dog Back Legs Disability Weakness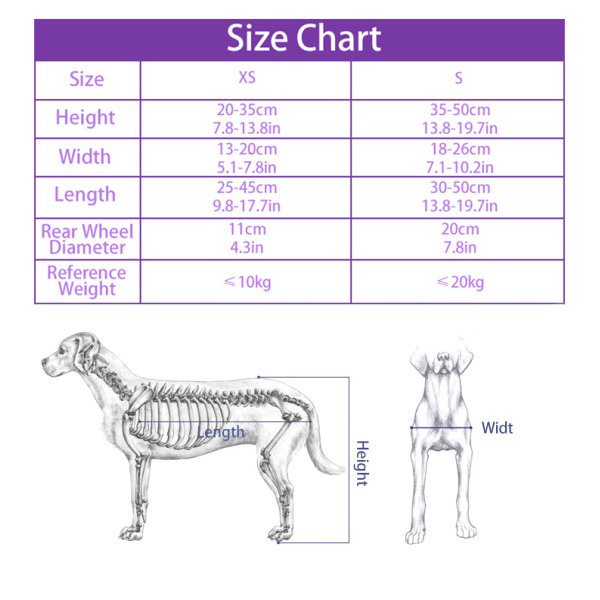 Get your dog running again and help your dog regain energy and confidence.
Easily adjust height and width to your dog's size.
Easy to assemble and easy to carry, light and strong.
Please refer to the size chart to measure carefully before purchasing.
See more
Product Name: Dog Wheelchairs for Dog Back Legs Disability Weakness

Product Category: Dog Wheelchairs

Material: Aluminum Alloy

Ideal For Breeds: Small Medium Dogs

Ideal For Scenes: Dog wheelchairs help pets regain freedom and mobility due to injury, surgery, illness and advanced age.

Product Features

2-Wheel wheelchair is only for the pet hind leg disability,you can raise it's hind leg,if it can walk use it's forelegs,our wheelchair will help it walk.

Removable socket design,knob installation saves effort. Abdominal support design-make your pet feel more comfortable and stable.

Our wheelchair has a durable, light weight aluminum frame and adjustable harnesses to provide optimal comfort and mobility.

Our dog wheelchairs are designed for the different size dogs,you can easily adjust the height and length according to the your dog's shape. Come with dog leash which you can use it when walking with your dog.

With light weight and durable PVC foam wheels, you dogs can move fast just like they never lose their mobility.

Product Display
Reviews (50)
WRITE A REVIEW
Review:
Review is required
Picture: ( 0 / 6 )

Rating Snapshot
Select a row below to filter reviews.
Average Customer Ratings
Sort by:
Highest to Lowest Rating
Highest to Lowest Rating
Lowest to Highest Rating
Most Recent
This is a wonderful thing. Our little tuxedo is a chihuahua mix that pulled the short end of the genetic stick. His rear knees are completely shot. He is a high risk for surgery as he is so wee. He was able to take a few wobbly steps forward and then would collapse on his rear. Look at him go here! It has taken hours of adjustments so be patient. You have to adjust length, width and account for comfort and that has taken us over the course of a couple of days. So well worth it!!!

This is our second set of wheels and they work better than the first. My lovely boy has IVDD and is paralyzed this time. These fit better, are lightweight and easy to handle. They are also easy to put on him. This is a good product and my baby seems happy again.

This is my second time purchasing this item. My dog is recently paraplegic, initially late September of 2021. It was scary and heartbreaking. I had only had him for about 2 years, since the age of 3. He became paralyzed a few days before his birthday, of which he turned 5 years old. He's still very young. Before he became disabled, my dog was already quite timid and frantic- he was easily scared by basically any inanimate object that moved, especially boxes for some reason. I didn't have him as a pup so idk why. Anyway, I felt like putting him in a wheelchair would be impossible because of his fear of being "inside" of things.

The first time I bought this exact wheelchair, he hated it. He didn't know how to move. He kept rolling backward and trying to lay down. I kept trying but nothing seemed to work, so I returned it. Months go by and I would just walk him with a towel, but it got tiring. I kept looking for a wheelchair right for his size that would help him, but wheelchairs are very expensive!

I ended up reordering this one, except this time with the supporting strap in the middle. I had to adjust it many times, but I finally found a nice balance for him. When I would take him out for a walk, he'd run off in full sprint but when it came time for him to move on his own without a leash, it was like he couldn't. He was frozen, would not move, and would lay down. I figured out why- it's because of the strap that goes UNDERNEATH his arms (armpits)! It brought him discomfort and made him feel like he couldn't move his arms properly. In the pictures I have provided, you can see that I tuck that strap to the side. He moves perfectly now on his own and he loves going outside and walking.

If your dog does not like this chair initially, please try to readjust and see how they like some straps being on/off. That was the main issue for me and my dog goes full speed in this thing on his own!! He was already a fast boy on 4 legs and he's just as fast now on 2 and wheels!!! M

I'm so glad that we invested in this wheelchair for our dog. He is unable to walk more than a few steps before falling over. It took us three days of training with treats and now he is enjoying life again exploring everything like he used to. Assembly was fairly easy but we had to make several minor adjustments to get the right fit. Very happy with this product.

I bought this wheelchair for my dachshund and it is exactly what he needed. It's well built, easy to adjust and seems very comfortable for my fur baby.

Once he got used to it, he is so much happier.

My lovely little pug's back legs just were not able to support her anymore. I decided to get these wheels for her and they worked great. A little setup time to get the fit right and I put her in it. In less than 1 minute she was off and moving. I can tell she really likes the mobility she has now. She can go for walks on smooth pavement, rock or even "off road" in dusty dirt with large "off-road" wheels. I am so happy I got it for her. Now that I have practiced I can get her in in it 2 minutes.

Easy to put together. Very lightweight but sturdy. Easy adjustable height and width.

It was a bit tough to assemble, but totally worth it! My senior dog had a first time seizure with his hind legs giving out more than usual. There are days when he does not have the strength to walk. It took him some time to get used to the wheelchair, but I'm so happy that this product is out there to help bring out the spunk and pep in our senior and handicapped pets! They are so special and deserve all the support they can get!

Good quality and easy to adjust
Who Viewed This Also Viewed