Cat Dog Wifi Smart Automatic Feeder 4L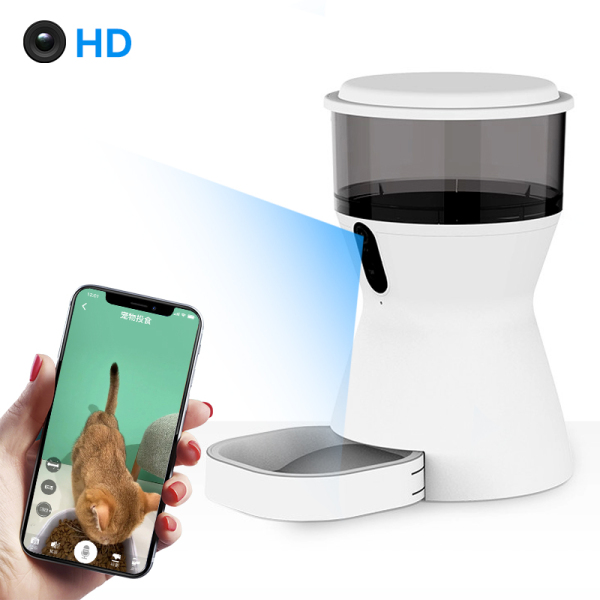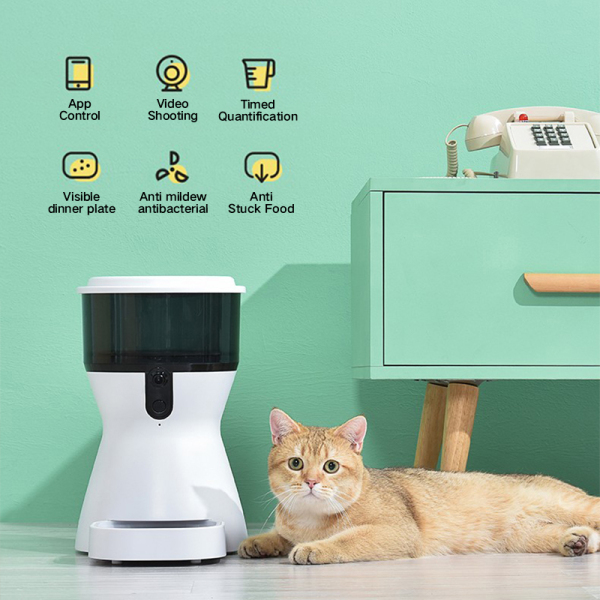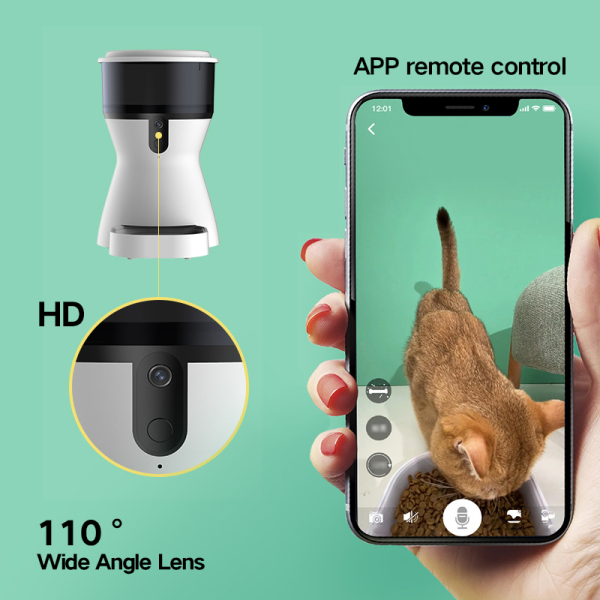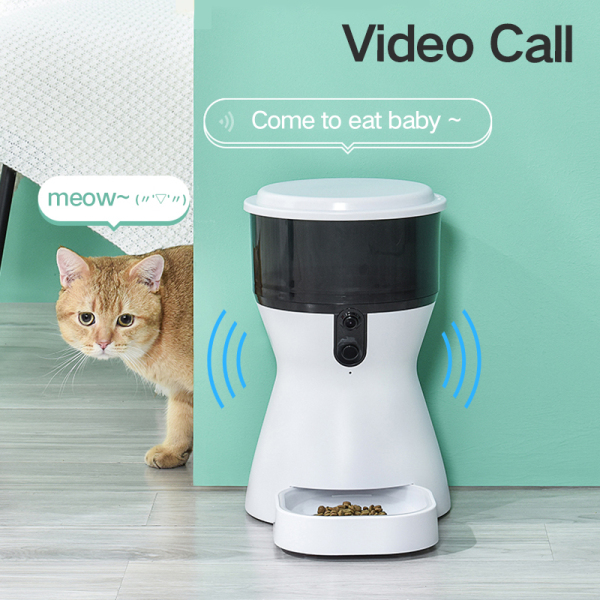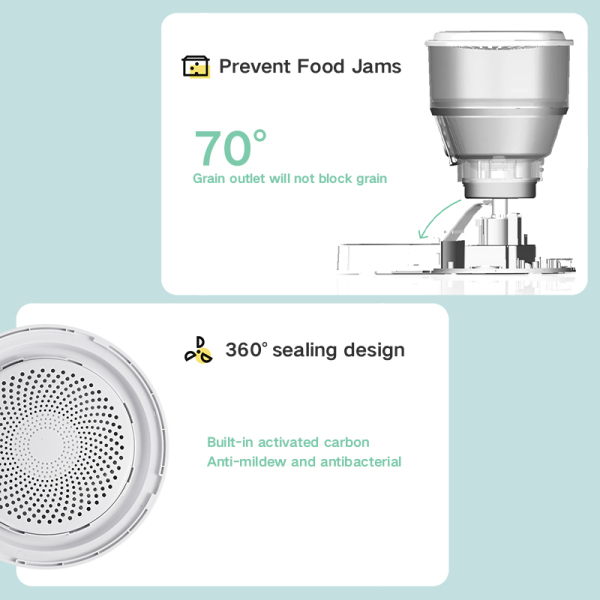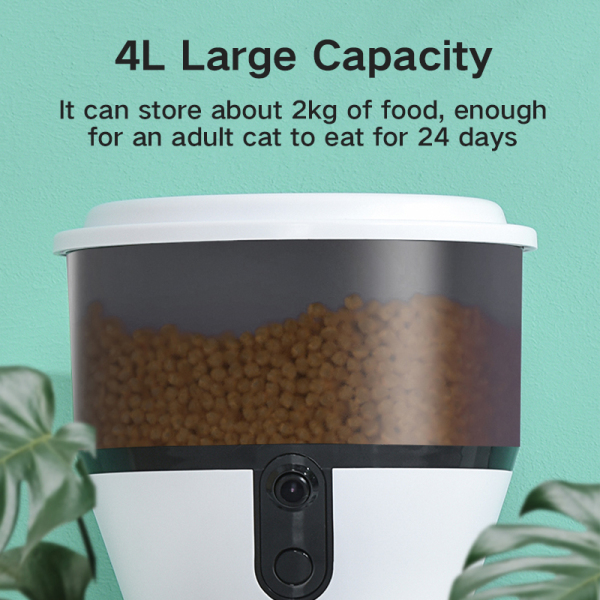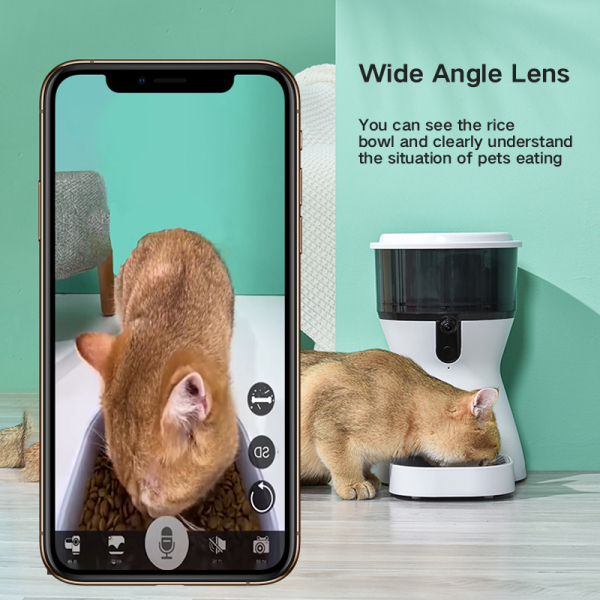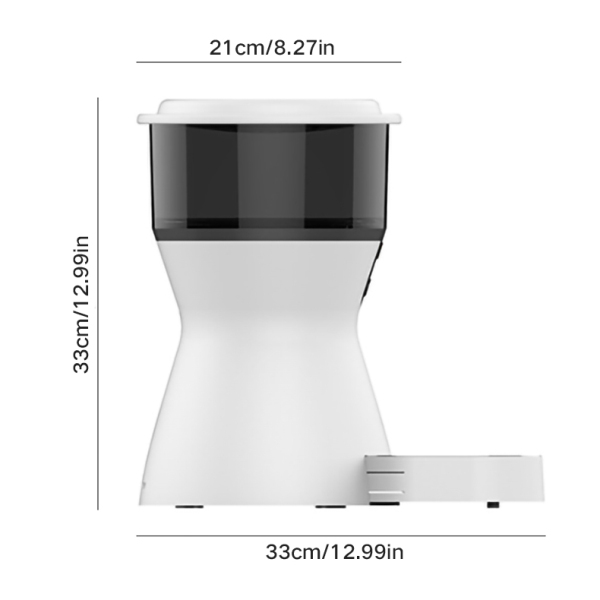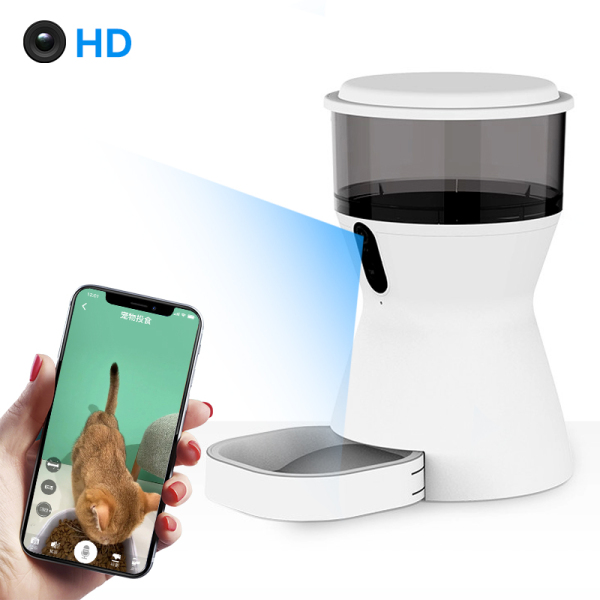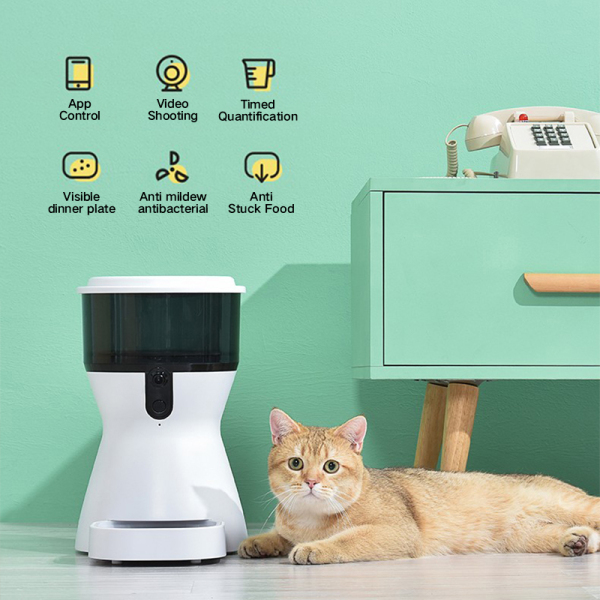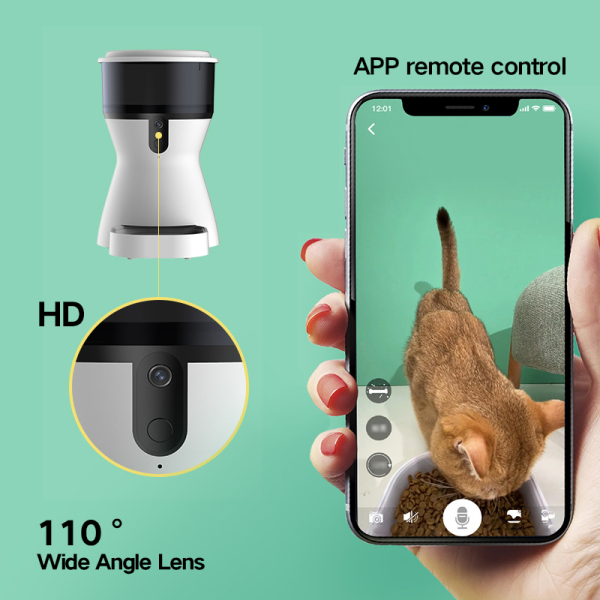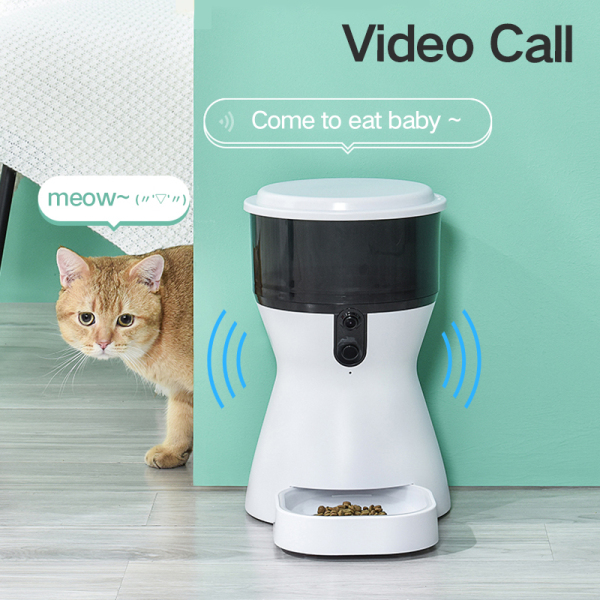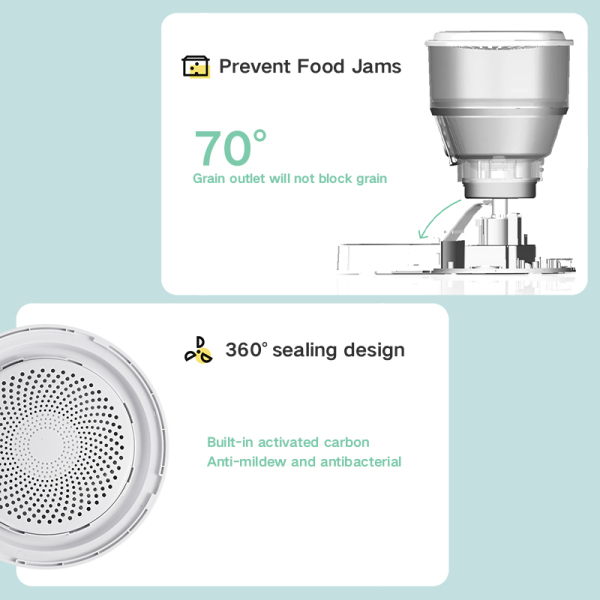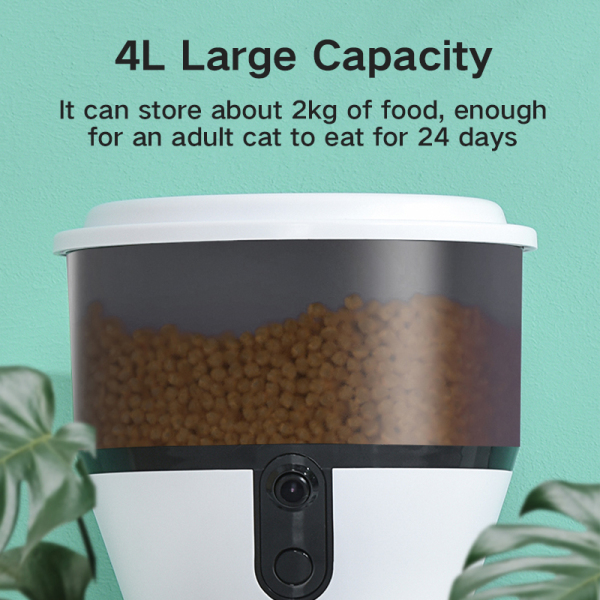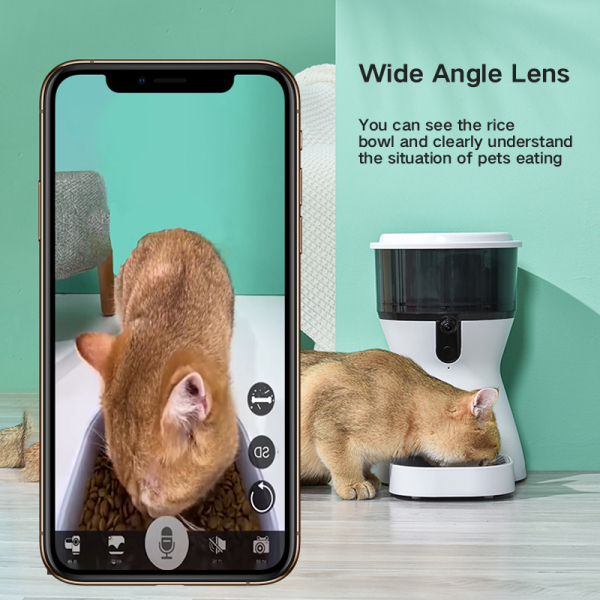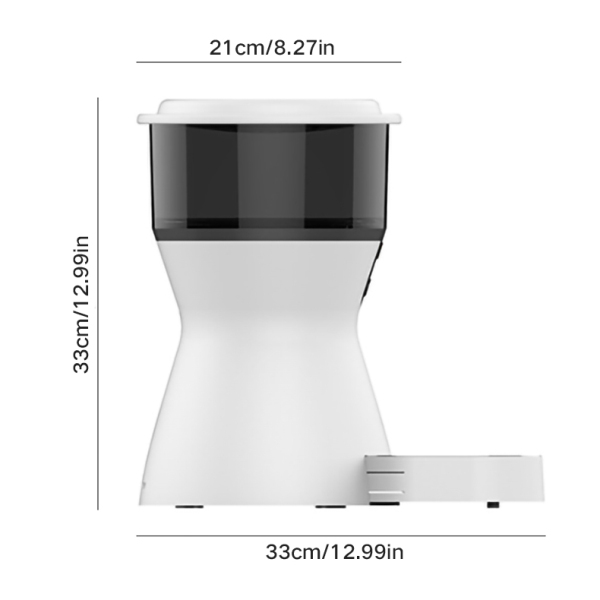 Cat Dog Wifi Smart Automatic Feeder 4L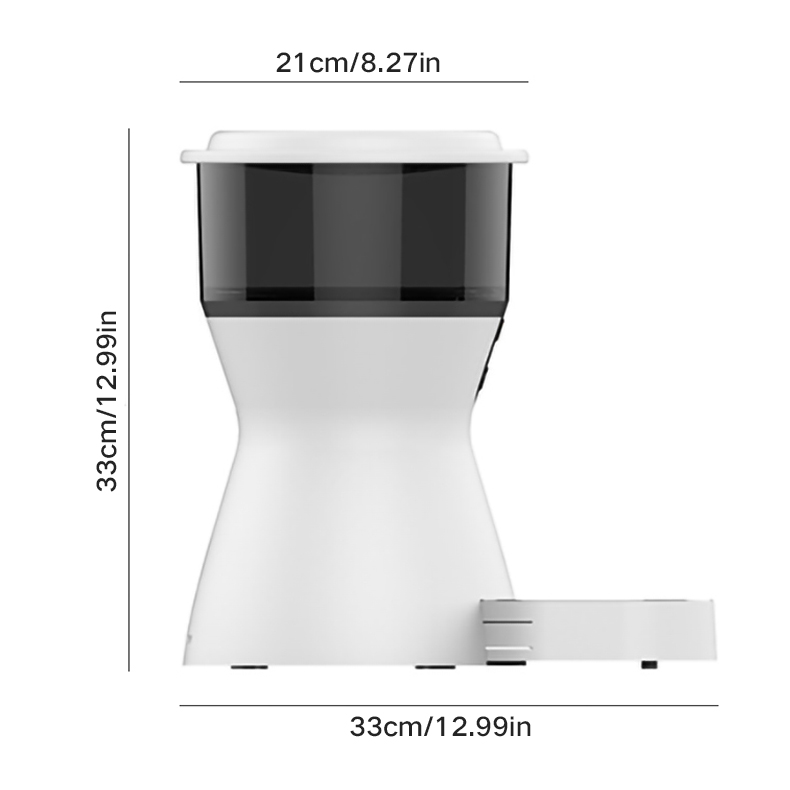 With Hd Camera, Check Your Pets At Any Time, Visible Food Tray.
Voice Call, Call Your Pet To Eat, Make Fun Of Your Pet, And Accompany Your Pet At Any Time.
App Wifi Remote Control, Regular And Quantitative Feeding Of Food.
4l Large Capacity, don't Worry About Short-term Travel, Anti Stuck Food.
Built-in Activated Carbon, Moisture-proof, Mildew-proof And Antibacterial.
See more
Product Name: Cat & Dog Wifi Smart Automatic Feeder With HD Camera Visible Food Tray

Material: ABS

Ideal For Breeds: Small Medium Large Dogs,Small Medium Large Cats

Ideal For Scenes: Feed your pet automatically when you need to travel or go on a business trip. Feed your pet regularly and quantitatively every day, so you don't have to worry about your pet's hunger.

Product Features

Feeding pets when you are away: Automatic pet feeder provides two feeding modes, manual feeding and automatic feeding. Using the built-in programmable timer to set the number of feedings and serving portions, without worrying about your pet's daily food.

1080P HD Vision: APP Wifi Remote Control, 1080P Full HD live streaming lets you see your pet clearly from anywhere using your smartphone. While live streaming, the two-way audio allow you to talk with your pet in real time.

Microphone design: Call your pets to eat easily and get them excited about mealtime! Activated carbon can be placed on the inside of the top cover of the feeder to deodorize and keep fresh. Dry food is recommended.

Disassemble and easy to clean: Made of High Quanlity ABS Plastic. The pet feeder can be disassembled into 3 parts. Grain barrel lid, barrel and tray. The barrel lid, the barrel and the tray can be cleaned.

Battery and external power supply: The pet feeder is powered by external wall power or battery. If there is a power outage, the feeder will continue to use 3 pcs dry batteries (about 20 days of service life) to continue to supply power to ensure that your pets eating (excluding batteries). It is recommended to use battery and external power supply, dual power supply mode, continuous power supply when power is off, to ensure normal feeding.

Product Display
Reviews (9)
WRITE A REVIEW
Review:
Review is required
Picture: ( 0 / 6 )

Rating Snapshot
Select a row below to filter reviews.
Average Customer Ratings
Sort by:
Highest to Lowest Rating
Highest to Lowest Rating
Lowest to Highest Rating
Most Recent
Finally our cat stopped begging!

Wanted a simple feeder that dispenses food multiple times a day, this one has all my needs at a reasonable price. I no longer have to get up at 8am on weekends to feed my cat

Our cats are very annoying when it comes to food (multi-cat household). We also have a cat on a different diet, so we bought this product and another dual feeder product. Oh my gosh, that's great! It takes a while to calculate the serving size, but it's easy if you follow the instructions to program it. The best part was how weird it was to hear my recorded voice calling the cat to eat...even months later it freaked out the family! They are now Olympic sprinters when they hear my creepy voice calling to them!

Such a great device!

useful gadgets for my dog

The alarm clock I woke up with on my first day wasn't a cat

This was the first automatic pet feeder we bought and we still love it after 2 weeks of use. We didn't use any recording features so I can't say, but everything else about this project was great for our cats.

Our veterinarian advised our cat to lose a few pounds and it was hard to control how much food our kitty gets when she sees her bowl is empty and always gives her food. This solved the problem for us. It's great that you can set multiple feeding times in a day because she can't eat everything at once and I don't have to feed her myself multiple times a day. It's also great for weekend trips and never misses a feeding or jam.

Highly recommend setting up before leaving to ensure you get the correct portion size, I realise I entered incorrect quantities and could be overfeeding if not tested.

Well-designed automatic pet feeder

Reliable automatic feeder
Who Viewed This Also Viewed