Cat & Dog Automatic Feeder With HD Camera 6L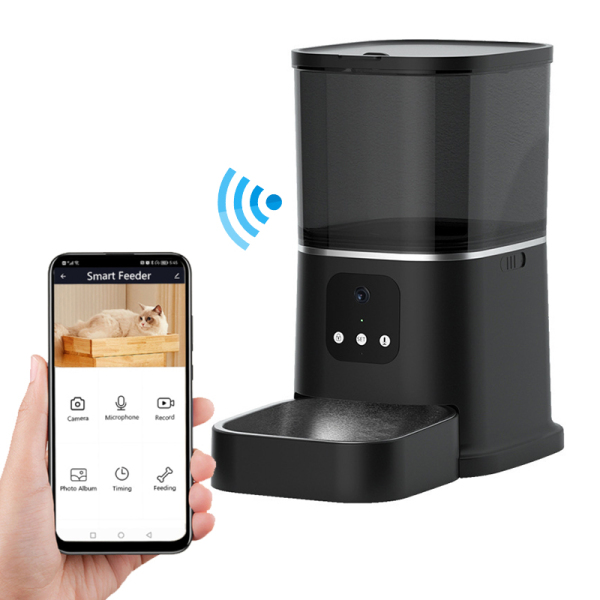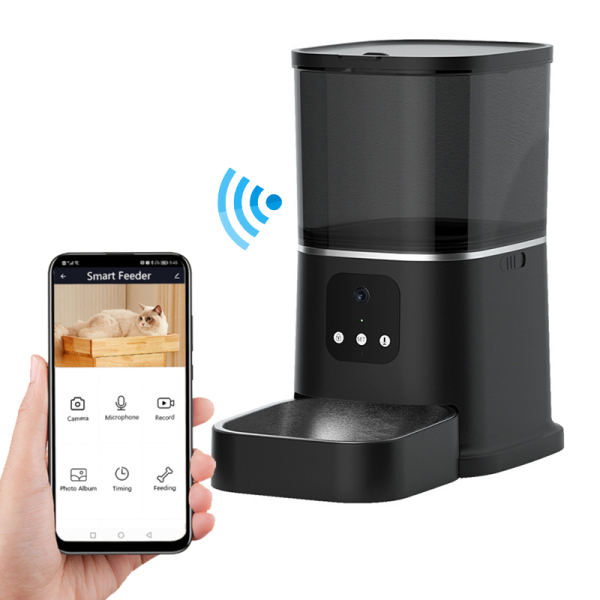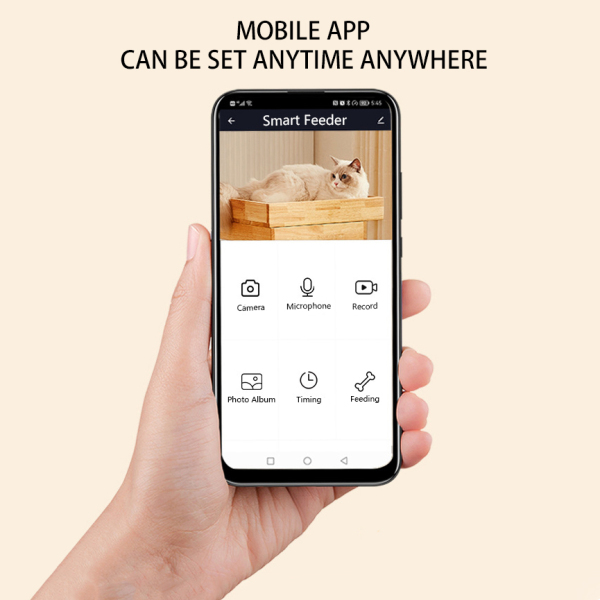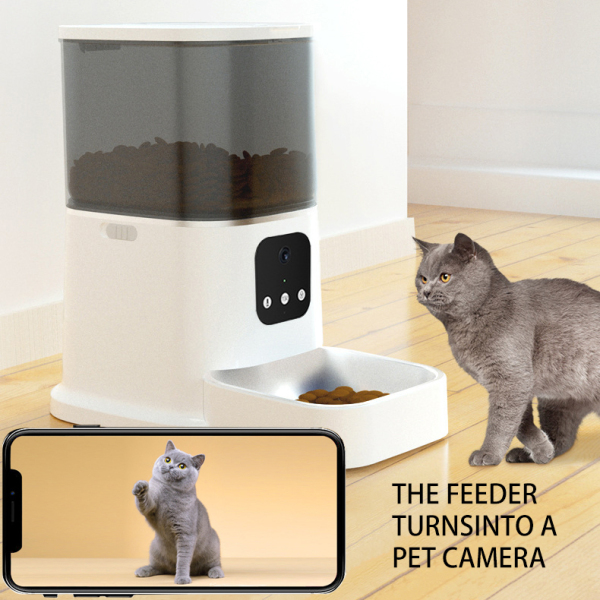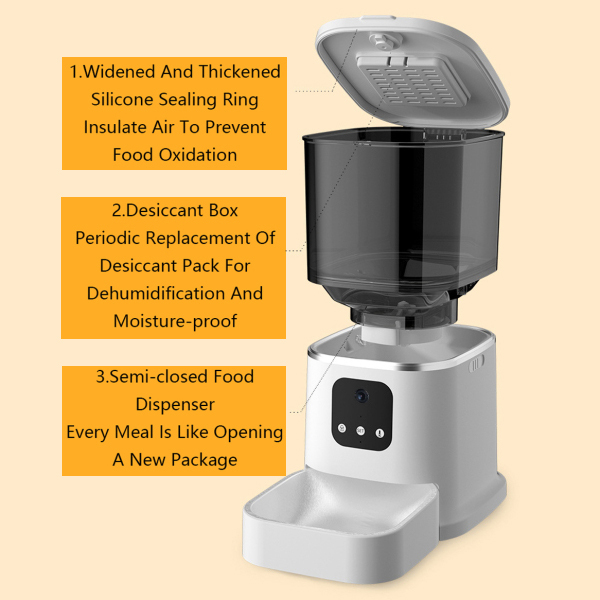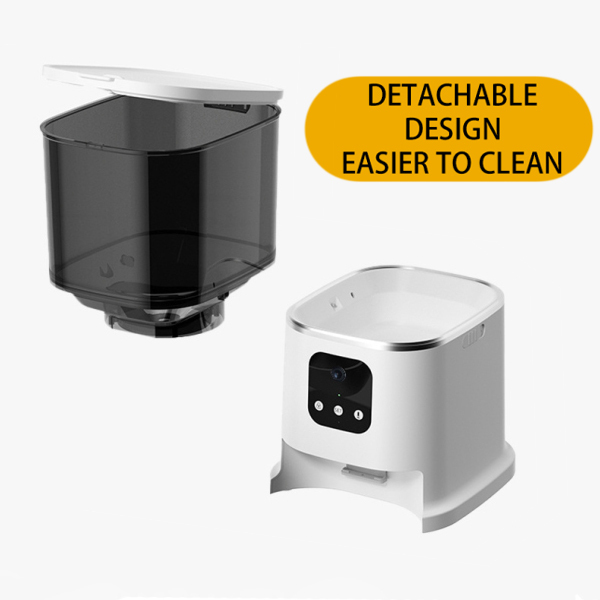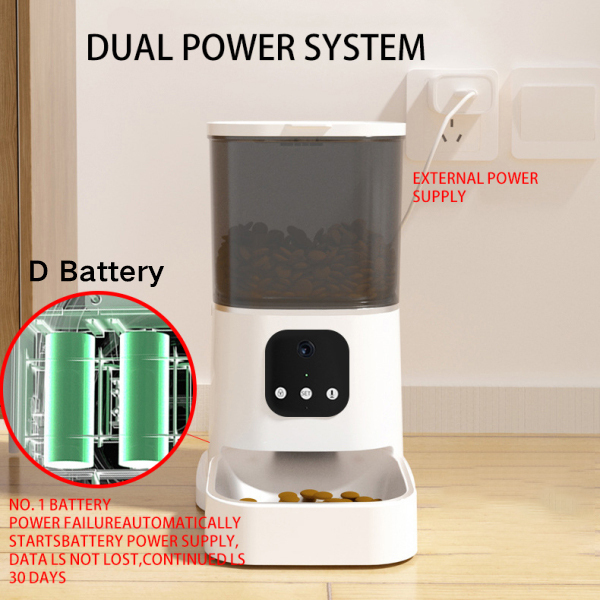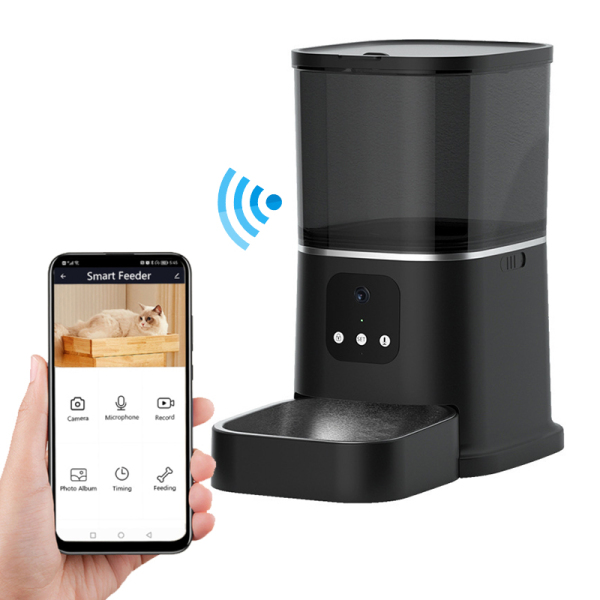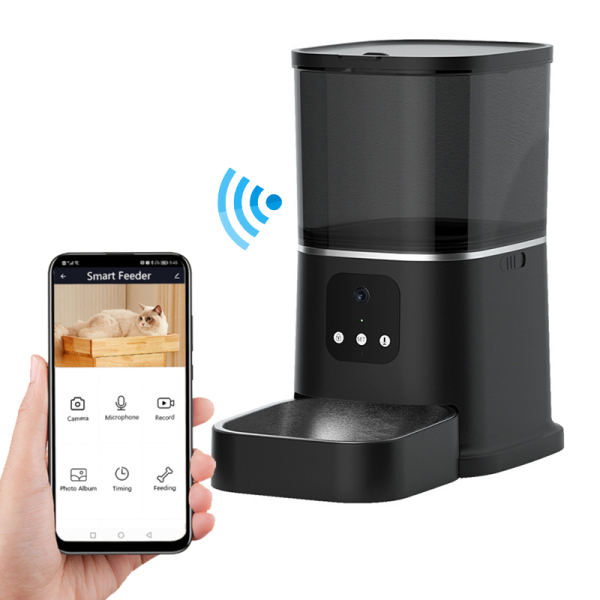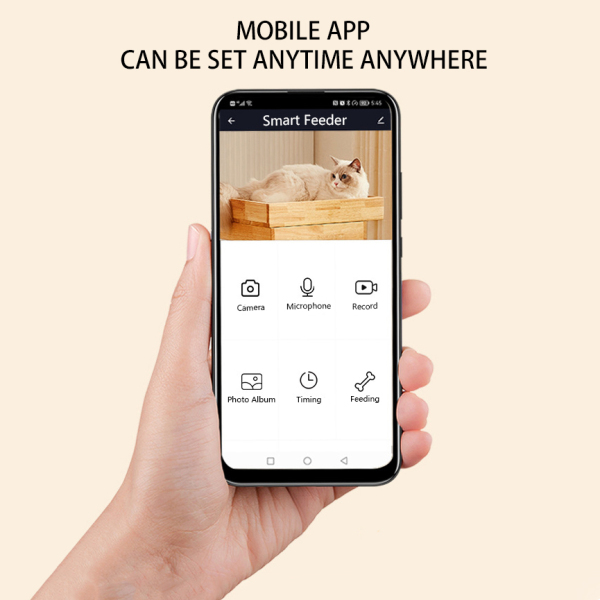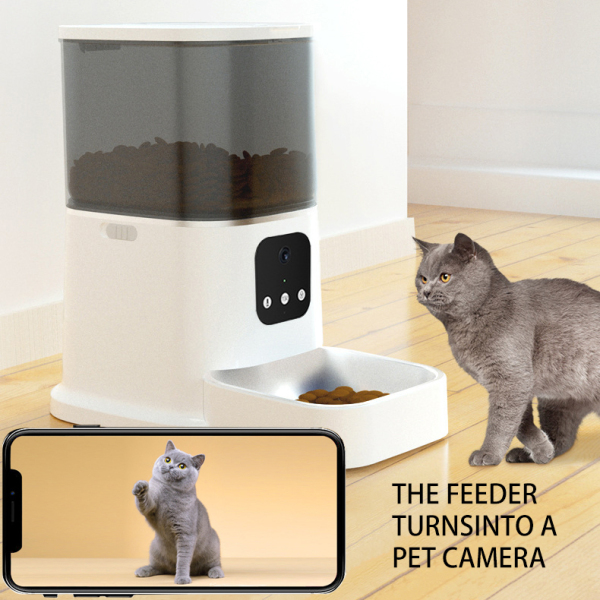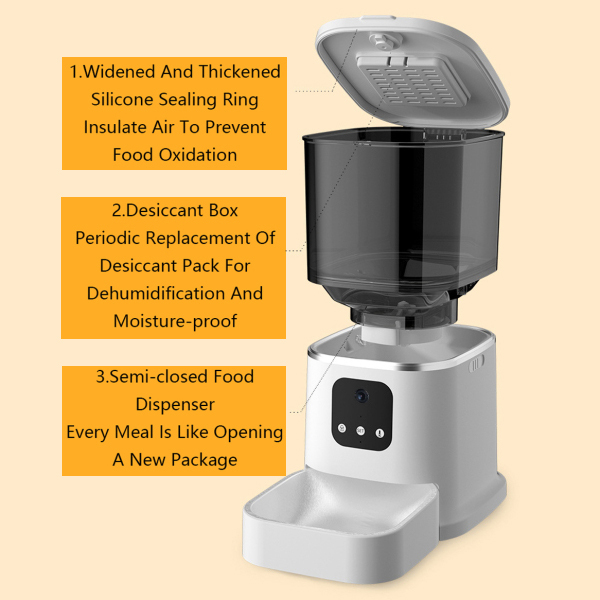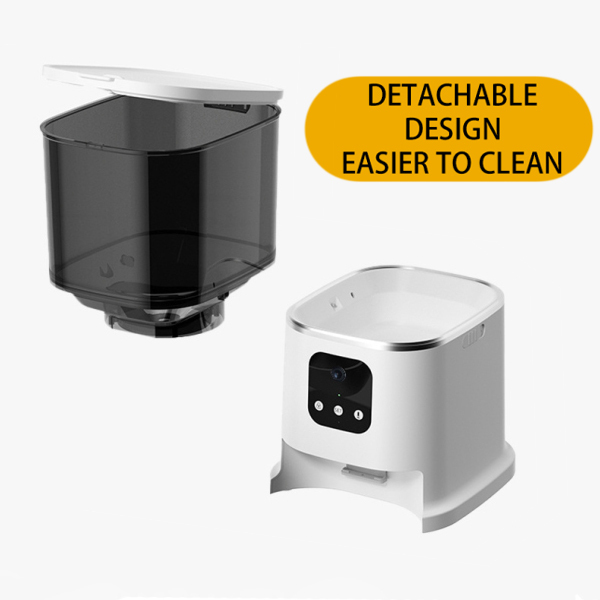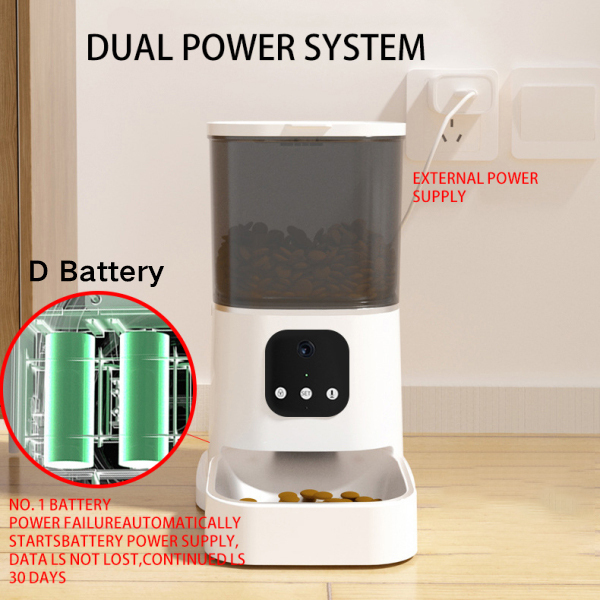 Cat & Dog Automatic Feeder With HD Camera 6L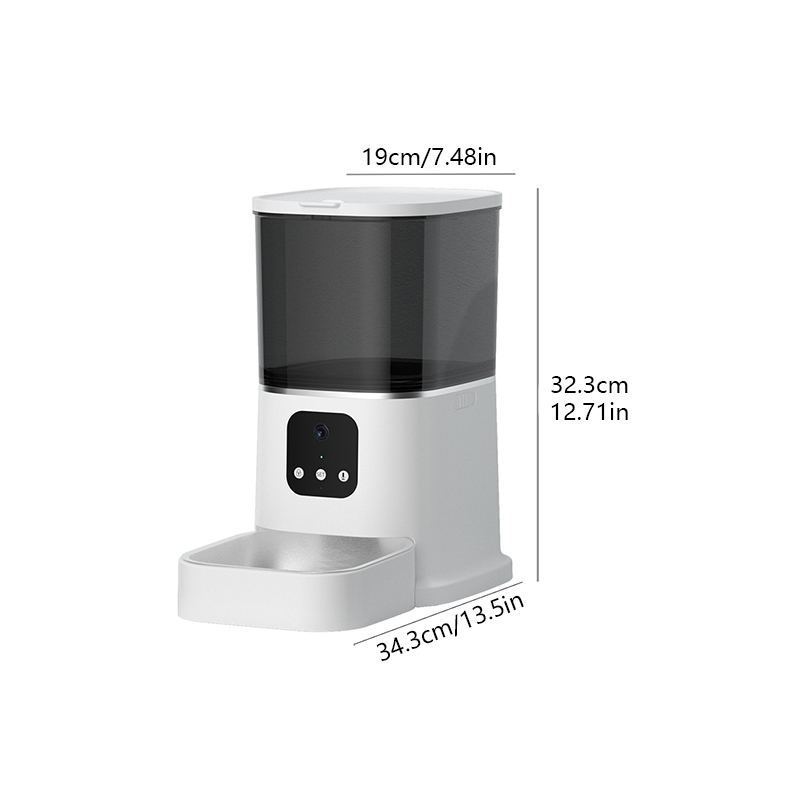 HD Video Function, APP Wifi Remote Control, check your pet status anytime, anywhere.
Two-way Voice Function, Space Interaction, Remotely amuse the cat, so that it is not alone.
Flexible timed feeding dispense food in right time, set 8-10 meals per day customized healthy diet for your cats and dogs.
6L large capacity to feed your pet for days on end and comes with a desiccant bag to keep food fresh.
See more
Product Name: Cat & Dog Automatic Feeder With HD Camera 6L

Material: ABS,PP

Ideal For Breeds: Small Medium Large Dogs,Small Medium Large Cats

Ideal For Scenes: Feed Your Pet Automatically When You Need To Travel Or Go On A Business Trip. Feed Your Pet Regularly And Quantitatively Every Day, So You Don't Have To Worry About Your Pet's Hunger.

Product Features

Never Missing A Meal: The Feeder Is Only Suitable For 2-12mm Dry Pet Food. The Timetable For Providing Pets Is Up To 10 Meals, With 1-10 Servings Per Meal, And Each Serving Is About 8-10 Grams.if The Food Is Insufficient, Our App Will Remind You On It.

1080P HD Vision: APP Wifi Remote Control, 1080P Full HD live streaming lets you see your pet clearly from anywhere using your smartphone. While live streaming, the two-way audio allow you to talk with your pet in real time.

Dual Power Mode: Power The Feeder Via The Included Power Adapter Or 3 Pieces Batteries (not Included). Battery Backup Ensures That Your Pets Get Fed Even In A Power Outage. Recommended To Use Both Battery And Adapter In Case Any Of Power Cut Off.

Pre-meal Voice Reminder: Record Your Voice Messages And Play It To Make Your Pets Get Used To The Feeder Better While Dispensing Meals. Automatically Broadcast To Remind Your Pets That It's Time For Meal And They Will Not Feel Lonely Anymore While Hearing Your Voice Recording.

Convenient & Safe Design: The Auto Pet Feeder Has A Replaceable Moisture-proof Desiccant Box In The Lid To Keep Your Pet's Kibble Fresh.

Product Display
Reviews (25)
WRITE A REVIEW
Review:
Review is required
Picture: ( 0 / 6 )

Rating Snapshot
Select a row below to filter reviews.
Average Customer Ratings
Sort by:
Highest to Lowest Rating
Highest to Lowest Rating
Lowest to Highest Rating
Most Recent
I bought this for my single indoor cat household.

My cat tends to eat too much too fast, so I like that with this one I can set up to 4 different meal times for him to get multiple small meals.

It also helped cut back on him making a mad zoom towards the food dish every time I walk by it, now he just comes running when he hears the feeder turn on.

As for the noise the feeder makes, it's not bad, I hear the food hitting his dish more than the motor turning out the food, I only notice the mirror if I'm standing right by it when it comes on.

When I did my first trial run with it, my cat got a little freaked out when it came on, but he ran right up and started eating a soon as it stopped.

By the second day he came running whenever he heard it, and now he doesn't wait for the food to stop falling before he's eating.

Works as described, I recommend.

My cat is one of the smart cats. He can break into things. He clawed at the floor vents, not giving up until he could remove them and explore the ventilation system. He knew the buttons and turned on my speaker system with his fangs and looked at the lights. For most feeders, he's like a three-year-old squeezed into a teddy bear vending machine. Finding a good feeder for him is a challenge! The problem is solved. This feeder has a nice lock on the top cover and my cat can't reach in and brush food between feeding times. Had to hold down the lock on the screen so he couldn't open it. Humans, if you can program a coffee machine, you can too. Super easy to program and reliable :)

I purchased this item because I was tired of getting woke up at 6:00 a.m. by a hungry cat. Although it still happens regularly, it certainly isn't as much as it used to be. With this feeder, I also don't have to worry about getting home at a certain time to feed him. You will have to do a little experimenting to determine how much each portion is (because the pellet size of different foods will vary), but after figuring that out, it's very easy to adjust, or turn off and on. And, the battery back-up will give you piece of mind, as well. Great product, all around! Note-you may have to raise it up a little (I used some shelving pieces), as it feeding bowl sits quite low to the floor.

It was set up pretty easily. We have good wifi, so connection was a breeze. It reliably dispenses the exact amount programmed. We bought this because we are going out of town and since our cat is semi-feral, we are hoping this feeding system will work well while we are gone. Love that I can see my cat at the feeder.

I got this feeder as a way to feed my cat during a day-long trip from home. I tested it out for a week before leaving for the trip and it is wonderful! I now consistently have it feeding my cat, which helps when I want to sleep in during the mornings or have any day-long trips.
The feeder being double powered, by an electric plug or by battery, is very comforting. I even tested it out myself by unplugging it and it stayed on the whole day feeding my cat right on time for each meal
For the food I feed my cat, one portion is about 1/16th of a cup.
The manual is easily understandable, it is easy to customize the meal time and portions (each meal time can have its own different portions!).
This is a solid product for a great price!

We have been using this automatic feeder for months and we all love it, including our cat. Serving sizes can be customized a lot, with many different feeding times. We don't have to worry about our cats meowing to us to eat. He probably knew when he was going to be fed, and sometimes he would wait by the plate for the food to fall. But when he was in the other room, he heard the sound of food falling and he flew towards the dish. It thought the splitter had a tape recorder as cute, but we never used it. Our cats know noise and what it means, so we don't have to use it. I also love that our cat gets the exact same amount of food every time, and we set him up with more food because we don't have to remember. We just fill up with food every few weeks. love it. Works beautifully.

I travel a lot for my lifestyle and needed an automatic feeder to take care of my cat while I am away. I was originally concerned that this feeder does not connect to wifi or send me phone notifications if it runs out of food/food gets stuck in its chute like other automatic feeders on the market so I wanted to wait before leaving my review. However, it's been over 3 months now and I am happy to report that I have not had any issues: it dispenses the food regularly, keeps everything well sealed even after 3 months stored in the feeder and follows the set feeding time schedule to the minute. Its 4 meals a day and 4 portions per meal dispersal is more than adequate for my 6 lb cat though I do wish that each portion could be a little smaller so I can finetune her diet. For the price of the feeder though, this is a minor concern. If you want a no-fuss, long-lasting feeder that does its job, you've found it here

I feed 3 somewhat feral cats on my porch. We had a vacation planned that was a couple weeks long, and I didn't want to bother my neighbor too much. I purchased two of these cat feeders, and I was super happy to be able to make sure that they got enough food, yet not too much food. They have worked perfectly!

I was going to put them away for our next trip, but I am so pleased with them we decided to leave them out for use permanently. The cats love them and I love them. Also they were super easy to set up, and I was able to watch the amount the cats ate and dial it in to just enough food and no extra.

This product is easy to set up once you figure out how you want to divide your portions and how much you'll be feeding. I bought this for a 2 cat house and it was perfect. I got the 6l capacity and I never actually got it completely empty, but it lasted about a month (so it should last longer). It has helped me reduce my worries about whether my cats have fresh food (my work hours are all over the place, but at least I know they will eat). It took my cats about a week to not be afraid of it, even though it wasn't particularly loud, they just slipped easily. I love the simple look of the feeder and it suits my minimalist taste for things. This feeder is also easy to clean, once you remove the top, you can easily wipe it down before refilling, the bowl it comes with fits perfectly on the bottom, so no food gets into the crevices, and it's easy to keep clean too. They also do separate from the main unit, so you can easily lift the unit about an inch to remove the bowl for cleaning.

I love this feeder and if I ever need to buy a second it will definitely be another one like this.

I have to feed my babies 3 times a day and I work so it was hard to meet their schedule! I use these to feed them in the early morning so I'm no longer awoken by a hangry kitty! Love that I can control the portions! There was only one time the feeder got clogged and it was my fault because I removed the little bowls it came with and replaced it with their old feeding dish (That way it had a familiar smell and they weren't scared of it for too long) Took about a day or two for my little skittish kitty to warm up to it but now she makes a B-line for it once she hears it! It's very quiet and you have the option to record your voice to call your babies (I honestly don't even have to use this feature!) 10/10 ! I was very picky about the auto feeders but this one nailed it!
Who Viewed This Also Viewed