Dog Carpal Brace For Support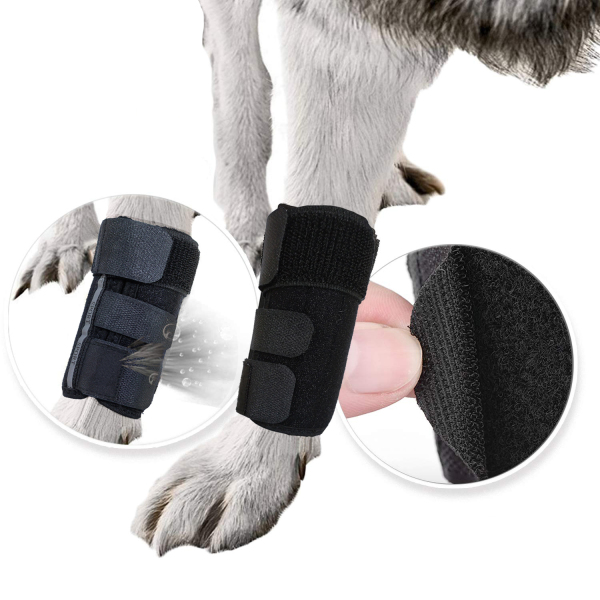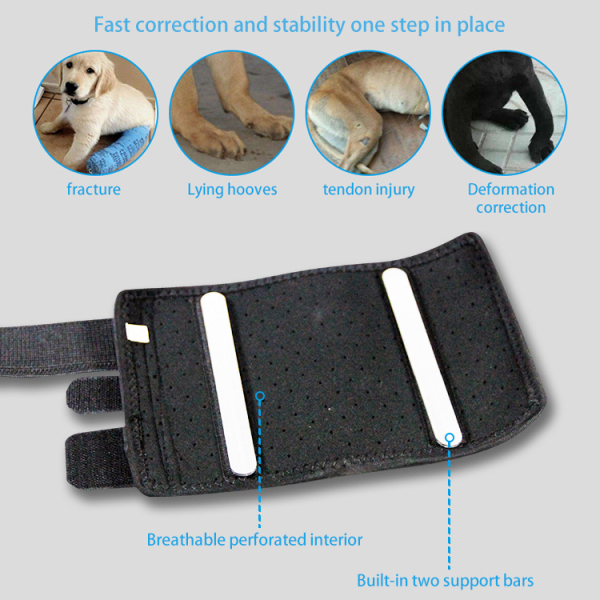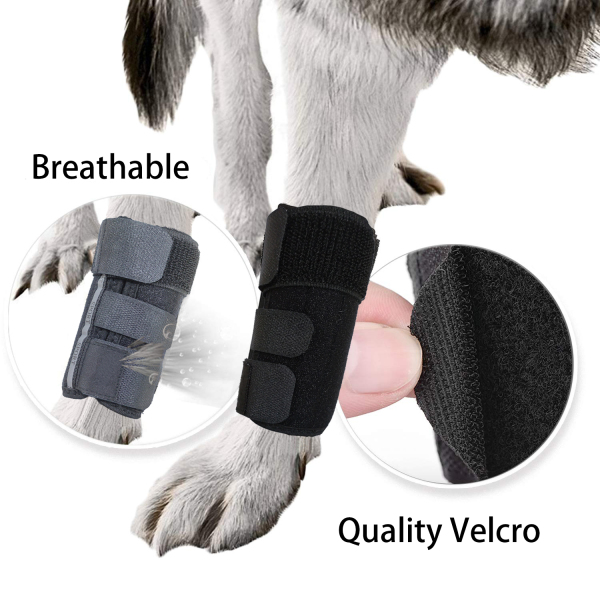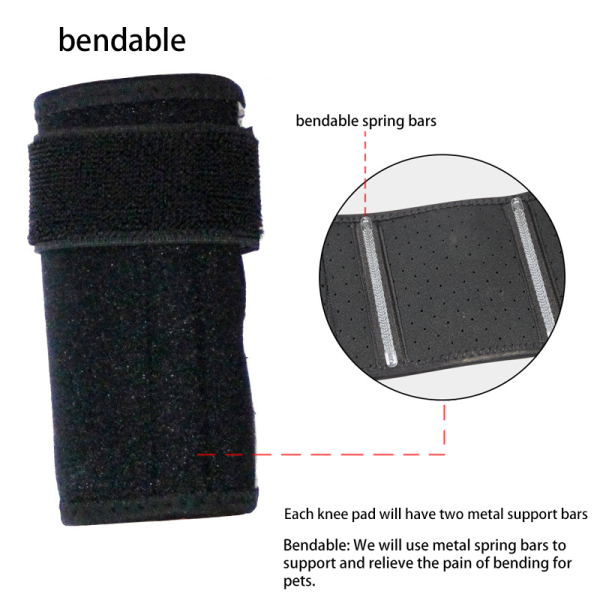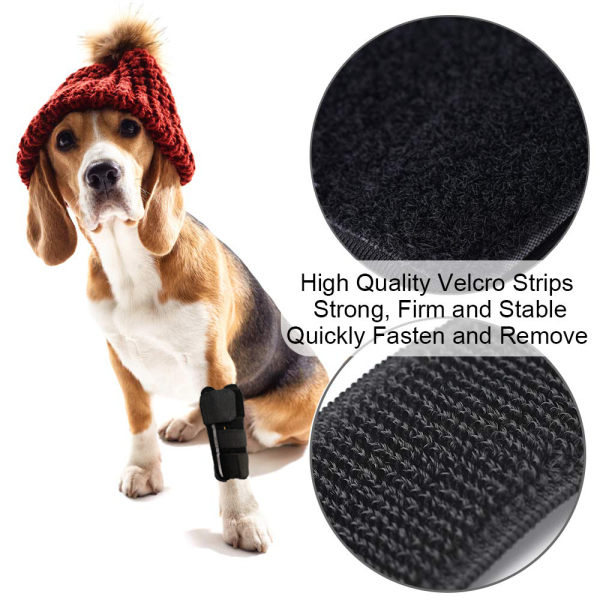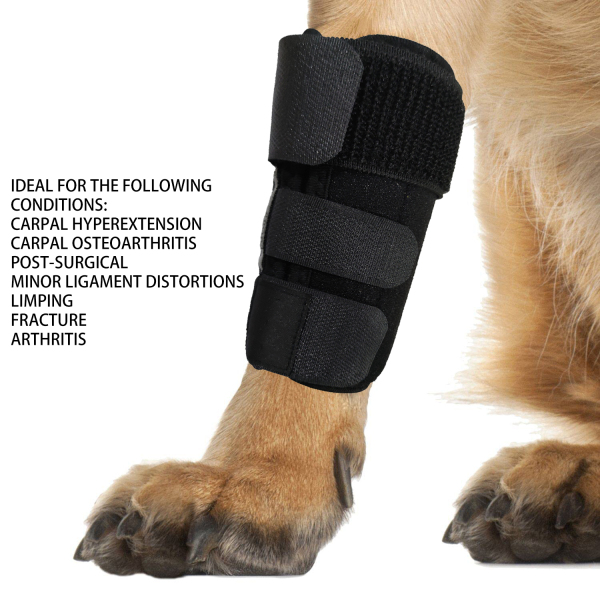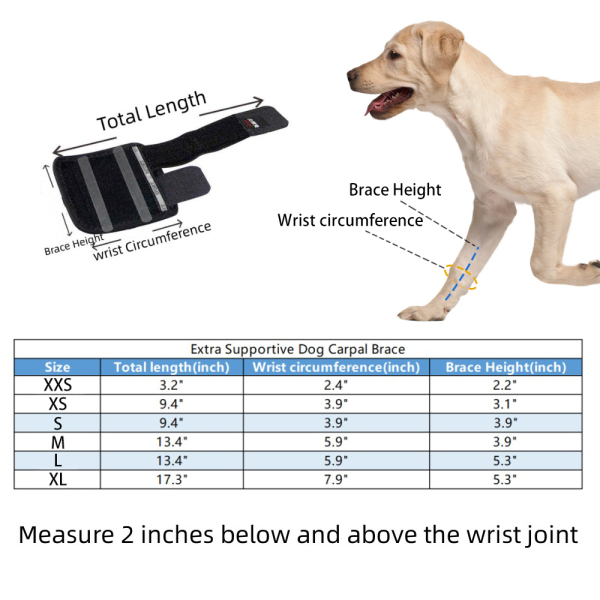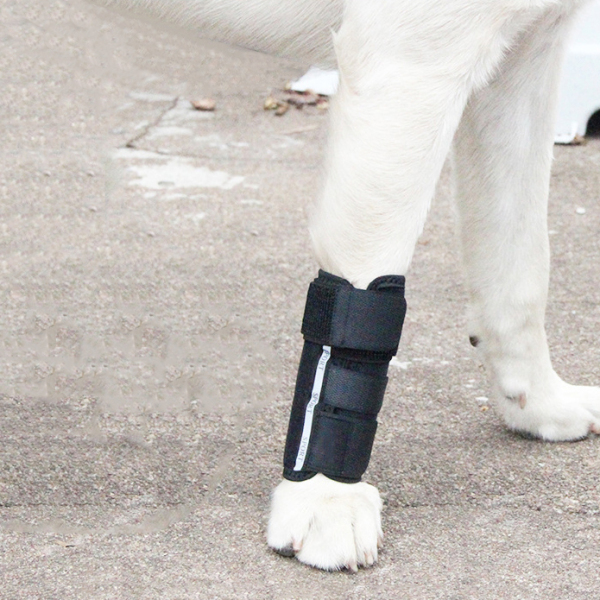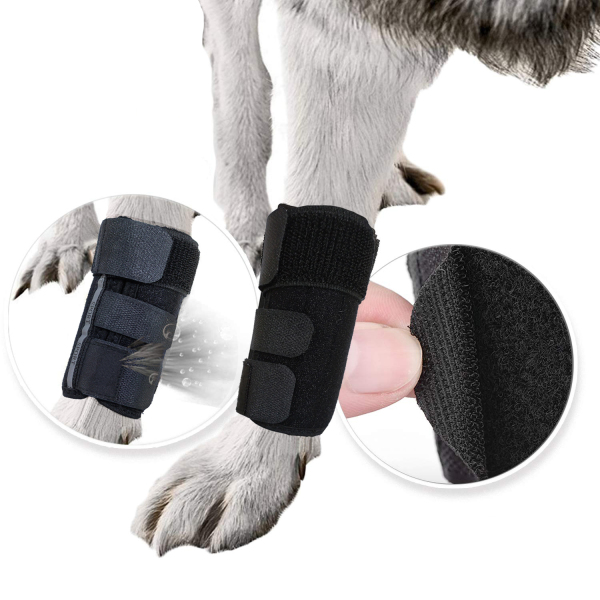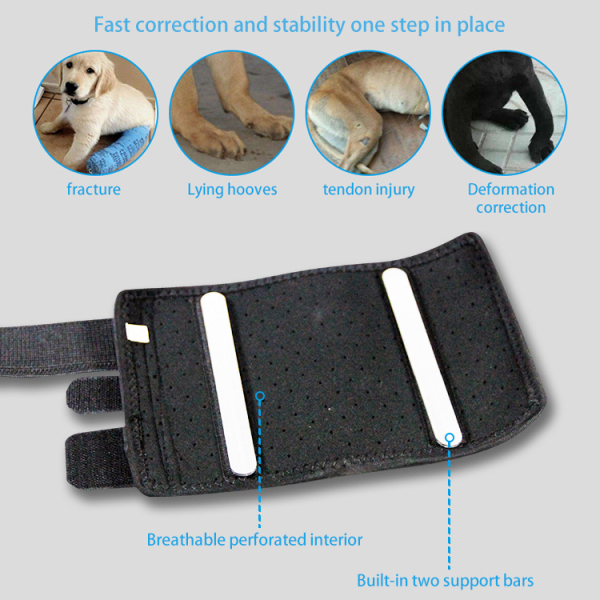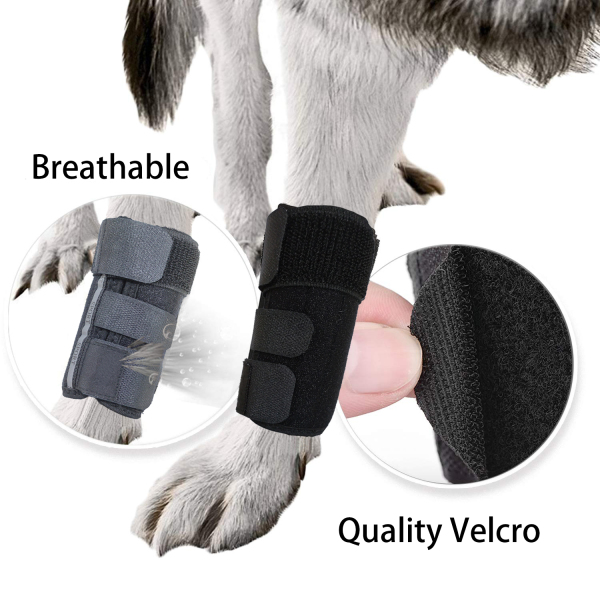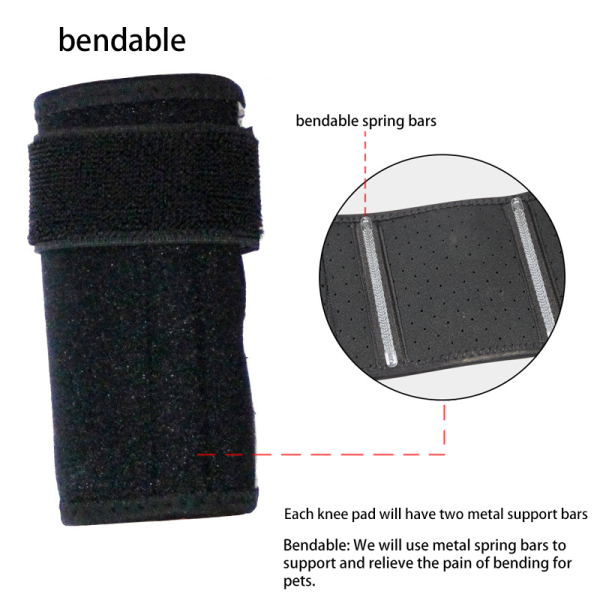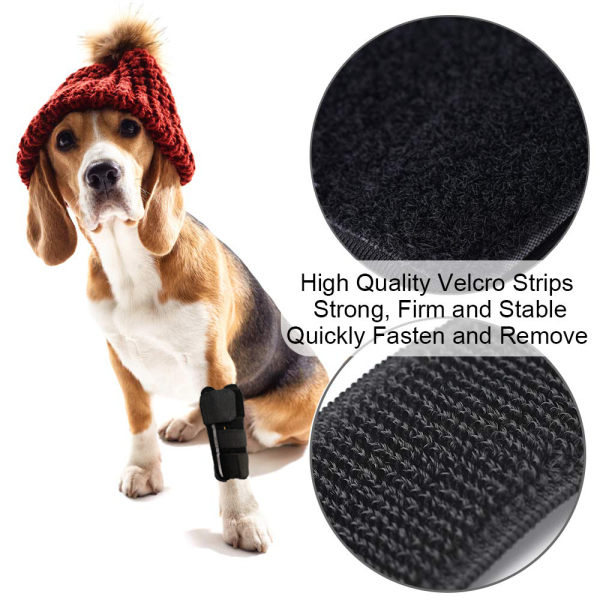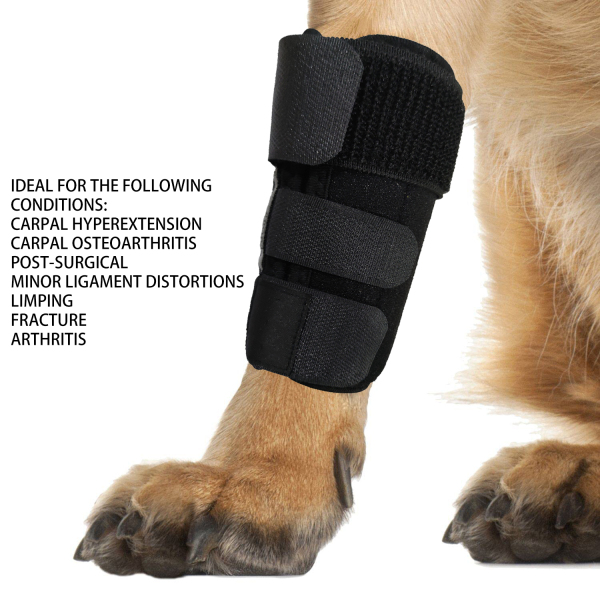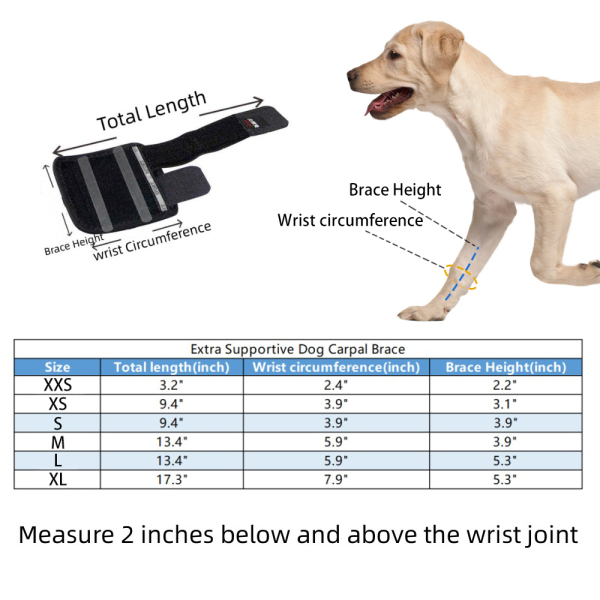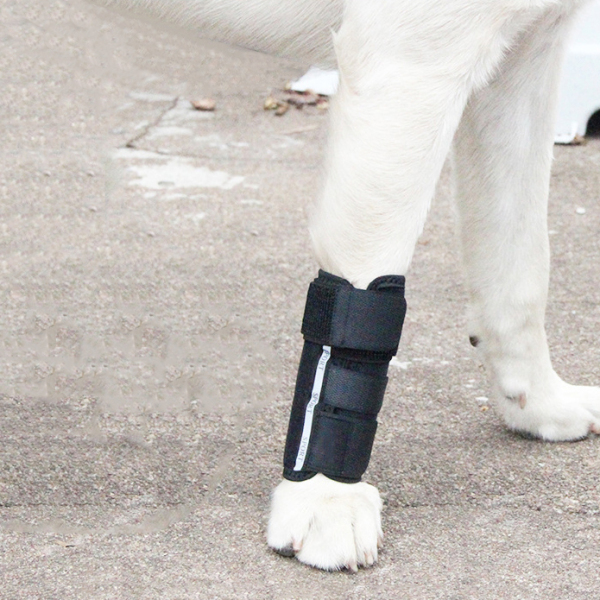 Dog Carpal Brace For Support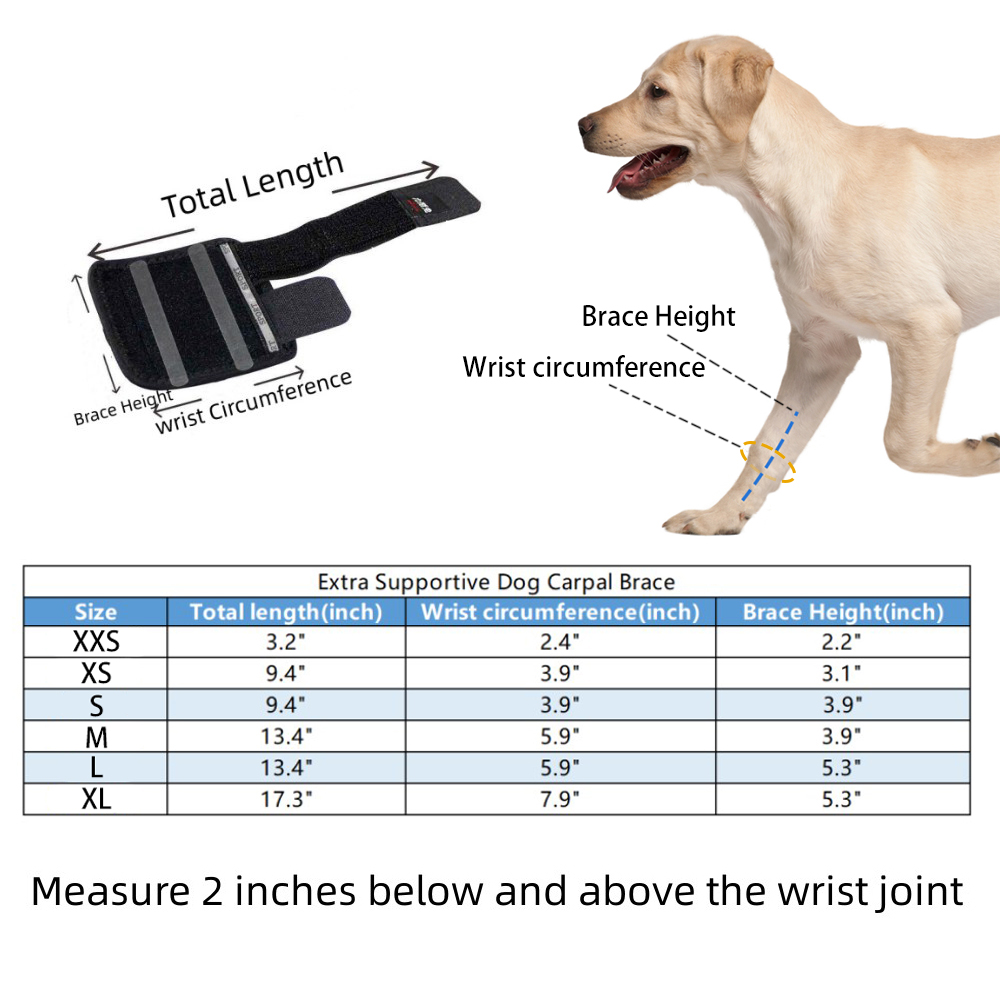 Provides support and stability to a dog's wrist bones during an injury, allowing them to walk more steadily.
High quality perforated cloth, breathable soft. Not harm your dog's skin, not affect your dog's mobility.
Velcro is easy to adjust according to leg shape, fast fix and remove.
Reflective strips at night to protect night safety.
See more
Product Name: Dog Carpal Brace For Support

Product Category: Knee Brace For Dogs

Material: Perforated Ko Cloth

Ideal For Breeds: Small Medium Large Dogs

Ideal For Scenes: When Your Dog Is Injured Or Has A Weak Leg Due To Arthritis, It Can Cause Mobility Problems. With Our Dog Leg Assist Straps, You Don't Have To Worry Anymore.

Product Features

EXTENSIVE PRACTICALITY: The canine carpal brace is very useful therapy product. It can better care for dog wounds, relieve dog joint pain and save them from future injuries. Also it can be use at outdoor protective and prevent your pets from snake bites, etc.

MAINTAIN STABILITY: dog wrist support helps with loss of stability caused by Arthritis. It makes sure that the balance of the body is maintained, so that the dog doesn't get into any more injuries of joints or knee, also not affected your dog's mobility.

SAFETY DESIGN: Each dog front wrist brace comes with Velcro strips that it can be adjusted easily and secure the brace in place without moving or sliding down. It's easy to fasten or remove, please remove brace every 3-4 hours and at night to allow leg to "breathe".

STRONG SUPPORT: There are two metal spring strips in our carpal splint for dogs, which form a splint to provide more strong support and stabilization for dog legs during the injury.

DURABLE: The dog wrist brace is made of premium quality neoprene, which is flexible, soft, durable and shockproof. It is easy and comfortable to wear and it doesn't hurt skin.

Product Display
Reviews (15)
WRITE A REVIEW
Review:
Review is required
Picture: ( 0 / 6 )

Rating Snapshot
Select a row below to filter reviews.
Average Customer Ratings
Sort by:
Highest to Lowest Rating
Highest to Lowest Rating
Lowest to Highest Rating
Most Recent
My bull mastiff has bone cancer in her front leg. The bone is weakening and she is progressively limping more and starting to not move as much. This brace supports her leg and allows her to go out and play rough with her buddy Great Dane. She runs around the yard like she hasn't been willing to for quite a while. I use both Left and Right on her right leg. I had to buy a second set because she will run onto the step in the pool and get it soaked. She doesn't mind wearing the brace and will stand patiently to get it put on. It is very easy and only takes a minute. My only issue is why didn't I get this earlier in this journey.

We have a 75lb German Shepard who unfortunately sustained a hyperextension injury of her wrist. We were advised to use a support for it. We tried a basic dog wrap which wasn't enough. Then tried one that was more rigid, but that was cumbersome for both her and us to put on. I tried this one and it went on easy following the instructions for the straps and I think the springs provided just the correct amount of gentle extra support. Her limp was much less noticeable. It was a good price and there is an extra one that I may use to support her other non injured wrist. We'll see. We put it on before going out and leave it on afterwards in the house for a few hours then remove it per the instructions. She does not object to it. This was a good product for us - and it is made well, thank you.

My German shepherd love to play fetch... the only problem is that he was cutting his legs every time we would go out... I couldn't figure out what he was tearing his legs on because he never winced in pain while we were outside. I looked all over for rocks, sticks, glass, metals never found anything... so I bought these and some shoes for him to wear when we play fetch.... it took him a little while to get used to it but now he gets excited when I pull out his armour because he knows it means it's time to play.

These are amazing for when my dogs hurt their legs and I use it for an overnight compression and they are a lot better the next day.

This support is great! My veterinarian also recommended this brace and it works really well!

The braces were easy to put on and allowed for both motion and support.

They don't bother my dog and are stable too! They do help.

I bought these for my great dane. Im sure they help him walk a little these are like wearing an ace bandage the offer support but you can still bend at the ankle. he's pretty big so im ok with the product.

Great support for my dog when he was recovering from a sprain!

My English mastiff has lyme disease and it affects the joints. He injured his hip as a puppy so he has always had weakness and instability in his rear. He recently had a flare up and sprained his right wrist. This meant essentially he couldn't walk for more than 10 ft without falling down. I ordered these and put both on as soon as I received them. He didn't take well to them at first. Kept trying to lick them and push them off. Once he decided he couldn't hold it anymore he quickly realized that he could not only stand up easier but actually walk without falling down. 5 days with them on while he was up and moving around and his wrist is right back to normal. Excellent product.
Who Viewed This Also Viewed