Product Name: Waterproof Dog Boots For Hiking
Product Category: DOG Shoes & Boots
Material: Lycra Fabric, Rubber
Idearal For Breeds: Small Medium Dogs
Idearal For Scenes:Durable dog shoes, boots that protect dog paws from hot and cold weather.
Size Chart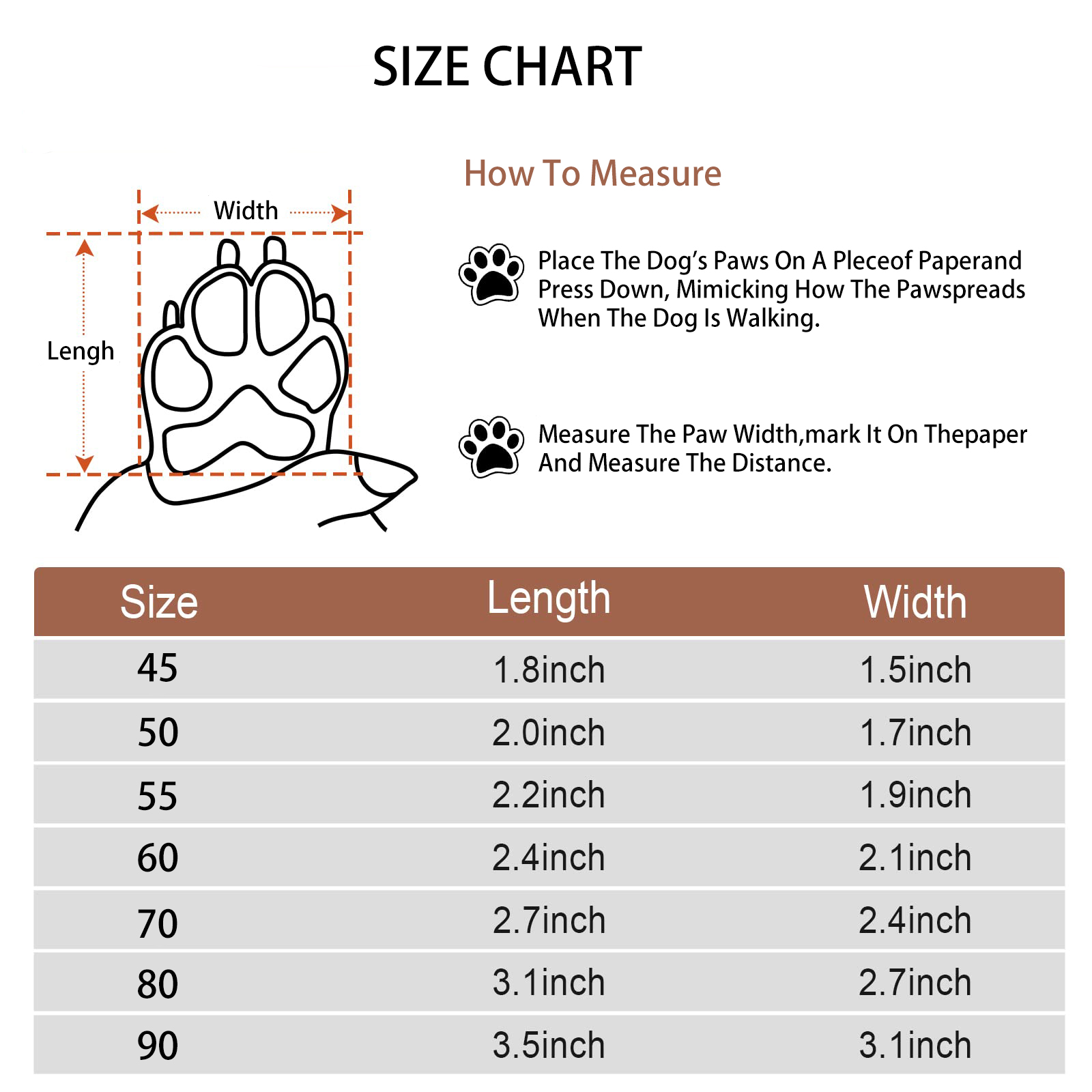 Product Features
High quality material
Made of soft and tough Lycra fabric and durable non-slip heat protection sole, it can effectively protect the dog's feet and avoid foot injuries. Even if the dog will not feel stuffy for long time wearing sports.
Easy To Put On And Take Off
the dog shoes are fastened firmly by straps, which are long and adjustable, capable to prevent slipping off and supply a customized tightness for secure closure, also make your love dog safe. Please try to tighten the straps after wearing, which can effectively prevent the shoes from falling off the dog's claws.
Effective Protection
Boots can be used indoors or outdoors, even in wet and dry conditions, and can effectively protect dog paws from heat, stones, glass, etc., and protect paws from rain, snow, ice, salt in winter.
Non Slip Beef Tendon Bottom
Using high-quality rubber wear-resistant sole, it has a good anti-slip effect, and it will not slip even when walking in rainy days.
Notice
1) Place the paw on a piece of paper pressed against it, imitating the spread of the paw as the dog walks
2) Mark left and right on the paper and measure the distance between the marks
3) Measure the maximum length and width of the jaws
4) Choose shoes that are larger than your paws (about 1 cm larger)
Product Display