Product Name: Dog Whistle With Wrist Strap 2 in 1 Dog Training Clickers
Product Category: DOG Clickers & Whistles
Material: Brass
Idearal For Breeds: Small Medium Large Dogs
Idearal For Scenes: Make training your dog easier and more enjoyable with this training whistle.
Size Chart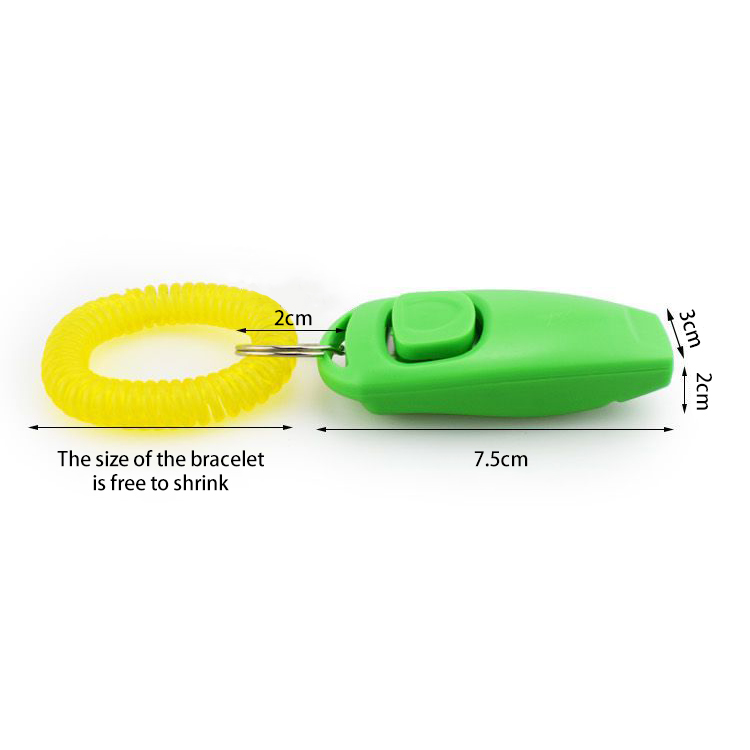 Product Features
Scientific Training Method
By pressing the big button, this clicker will make distinct and recognizable sound, this is a pleasure way to communicate with your lovely pet. The whistle provides additional flexibility to include distance commands into training programs.
Easy To Use
Combines two of the most popular dog training tools; a clicker and a whistle, making it an essential training product. Simple push button with distinct clicking sound. Comes with an elastic wrist band so you can leave it on your wrist or clip it to the leash or your pants.
Comfortable Design
The material of abs plastic + stainless steel ring piece won't rust and durable, matte surface and anti-skid handling are easy to hold.
Wide Applications
The clicker can not only train dogs, but also training cats,. Is your essential sensitive pet training tool. You will have a happy and trusting communication tool with your pet.
Product Display