Product Name: DOG Slow Food Toy Corn Molar Pet Toy Cleaning Teeth Sniffing Plush Combination Dog Toy Educational Training Bite-resistant Dog Toy
Brand: DOGLEMI
Product Category: Dog Slow Food Toy,DOG Sounding Toy
Material: Polar Fleece,TPR
Ideal For Breeds: Small Medium Large Dogs
Ideal For Scenes: This is a great dog toy that can interact with when dog is bored, food leaks out when your dog is playing, and your dog can play and eat
Size Chart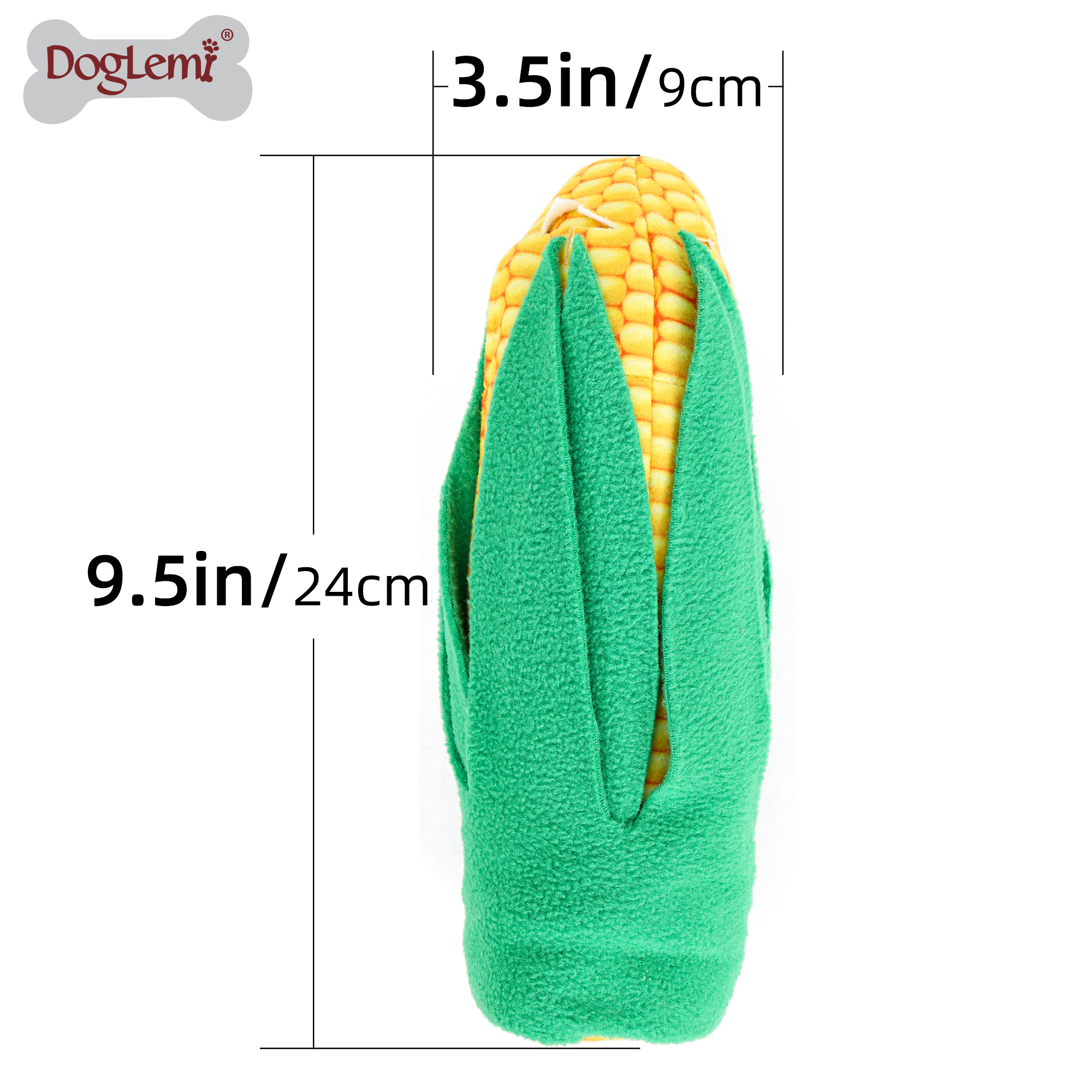 Product Features
QUALITY MATERIAL: The sniffing toy is made of soft fleece and TPR inside, no harmful for pets, and bite resistant. Suitable for dog slow feeding training, grind their teeth and give dogs a more interesting way to vent their energy, a great bonding experience for you and your dogs!
SNUFFLE TRAINING: It is a challenging toy for your dog to train for smart eating, slow eating, release stress and keep calm. This interesting corn can eliminate anxiety, consume excess energy, and become smarter during play.
2 IN 1 CHEW TOYS: Great value of the 2-in-1 toy. Contains a durable TPR molar stick, safe and bite resistant, deep cleansing of teeth and fresh mouth. Your dog is trained to pull out this chew toy to get food, greatly enhancing the difficulty of sniffing. Safe and non-toxic, and can withstand dog teething. Great for small, medium and large dogs.
HAVE FUN: Dogs can find countless surprises from corn toys. No matter the green leaves, the corn body, or even the middle part, there are have multi hidden pockets where treats/snacks/kibbles can be placed. It is a toy that can keep dogs playing for a long time. Machine washable.
IDEAL GIFT: Have a corn toy with snacks! Ideal pet toys for your pet's chewing or daily training, just put dog snacks into the pocket, let your dog snuffle them and enjoy the healthy slow eating process. It will become your furry friend's favorite companion toy in daily life. Ideal gifts for your lovely dogs and dog lovers.
Product Display